Hanukkah is the Jewish Festival of Lights and it's a beautiful tradition that commemorates the rededication of the Second Temple of Jerusalem. During Hanukkah, on each of the eight nights, a candle is lit in a special menorah (candelabra) called a 'hanukkiyah' to celebrate the miracle of oil lasting eight days.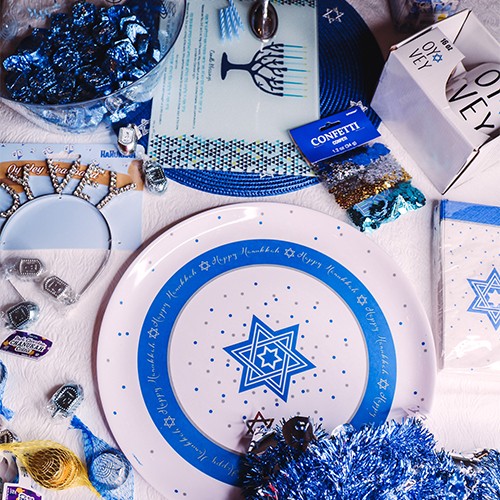 You can easily create a beautiful Hanukkah tablescape in just minutes without breaking the bank, thanks to all the themed merchandise available at Party City.

Supplies:
Hanukkah Tinsel Garland
Hanukkah Woven Placemat
Happy Hanukkah Guest Towels
Happy Hanukkah Platter
Metallic Dreidels 48 ct
Hanukkah Confetti Mix
Star of David Placemat
Hanukkah Plastic Serving Bowl
Little Menorah
Menorah Drip Tray
Dark Chocolate Chanukah Gelt Bag
Kosher Chocolate Gelt Bag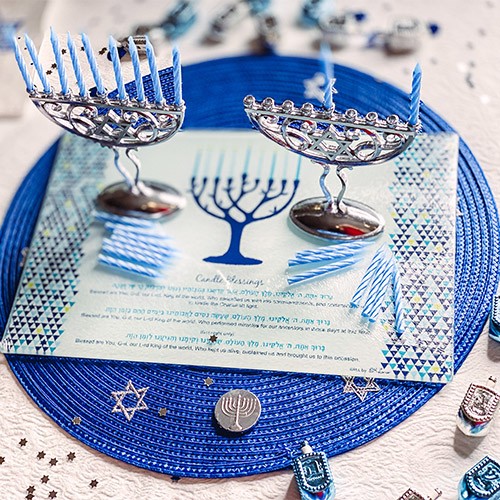 Instructions:
1. Set your table with a white, blue or silver tablecloth. Accessorize with festive placemats.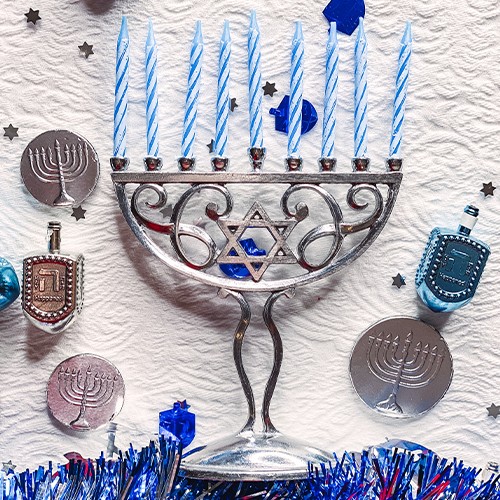 2. Place the hanukkiyah in the middle of the table on top of a drip tray. You can have as many menorahs as you wish, since the idea is celebrate light.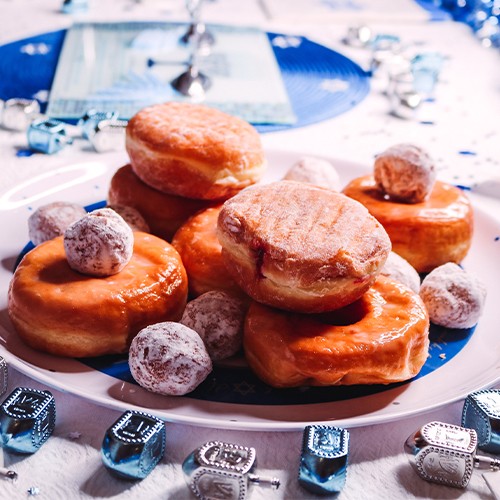 3. Place platters for the traditional fried foods served during Hanukkah, like potato latkes and donuts (called sufganiyots) so everybody can help themselves. In another serving bowl, put milk chocolate or chocolate coins called gelt. Don't forget to put napkins nearby.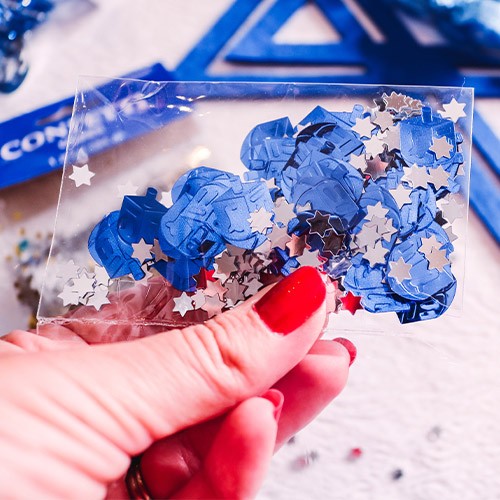 4. Use confetti and metallic dreidels to decorate your table. Kids love to spin the dreidels!
5. Finally, secure a metallic garland around the table to add a pop of color and make it extra festive.