Turn on the porch light and start up the fog machine! Once the trick-or-treaters have made it past your Halloween yard decorations, your porch is the main event. Our decorating ideas will help you transform your porch into a spooky and unique Halloween experience! Keep reading and get inspired to create creepy, scary, or too-cute Halloween porch decorations.
Scary Halloween Porch Decorations
We've got the creeps just thinking about how spooky your porch decorations will be this year! Set the scene for scares by shrouding your porch in skeletons, ghosts, ghouls and other freshly dug decorations for maximum curb appeal (and disturb appeal).
Idea 1: Rocking chairs and skeleton couple
They'll want a closer look at this ghoulish pair! Little ones will be totally creeped when they walk by these skeletal seniors. Granny is knitting nightmares while Gramps enjoys a glass of murky Merlot (or is it blood?). Place a bow or bowler hat atop life-size skeletons and arrange them on leisurely rocking chairs or a porch bench. They'll look ready to start a conversation with anyone who strolls by.

Now that your porch is properly spooky, it's time to expand to the rest of your yard! Check out our 15 Scary Halloween Yard Decorating Ideas.
Idea 2: Have this pop-up witch serve the candy
Everyone recognizes this time-honored Halloween character, which is exactly why this one will catch them off guard. When kids reach for the candy in this wicked witch's bowl, the motion sensor starts the scare. Her eyes glow bright green, she leaps suddenly to her feet, and the sound of a menacing cackle and thunder fills the air. We love that this Halloween animatronic gives a nod to Halloweens of yesterday while cranking up the creep factor using new technology.
Add an animated scare to your porch decor: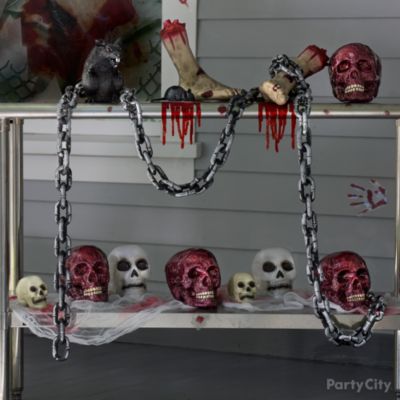 Idea 3: Gory Morgue Display
Grab the attention of incoming patients with a table of body parts fresh from the asylum morgue. Arrange lobbed-off limbs and an array of skulls on tattered bloody gauze. Chains and a leering rat perched on the table heighten the horrific effect. Just don't get too close – the skulls may get a little bitey!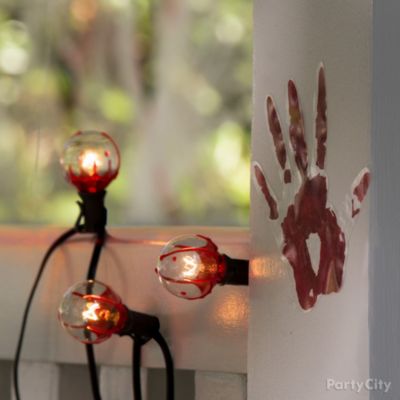 Idea 4: Halloween-themed lighting
Set the mood with gory-good lighting! Illuminate your gruesome scenes with bloody bulb lights that add to the demented decor of your asylum porch. With themed Halloween lights, you'll make their eyes light up...with fear.
Idea 5: Hanging asylum patient
The doctor will cleave you now! Let a deranged doctor greet new patients to your asylum of horrors! Hang him from the roof with a cleaver in one hand and his unlucky victim in the other. It'll be hard to tell who belongs in the psycho ward more – him or his patient!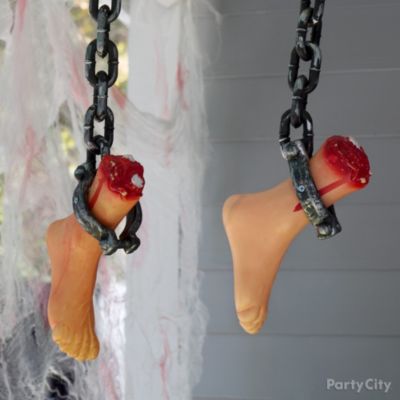 Idea 6: Hang bloody body parts
Something disturbing is afoot! Visitors will start second-guessing their decision to visit your house of horrors when they see this. Dangle bloody feet props attached to chains from the roof to up the gruesomeness of your porch scene.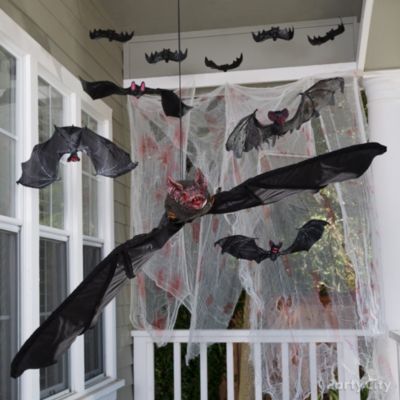 Idea 7: Decorations take flight with a flock of bats!
Give visitors a fright with winged nightmares awoken from their slumber. A giant vampire bat looks ready to sink his fangs into the next sorry soul to walk by, especially when he's surrounded by a cloud of flying horrors in all sizes. Hang tattered gauze curtains to create a cave-like atmosphere, then string the bats at alternating heights for a truly terrifying sight!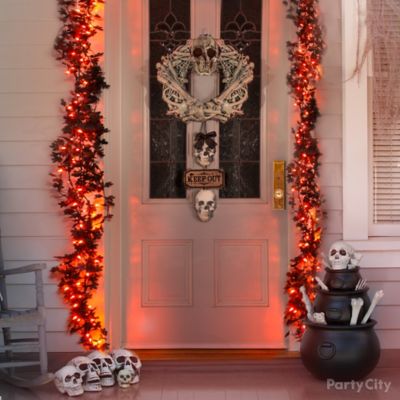 Idea 8: Door decor to die for!
Once darkness has fallen, thrill them to the bone with a lit-up display of macabre skulls. Orange lights in a garland of black leaves will cast their eerie light upon the decaying bones of a skull wreath and a skeleton cauldron. Pile a collection of skulls by the door as a fearsome welcome to all who enter.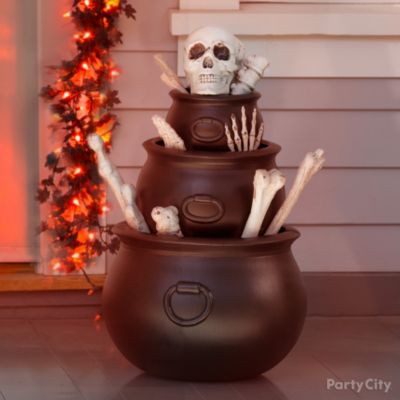 Idea 9: Stacked cauldron and bones decoration
What's brewing in this stack of bones? A cauldron of curiosities placed by the door may make them think twice before entering! Create a cauldron crypt with a pile of plastic pots going from largest to smallest. Stick in some fresh finds from the graveyard with skeleton parts in each cauldron. Top it off with a skull on top to grin at guests as they walk in – happy haunting!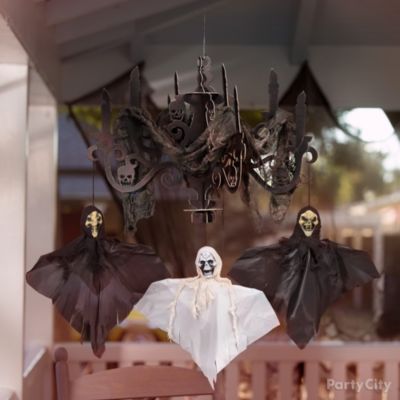 Idea 10: A fearful chandelier for your porch (or crypt)!
This easy decorating idea is a scream indoors or out. Trick-or-treaters will howl with fright when they see these spooky specters hanging from a paper skull chandelier. Reinforce the chandelier with extra fishing line to secure it for windy evenings.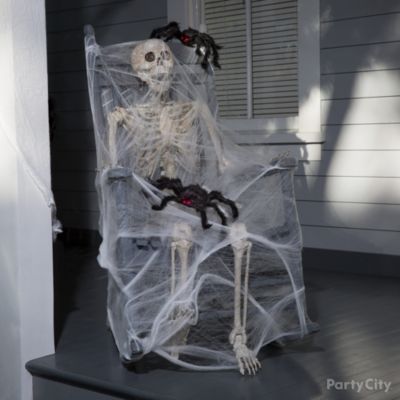 Idea 11: Get under their skin with a skeleton that's all wrapped up!
This unlucky fellow sat for a spell and became a spider's meal. Cover a skeleton in a mess of spider webs with a couple of eight-legged creepers on the porch. Trick-or-treaters will think twice before walking past these wicked web weavers!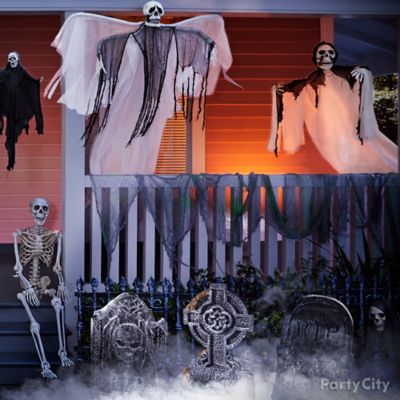 Idea 12: Use black gauze to show off your graveyard's specters
Use black gauze to spookify fences, banisters and porch railings. Drape black sheer gauze material to add a pleasing haunted effect here, there and everywhere. Use a variety of ghost and reaper props in different sizes to create a spine-chilling scene. Hang them near the entrance so friends and trick-or-treaters will have to walk by these hanging nightmares to enter!
Looking for more inspiration from beyond the grave? Keep reading: 15 Halloween Graveyard Ideas!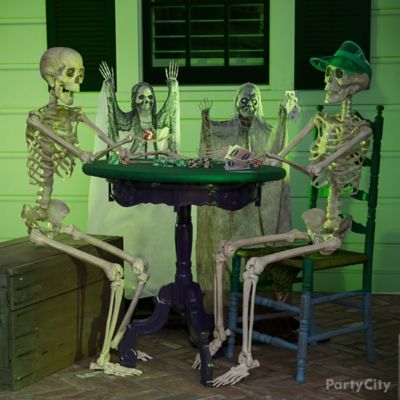 Idea 13: Set up a skeleton poker game
They're playing five card draw, graveyard rules! Grab a table and cover it with casino green, then set up the skeletons and ghosts so they can shuffle up and deal! (At least you know they're not hiding any aces up their sleeves!) You can use skeletons to create all sorts of funny scenes. There's no bones about it, everyday life is way funnier when it's depicted using Halloween skeletons.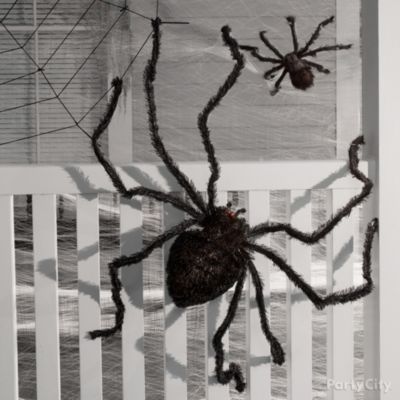 Idea 14: Creep out your porch with wicked wall-climbers!
Weave a web of fear with cobwebs and giant arachnids! Create crawling conditions for giant spiders by spreading stretchy spider webs from one side of the porch to the other. A giant light-up spider transforms into something even more terrifying at night when its evil red eyes glow. Add smaller spiders to the scene for extra creepiness.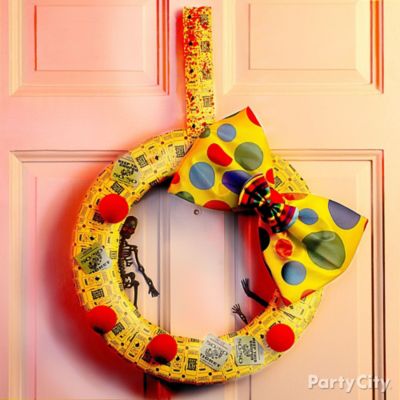 Idea 15: Clown around with a creepy wreath!
Let arriving guests step right up to this carnival-inspired wreath with a creepy twist. You'll need a wreath form, a roll of raffle tickets, fake blood, mini skeletons and clown accessories. Cover the wreath in tickets and spray with fake blood. Get creative with clown noses and an oversized bow tie, then place a couple creepy skeletons in the center to smirk at guests as they walk in.
Cute Halloween Porch Decorations
These Halloween porch decor ideas are too cute to spook! Not everyone likes being scared on Halloween, so these ideas will help you treat the littler members of your boo crew to a porch of spooky delights with witches, pumpkins and ghosts.
Idea 16: Add some flying friends with hanging props
Give trick-or-treaters a big welcome with their favorite Halloween characters. The smiling faces and playful patterns are sure to cast a spell on all who walk by. These not-so-frightening figures measure four feet tall with poseable arms to arrange with open arms, a high-five or a wave. Create a spooktacular scene by hanging this ghoul gang together. Little ones might even want to give each one a hug!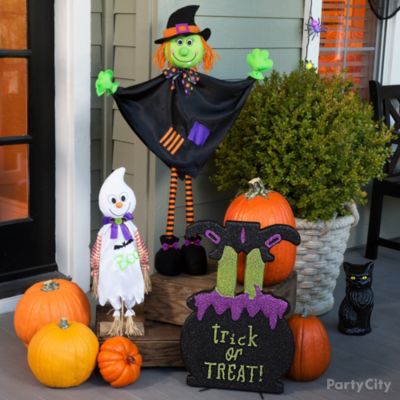 Idea 17: Friendly standing props
Witch way is the candy? Welcome trick-or-treaters with a couple of wacky witches. Kids will love this friendly witch who's as tall as they are! Place her next to friends like a grinning ghost and an upside-down witch in a cauldron of purple goo for a spooky-cute crew ready to greet the kiddos.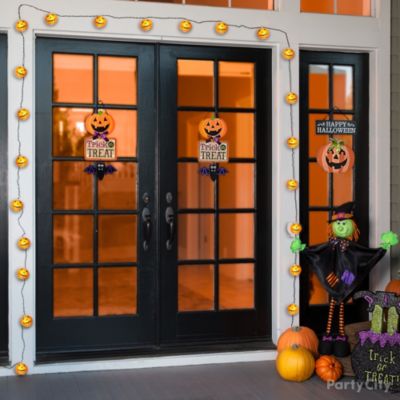 Idea 18: Light the way to candy!
Brighten up the porch with friendly pumpkins so no one is afraid of the dark. Jolly jack-o'-lantern lights around the doorway will light up faces of mini monsters, especially when they see the matching trick-or-treat signs of cheerful pumpkin characters.
For more adorably spooky decorating ideas, see our Cute Halloween Decoration Ideas!