Conjure a stylish Halloween mantel setup with these ideas! We've got the magic spell for a wickedly eye-catching display you can use to decorate your home for a Halloween party, then keep up all season long! Pick a theme below or create your own DIY mantel design using Halloween decorations and supplies.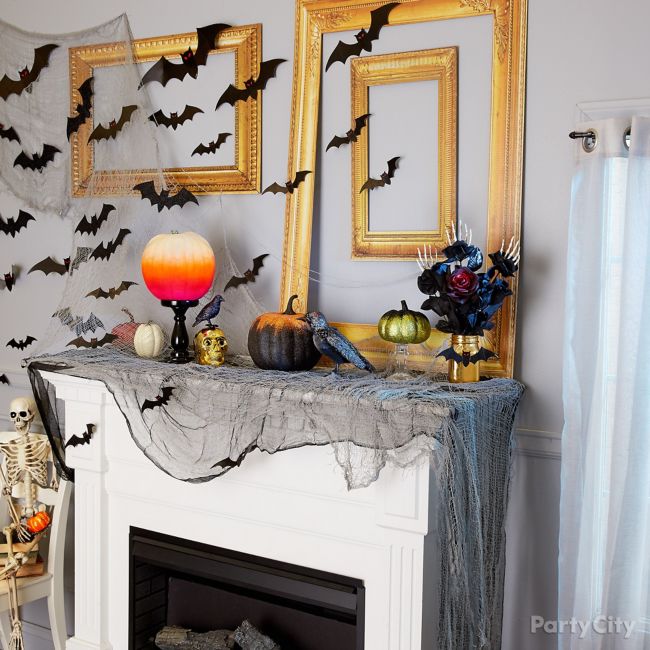 Idea 1: Picture Perfect Halloween Mantel
When it comes to decorating a Halloween mantel, you can cast a bewitching spell all season long by curating simple decor in a memorable way. Start by draping gray and black gauze over the mantel shelf; it allows for simple decorations, like bat cutouts and photo booth frames, to look both spooky and stylish. To see all the wicked details, check out our Elegant & Batty Halloween Mantel How-To.
Idea 2: Modern Orange and Black Mantel
Create your take on an enchanted witch's den. Drape a black net "cobweb" across the front of the mantel then artfully mix garlands of black leaves with bits of gauze and enchanted creatures like spiders, mice and a flock of feathered crows. Use a base of natural branches or hang decor from stick-on hooks.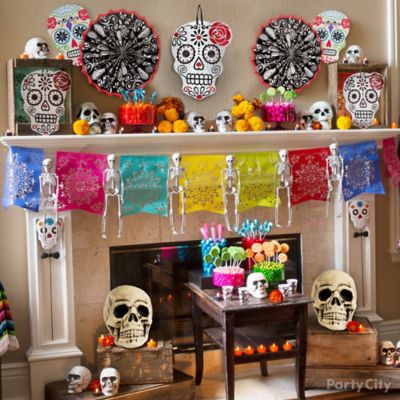 Idea 3: Day of the Dead Mantel
Make a mantel the living and dead will adore! This drop-dead gorgeous mantel is artful and so easy to assemble! All you need are simple cutouts, paper fan decorations, a del sol paper flag banner and a few skeletons and skulls. A layered look for a 3D effect makes this part of the house stand out!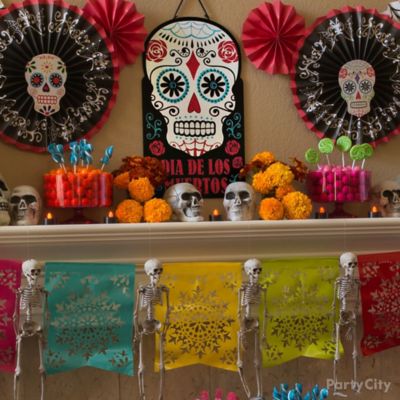 Idea 4: Add Skeletal Details
There's nothing bare-bones about this mantel! The departed have arrived! Go all out with chic decorations like paper fans, paper garland (with added skeletons!) and a large Dia de los Muertos sign in the middle. Flameless tea lights, skulls and candy add details that will raise their party spirits!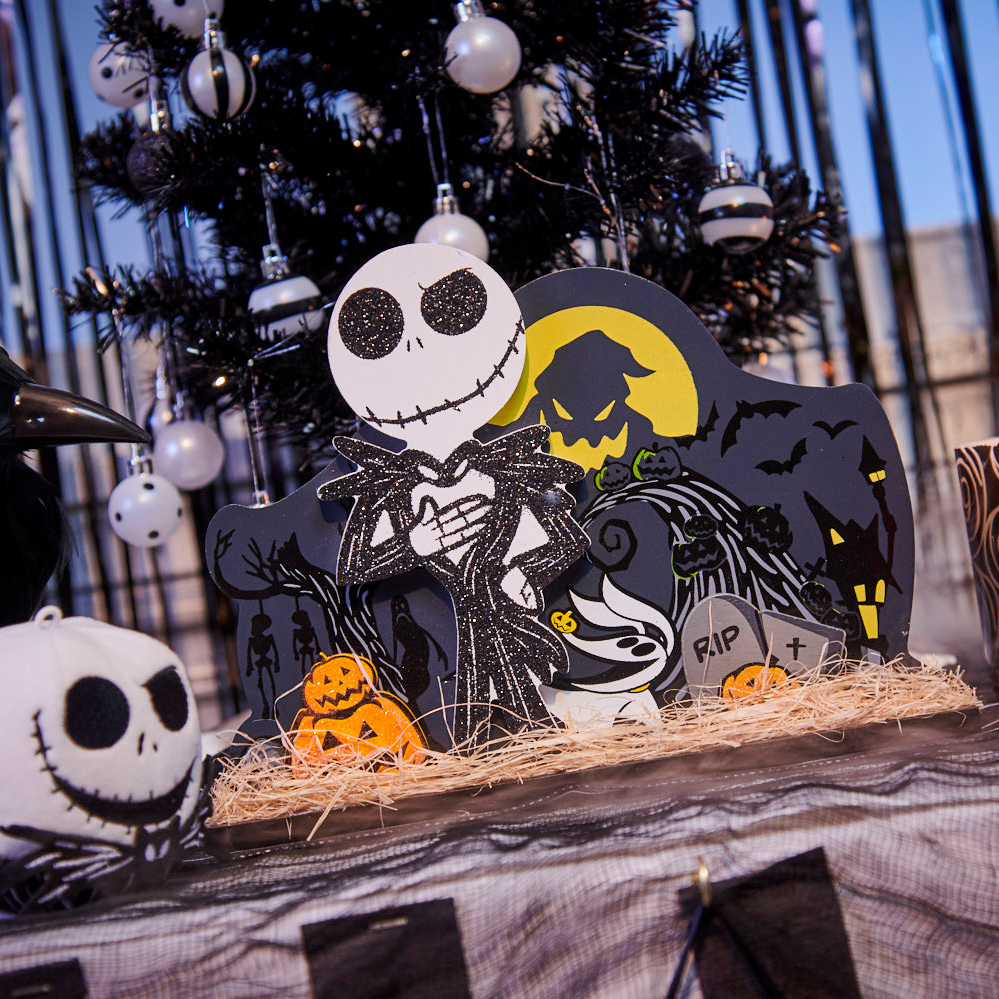 Idea 5: Simply Spooky Halloween Signs
Don't have time to go all out for Halloween decorating? Simple signs make it possible for any room to have a quick makeover. A Jack Skellington sign or other Halloween Home Decor will keep your party looking festive and fresh in a flash. If you want to throw a Nightmare Before Christmas party for Halloween, keep reading: This Nightmare Before Christmas Party Is Every Fan's Dream!
Idea 6: Incorporate Stylish Decor
Use Halloween home decor to easily add a touch of elegance to your mantel. These cute and stylish home decor pieces show the spirit of the Halloween season without being so over the top that they're kitschy. Wooden block signs, metallic wreaths and lace accents are perfect for a sophisticated Halloween mantel.
These decorations speak for themselves: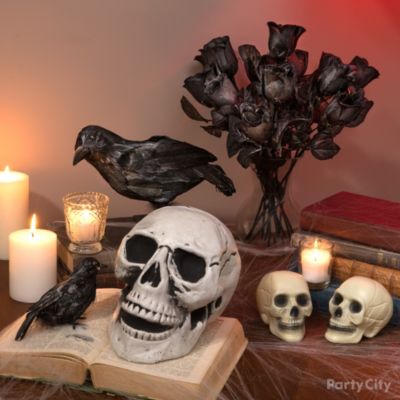 Idea 7: Impress the Spirits With a Haunting Scene
These boneheads wouldn't be caught dead without a good book! Arrange skulls on and around stacks of aged and weathered novels covered in cobwebs, with a couple lurking crows to keep guests from pawing your precious spell books. Set the mood for a spooky book club – or a seance! – with a vase of black roses and battery-operated candlelight.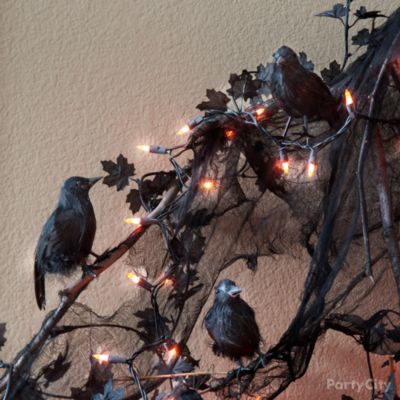 Idea 8: Witch's Familiar Mantel
Something wicked this way comes! Crow props look like witch "familiars" – perch a handful of feathered raven friends at your command. Wire the birds to natural branches, glowing with twinkle lights, and position them in different directions for a realistic effect.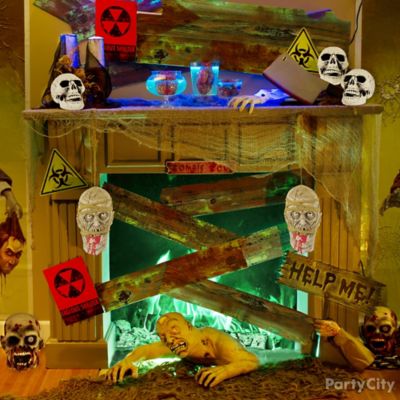 Idea 9: Zombie Themed Mantel
Hold onto your brains! Create a foreboding fallout zone around your mantel with a mix of zombie props, eerie mood lighting and "planks" for boarding up exits. If the forthcoming zombie apocalypse seems like something to party about, then you'll eat up our Zombie Party Ideas.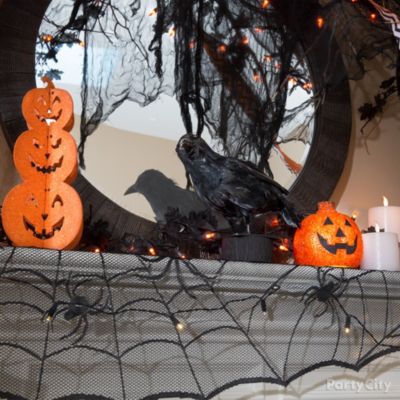 Idea 10: Spiderwebs and Crow Mantel
Caw, caw! Use a large mirror as a focal point and drape a cobweb mantel scarf and lights over the top. The reflection of a solitary crow is quite chilling. Add your favorite pumpkin decor for a pop of color amidst the dreadful scene.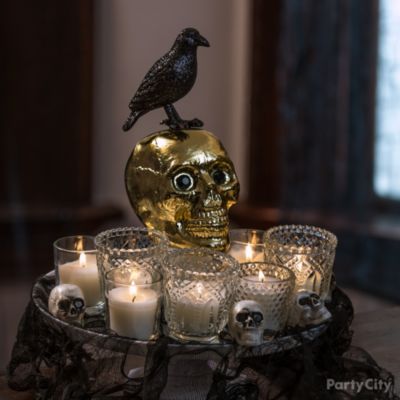 Idea 11: Gold Skull + Votives = Wicked Cool Mantel
To create this haunted vignette, begin with a cake stand draped with black gauze. Place the gold skull in the middle and encircle it with white candle votives. Tuck in small skulls to give it an eerie effect.
Idea 12: The Mantel Is the Perfect Spot for Spell Books!
Conjure a stylish window scene. Any table nestled in a corner will do nicely for your witchy workshop. Hang a sign, cover books in orange gift wrap and perch a raven on top. Candles, pumpkins and a rat make it spookily stylish.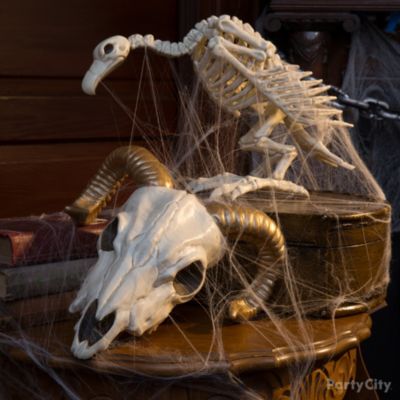 Idea 13: Display Fearful Forgotten Relics
Display a gruesome twosome as the prize collection of this haunted home. Surprise your friends with unusual props like a realistic-looking ram's skull and vulture skeleton. Cover them in cobwebs to make them look like forgotten relics.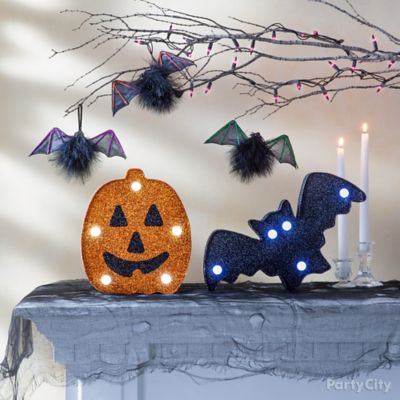 Idea 14: Cute Light Up Marquee Signs
Light up the fun with fright! Decorations for your Halloween dinner should put the spotlight on the Halloween fun. The perfect place to do that is on a fireplace mantel or shelf. Just a handful of spooky cute items, like light-up pumpkin and bat marquees, make the difference in letting the spirit of the season shine!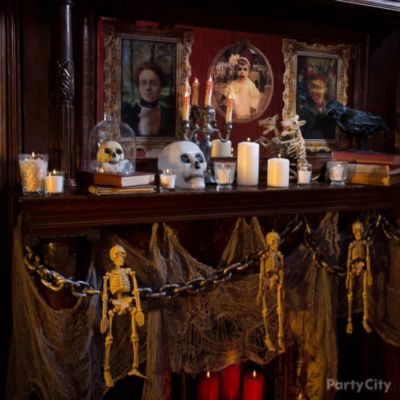 Idea 15: Haunted House Mantel
A macabre mantel to welcome restless spirits! Give the parlor that unlived-in look with a fireplace mantel decked out in all manner of creepy curiosities. Haunted heirlooms like this "bleeding" candelabra, selection of skulls and frightening fauna like a rat skeleton and raven create an atmosphere of unrest amongst your guests. Show off the family tree with a set of paranormal portraits that aren't always what they seem...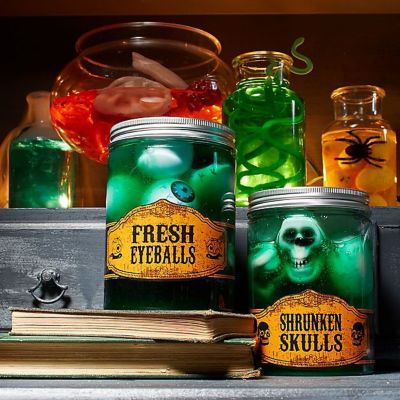 Idea 16: Slime for an Evil Scientist's Mantel
Easiest Halloween mantel ever: take jars, add slime and creepy crawlies. Eyeballs, skulls, snakes, body parts and spiders are just the beginning. Create a DIY label to let passerby know what's going on in your laboratory, or let them peek in and decipher the contents for themselves. You can use a slime kit or follow our Halloween Slime Tutorial to learn how to make your own!