Pop quiz: when does the Halloween season begin? Some revelers refuse to even look at a pumpkin before October, while others get in the spirit as soon as stores bust out the cobwebs. We're totally with you if you live and breathe Halloween year-round…but it's also okay if you're only hosting a Halloween party as an excuse to get creative with the boos.
That's where these cocktail recipes come in: brew up our positively ghoulish concoctions to spook and impress your friends! They're perfect for an adults-only horror movie marathon, an elegant Halloween dinner party, or even just a bit of creepy fun—hey, some of us have been waiting for Halloween since November 1st.
Idea 1: Inky Black Poison Cocktail
We love these "poison" cups so much (they're perfect conversation starters!) that we *had* to make a special cocktail for them.
Brush your cup's rim with simple syrup, then dip in gold and black sugar sprinkles and let dry.
1 oz black vodka
2 oz blueberry or cherry juice
1 cup ice
Lemon slice for garnish
Shake with ice in a shaker, then strain into your cup. We also added black gel food coloring to a slice of lemon to achieve that green-black color.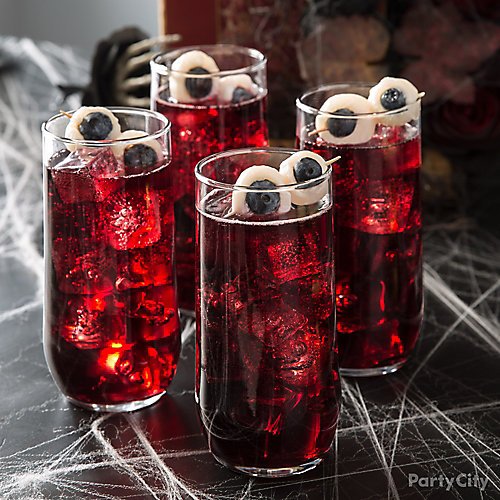 Idea 2: Lychee Eyeball Drink Idea
Make a stare down work in your favor! An eyeball garnish—made out of blueberries and peeled lychee fruit—turns any drink into a ghoulish delight perfect for your elegant Halloween dinner party. It's as simple as peeling lychees, which you can buy by the can, and inserting a blueberry in the opening where the lychee seed used to be. Then place a set of eyes on the rim of your glassware with the help of a toothpick.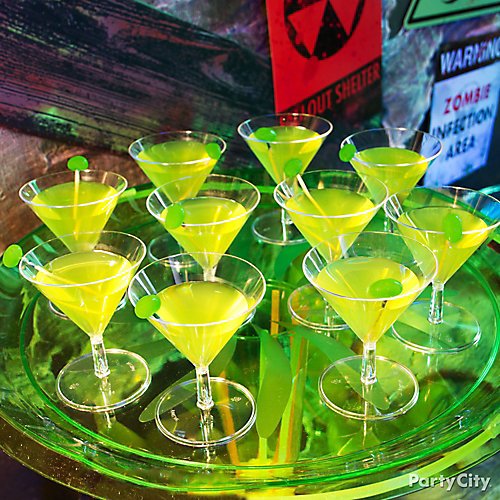 Idea 3: Wake the Undead With Fallout Fizz!
They'll be dying to try these radioactive cocktails with mini brain swizzle sticks! To make this contaminated-looking concoction, mix a shot of Midori and 1/2oz vanilla-flavored vodka in a shaker, then pour into a glass and add a splash of sweet and sour, and a little lemon-lime soda for a glowing fizz. Serve with a jelly bean "brain" garnish and tie glow bracelets around the glass bottoms for radioactive sheen. See more Zombie Party Ideas.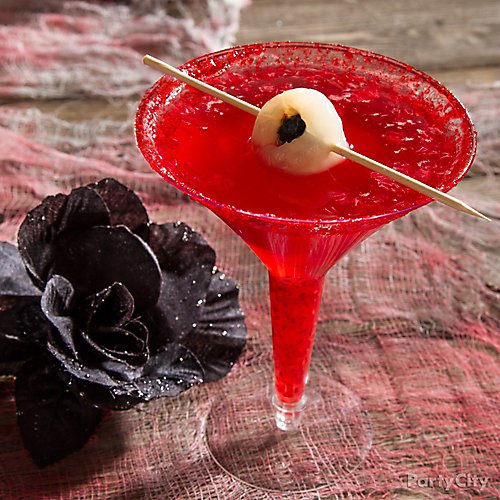 Idea 4: Make 'em Shriek for Eyeball Martinis
Vampires and mortals alike will have their eye on this creepy cocktail! To make, mix 1oz vodka, 1/2oz raspberry liqueur, 3oz cranberry juice, and a splash of lime juice in a cocktail shaker. Make it to-die-for with a candy-coated rim of icing gel and red sugar sprinkles, and a peeled lychee fruit and blueberry "eyeball" across the top as an eerie garnish.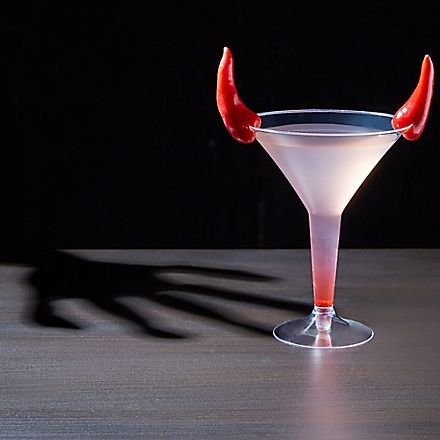 Idea 5: Devil Horn Cocktail
Serve up this cocktail with a devilish grin: the spicy kick will be a nod at the "trick" in trick 'r treat.
2 oz Grapefruit Jalapeno vodka
3 oz red grapefruit juice, freshly squeezed
1/2 oz simple syrup
Squeeze of lime
Grenadine and small red peppers for garnish
Combine first four ingredients in a shaker with ice. Shake until well combined, then pour. Add a few drops of grenadine to the bottom for an eerie red effect, then hint at this drink's sweet heat by garnishing with jalapeno pepper horns.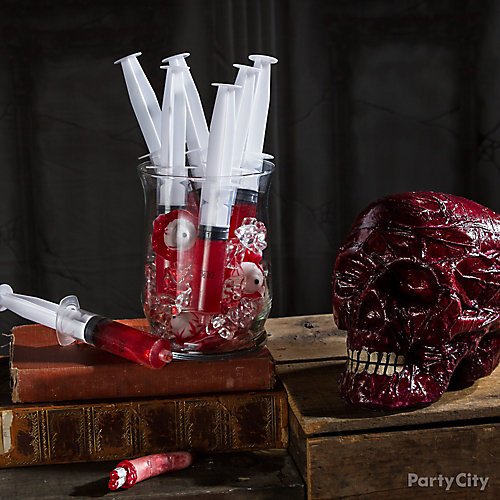 Idea 6: Cocktail Syringe Shooters
It's time for your shots! Get their blood pumping with to-die-for cocktail shooters! Fill faux party syringes with red punch and vodka, then put them on "eyes" in an apothecary jar filled with ice cubes and fake eyeballs. For an even more haunting display, arrange them on a stack of aged books with a few dismembered body parts – ooOOoo!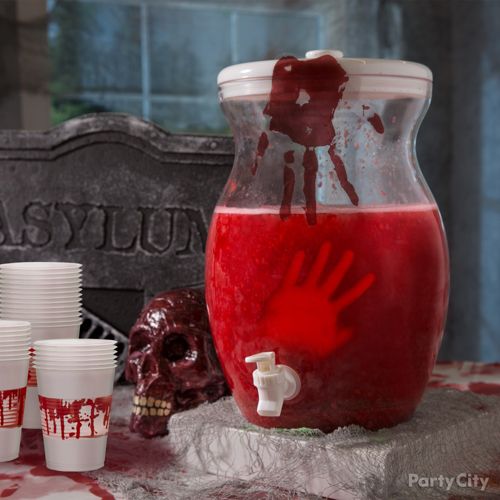 Idea 7: Gory Severed Hand Punch
Specimen jar or beverage dispenser? Why not both? Mix up a pulpy punch to creep out party victims while quenching their thirsts. Add frozen berries for added "fleshiness" and attach a hand-print decal on the front to up the creep factor. Read the entire gory punch recipe.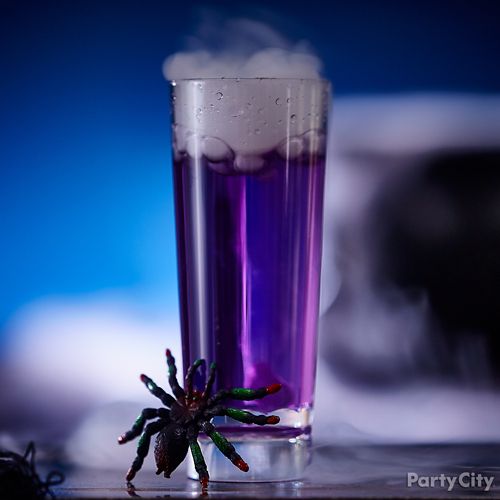 Idea 8: Voodoo Brew Cocktail
What kind of hoodoo does this voodoo brew do? Drink up and find out! Summon the spirits and follow our Voodoo Brew how-to guide to serve up a dark and bubbly purple cocktail everyone will remember.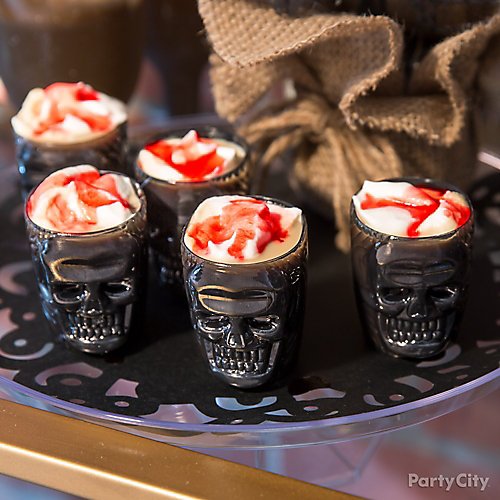 Idea 9: Raspberry Cinnamon Skull Shots
A ghoulishly glam skull shooter for the blood-thirsty! Fill skull shot glasses with a fiery cinnamon whiskey, top with whipped cream. To make them blood-dripped, drizzle raspberry syrup for a deliciously sinister air. Display your devilish drinks on a cake stand lined with a black doily. To taste other whiskeys on your bar cart, have a tray of more skull shot glasses at the ready.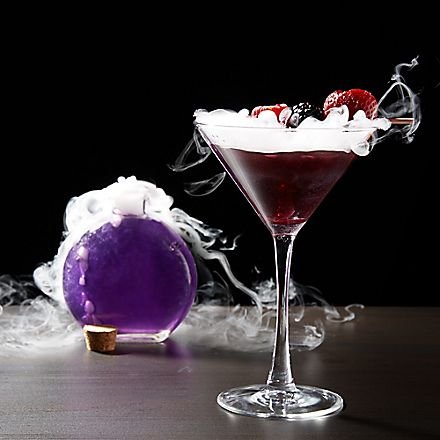 Idea 10: Unicorn Blood Gin Cocktail
One taste of this dark, magical potion will leave your friends convinced you're a sorcerer. It may not make you live forever, but it'll definitely be delicious.
6 blackberries
0.5 oz lime juice
1 oz simple syrup
1.5 oz gin
2-3 oz tonic water
Dry ice, block or powdered (optional)
Strawberries, raspberries, and blackberries for garnish
While wearing gloves, add about a teaspoon of powdered dry ice or a small chip of a dry ice block to the bottom of the glass.
Drop the blackberries and lime juice into a cocktail shaker and press the ingredients using a muddler. Fill with ice, gin and simple syrup and shake for 10 seconds. Use a fine mesh to strain the cocktail into your serving glass and serve immediately. Let your guests know the potion is ready to drink when the smoke dissipates.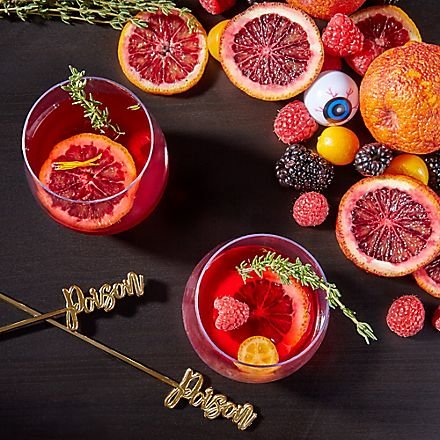 Idea 11: Blood Orange Rum Punch
This refreshing cocktail gets its shocking blood-red hue from raspberries and blood orange juice.
2 oz rum
3 mint leaves

2 oz simple syrup
Juice from 1 blood orange
Juice from 1 small lime
Juice from 1/4 cup raspberries, strained
Sparkling water
Muddle mint and rum for about 30 seconds, then remove mint leaves. Add simple syrup and juices, stir. Top with sparkling water and serve with a "poison" stir stick.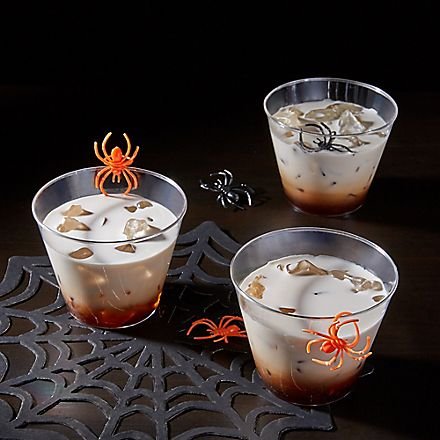 Idea 12: Spider Bite Cocktail
Serve a White Russian with a creepy-crawly twist for Halloween.
2 oz vanilla vodka
2 oz Kahlua
Half-and-half
Add ice to cup. Add vodka and Kahlua, then finish with half-and-half, pouring slowly to keep the layered effect. Garnish with an orange or black spider ring and serve on a web doily.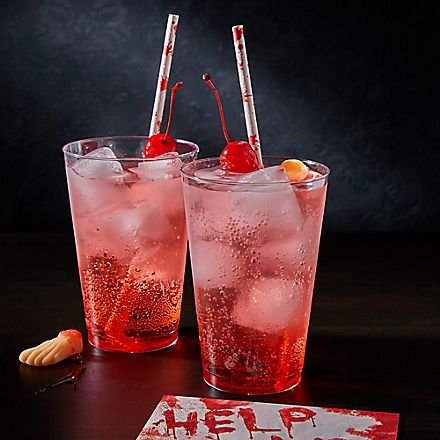 Idea 13: Gory Grenadine Cocktail
This sweet and fruity cocktail has an added gross-out factor when garnished with a straw printed with blood spatters.
1 oz grenadine
Ice
½ oz lime vodka
4 oz lemon-lime soda
Maraschino cherries for garnish
Pour grenadine on bottom of glass, then add ice. Pour the vodka slowly over the ice, then slowly add the soda. Garnish with cherries and a "bloody" straw.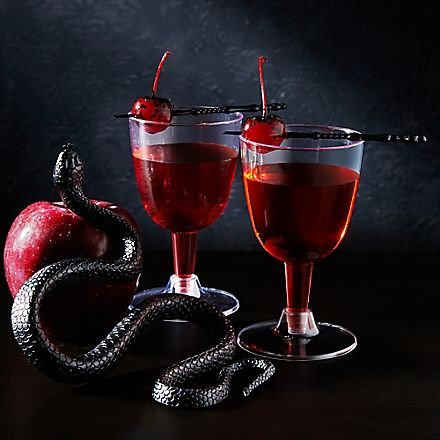 Idea 14: Cherry Poison Appletini
Every witch knows the story of the famed poisoned apple. This diabolically delish custom cocktail will be a hit on Halloween night.
2 oz apple-flavored vodka
1 oz maraschino cherry juice
Cherries and black sugar sprinkles for garnish
In a shaker, combine vodka and juice with ice and shake vigorously. Strain into a clear wine glass. Carefully slip a pitted cherry onto a stirrer and balance on the rim. The devil's in the details, so finish each drink with a pinch of black sugar sprinkles on the cherry.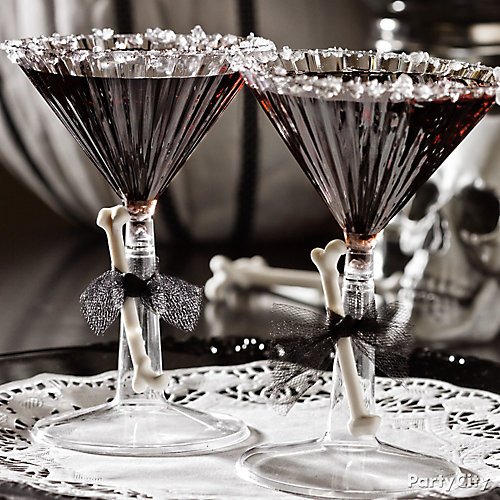 Idea 15: Bone Chilling Black Martini
Elegant Bone-Chilling Black Martinis are just the thing for blood-thirsty vampires, glam goths and crypt-dwelling ghouls of every stripe. To make: Mix 3 1/2 oz. black vodka with 1/2 oz. black raspberry liqueur in a cocktail shaker with ice. Rim the glasses with bits white rock candy, and tie on a single bone with a bit of black tulle to send shivers up their spines! Serve on an antique-looking tray for a chilling haunted mansion feel.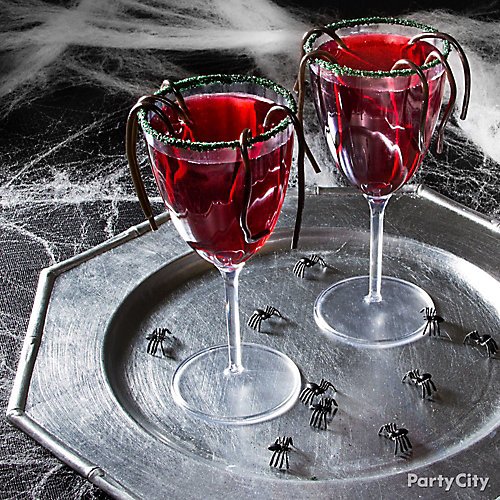 Idea 16: Black Widow Cocktail
Turn up the fright factor by placing mini spiders around your drinks display. To make a Black Widow mix 1 oz. of Anisette, 1 oz. of blackberry brandy, 1-1/2 oz. of vodka and 1 splash of Creme de Cassis together. Add Black Sugar Sprinkles around the rim of each glass and sling black licorice strips over the edges of your glasses to create "spider legs" and really creep out your guests.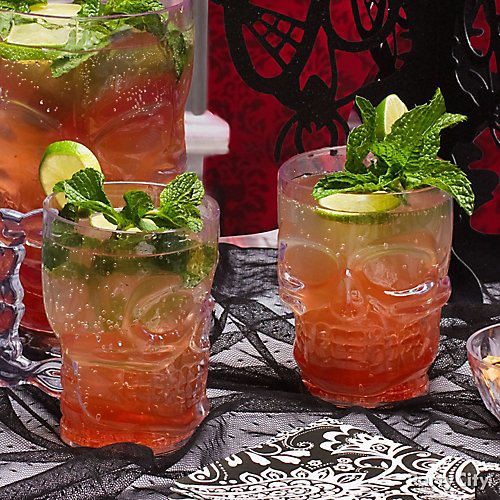 Idea 17: Bloody Moscow Mule
Give the bloody treatment to any popular cocktail like a mojito or a margarita by adding some grenadine syrup to the bottom of the glass. To make this Bloody Moscow Mule, fill a skull mug with ice, then add 1-1/4 oz. vodka, 1/2 oz. sugar syrup and 1/4 oz. lime juice. Top with 3 oz. ginger beer. Garnish with fresh mint and a lime wheel. Once you've got the recipe down, mix up a pitcher to keep bodies from piling up at the bar.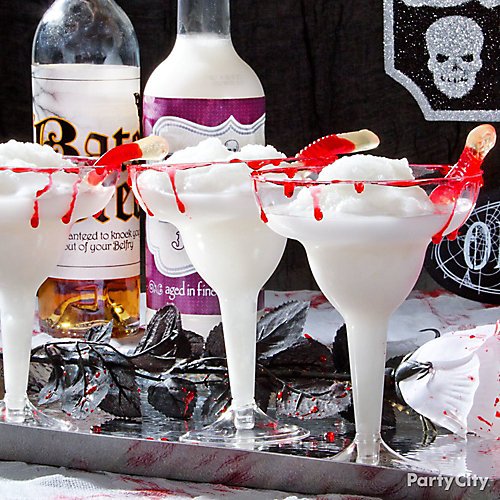 Idea 18: Pina Ghoul-adas
To make Piña Ghouladas, blend rum and ice with Piña Colada Mix according to package directions - or mix up your own by whisking together 20 oz. of pineapple juice, 15 oz. cream of coconut, 1/2 cup heavy cream, 1 cup orange juice and 10 oz. rum. Place about 2 to 2 1/2 cups ice cubes in a blender, and add 1 cup of the drink mixture. Stir a few drops of red food coloring into 3 T. corn syrup and dip the rim of each glass in the red syrup. Add some "bloody" gummy worms or tasty Twizzlers for more creepiness!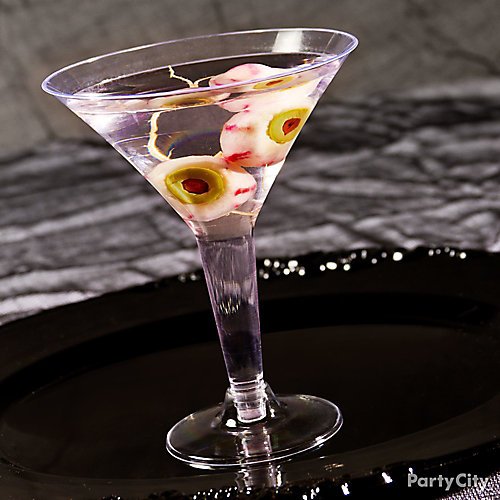 Idea 19: Eyeball Martini
To make an Eyeball Martini, peel radishes, leaving thin streaks of red skin on to represent blood vessels. Using the tip of a small knife, carefully scoop out a small hole in each radish. Stuff a green olive into each hole. Then mix 1 shot of gin or vodka with 1/4 shot of dry vermouth, and add a few "eyeballs" to your drinks.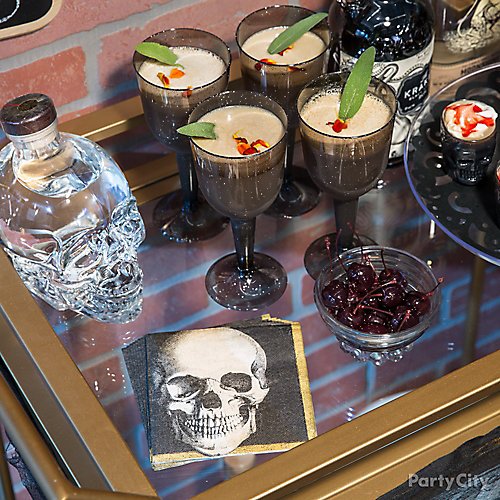 Idea 20: Classic Whiskey Sour
Spine-tingling ideas for bewitching spirits! Haunt the top shelf of your bar cart with sinister and chic libations. To brew up a classic Whiskey Sour: put 2 parts scotch whiskey, 1 part lemon juice, ice and a whisked egg white in a cocktail shaker. Shake gently and strain into glasses. Make it yours with creative garnishes like sage leaves, orange zest, lemon peel or edible nasturtium flowers.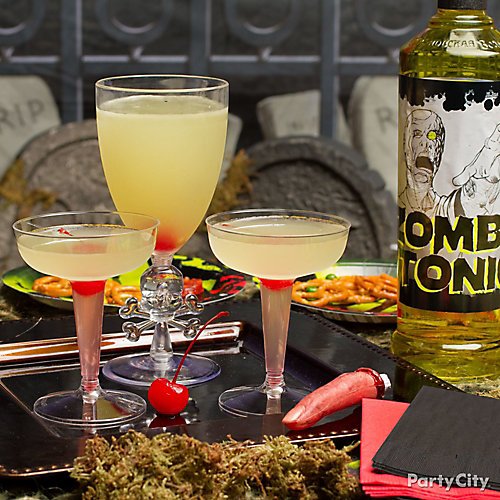 Idea 21: Corpse Reviver
Zombies are hot (again) this year! Wake up a party for the undead with classic Corpse Reviver No. 2 cocktails along with bottles of spirits, wine or soda with wacky Zombie Tonic labels. To make a Corpse Reviver No. 2, mix 1 oz. each of gin, orange liqueur, Lillet and fresh lemon juice along with a dash of absinthe in a cocktail shaker filled with ice. Shake until well-chilled, then strain into a wine glass or a small champagne coupe. Garnish with a maraschino cherry.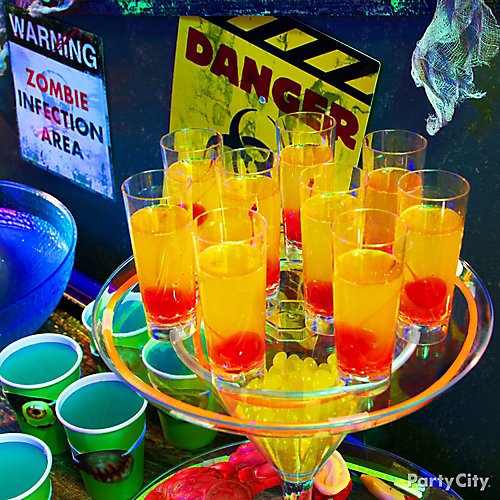 Idea 22: Bloody Eyeball Shooters
Keep your eyes peeled for this delish drink! Forget the hair of the dog – serve up Bloody Eyeball Shooters straight from the zombie that bit you! First, shake up tangerine vodka and orange juice in a shaker. Fill the bottom 1/4 of the glasses with grenadine, then pour in the vodka and orange juice mixture. Finally, drop in a cherry to complete the bloody eyeball effect. Make a cool display with a giant martini glass, a cake stand and a couple glow bracelets around the plate rim.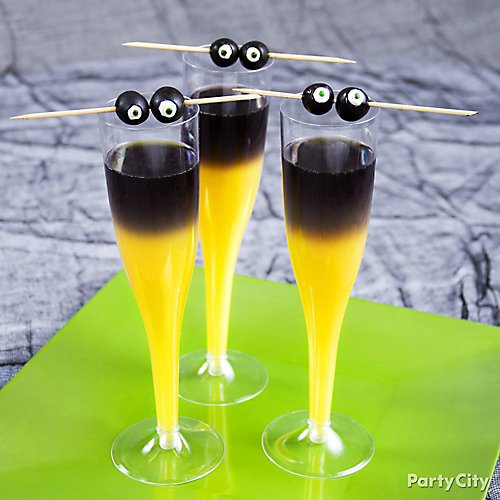 Idea 23: Goblin Mimosas
It's alive! Make cocktails that look like they've been created in a mad scientist's lab. When it comes to these little monsters, it's obvious that it's time to bring on the buzz. For Goblin Mimosas, place Candy Eyeballs inside olives or blueberries and insert bamboo skewers. Fill a glass halfway with orange juice, then pour black vodka carefully over the juice. (Pour the vodka slowly over the back of a spoon so that it runs down the side of the glass, to keep the liquids from mixing.) Top glasses with your skewered "eyeballs" and serve up your ghoulish goblins!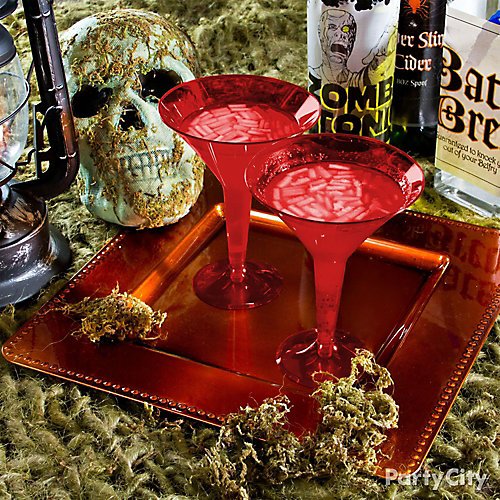 Idea 24: The Maggotini
Rotten to the core – and delightfully delicious! The Maggotini is definitely a treat if you can look past its tricky first impression of a decaying drink. To make a Maggotini, stir 2 oz. of gin, 4 oz. of tonic, 1 oz. fresh lime juice, 1 oz. of cucumber juice and 1 tsp. of Blue Agave sweetener. Peel a cucumber, and halve and scoop out its seeds with a small spoon. Finely dice your cucumber and add it to your drink with a splash of soda.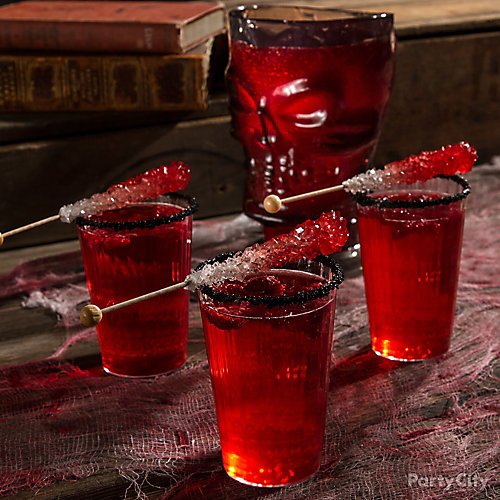 Idea 25: Brew up Bloody Bones Coolers!
This blood-red cooler with a bony twist will get their spines tingling! Your grown-up ghouls and ghosties will love this mix of champagne and muddled raspberries. Add a "bloody bone" swizzle stick by spraying a white rock candy stick with red food mist!