Nothing screams fun like balloons and for your Halloween decorations, it's no different. Whether you are hosting a party, want to add some ghostly spirit to a table, or make your front door pop with love for Autumn, balloons are an inexpensive and unique way to say Happy Halloween! Friendly and frightening Halloween balloons set the scene for a spook-takular party. Give any space a cheery haunt with high-flying witches, ghosts, bats & skeletons—no bones about it! Check out these Halloween balloon decoration ideas then shop all Halloween Balloons to get started creating your own festive balloon decor.
Balloon Centerpiece Ideas
Balloon centerpieces are quick and easy to make. Once you get the hang of the basics you can use them to create different Halloween themes. Get instructions on how to build a basic balloon centerpiece here, then customize it for Halloween like the ideas below.
Idea 1: Ghost Balloon Centerpiece
Put your new found balloon skills to work by creating a ghost balloon centerpiece. Build your centerpiece with white mini balloons as instructed above and using a black sharpie, give you ghost a personality with eyes and mouth. Use white stretch spider web and intertwine it around the balloons for a spooky look. To accent your table, use plastic spiders or creepy rats.
Idea 2: Bat Balloon Centerpiece
You'll need 4 orange balloons and 2 black balloons for this quick centerpiece project. Simply make your base with orange balloons then make a pair of black balloons with one larger than the other. Tie the black pair to the base with black curling ribbon. Using construction paper give your bat a personality with fangs, gears and eyes. Decorate the orange based balloons with mini bat cutouts to create a cloud of bats flying across your table.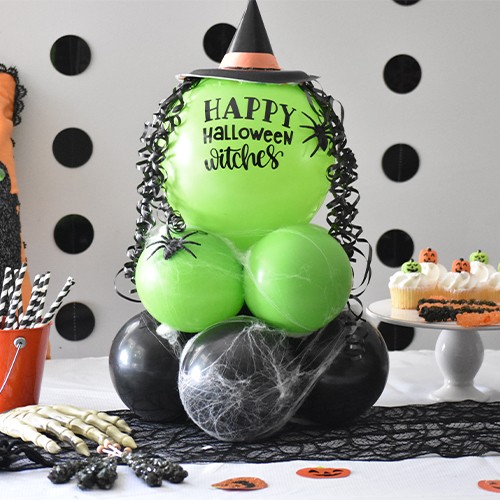 Idea 3: Witch Balloon Centerpiece
If you choose to create a witch theme for your next Halloween party, you'll be using a bit of all everything already mentioned above. Your base is made of 4 black balloons and black curling ribbon and your top with 5 green balloons. Tie it all together with black curling ribbons and use extra strips to create long locks of witch hair. Top off the centerpiece with a witch's hat and use spider web for creepy detail on the base. Add a festive Halloween message on the top balloon.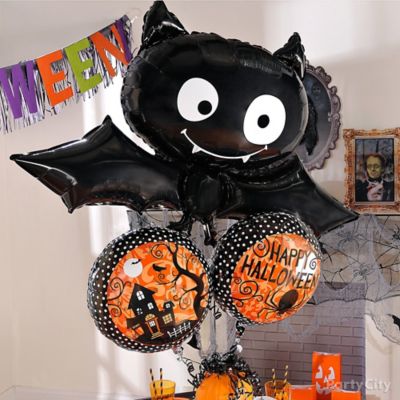 Idea 4: Bat Balloon Bouquet Centerpiece
Make a mini balloon bouquet as a centerpiece that features the happiest vampire bat around! Anchor the bat balloon, paired with two Happy Halloween balloons, to a pumpkin with curling ribbon, and put it at the center of the dinner table. It'll make your party room look like a bat's cave!
Idea 5: Vampirina Balloon Centerpiece
This spooktacular Vamprina theme center piece is so easy to create and only takes 15 minutes! Blow up 6 purple balloons and 6 black balloons and tie them together in the center. Place the balloons around the base of a black spray centerpiece. Then add the Giant Vampirina Balloon and Giant Moxy Balloon in the middle of the spray center piece and you're done!
Balloon Garland Ideas
Balloon garlands are a fun way to make a big impact. Garlands can be hung along a wall to create a decorative backdrop or displayed down the center of a table. Learn how to build your own balloon garland with these instructions.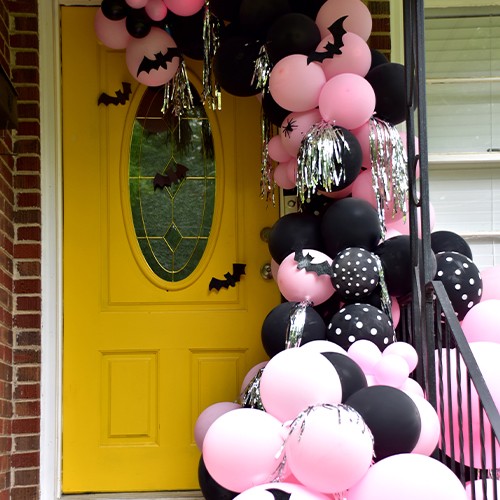 Idea 6: Glam Halloween Balloon Garland
Not all Halloween decorations have to be scary. Create a glitzy Halloween balloon garland by mixing your favorite pastel color balloons with black balloons. Add bat cutouts to the balloons for a Halloween flair and silver tinsel fringe for touch of contrast.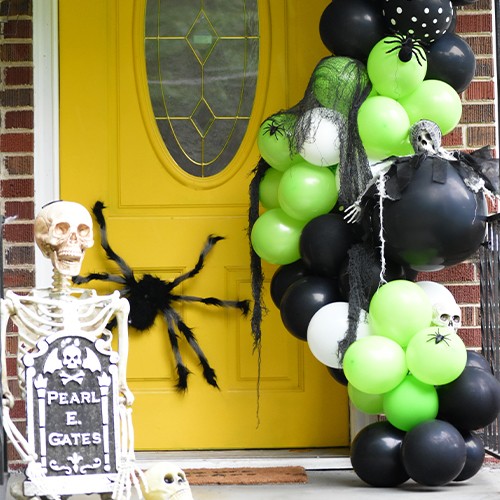 Idea 7: Spooky Spider Balloon Garland
Attract friends and family to your front door with this spooky spider balloon garland. Use a combination of black, polka dot and creepy green balloons and a balloon decoration strip to create the perfect size garland. Customize it with giant spiders, skeleton heads and spider web to make a front door that neighbors with envy.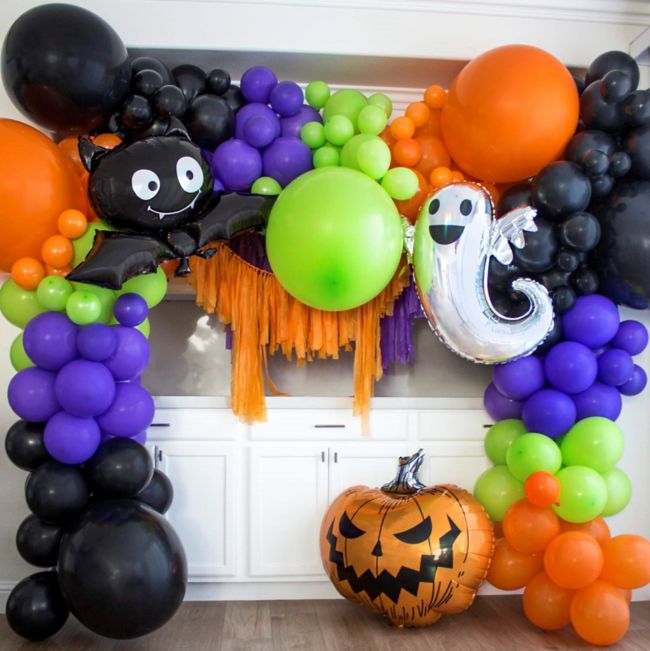 Idea 8: Kid-Friendly Balloon Garland
This balloon garland is perfect for the kiddos. With all the fun colors and character balloons, they'll love seeing this balloon decoration at your Halloween celebration. Mix balloon sizes to add variation to the balloon garland. Add in Halloween themed balloons like a bat, ghost, and jack-o'-lantern to really show your Halloween spirit.