Balloons for any Halloween bash! No bones about it! Friendly and frightening balloons set the scene for a spook-takular party! Give any space a cheery haunt with high-flying witches, ghosts, bats & skeletons! Check out our range of balloon centerpieces and bouquets that'll make your Halloween decor pop.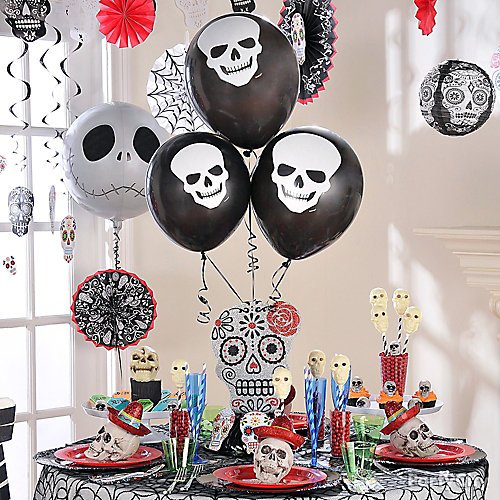 Idea 1: Join the skeleton crew for dinner!
Make the dining room black and bony with skull balloons and a DIY balloon weight. Use an upside-down bowl for the weight and adorn it with sugar-skull cutouts, including a larger cutout top. Attach the balloons with ribbon and surround your creation with pops of red, blue and green for style. Skeleton-chic!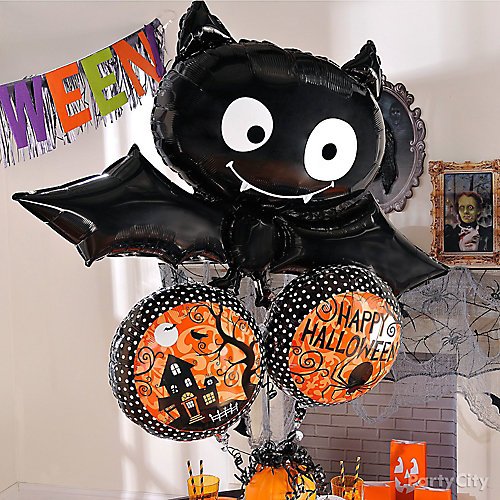 Idea 2: Gone batty for balloons!
Make a mini balloon bouquet as a centerpiece that features the happiest vampire bat around! Anchor the bat balloon, paired with two Happy Halloween balloons, to a pumpkin with curling ribbon, and put it at the center of the dinner table. It'll make your party room look like a bat's cave!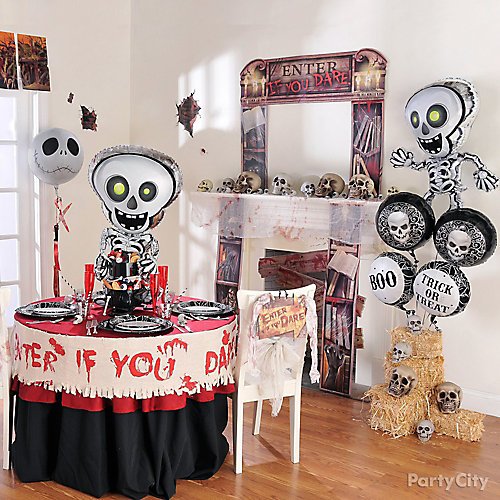 Idea 3: Smiling skeletons add just enough spook!
Use skeleton balloons to make spooky themes fun for kids without being too scary! The easiest way to start is with creepy decorations, like the "Enter If You Dare" banners and signs, and contrast them with our cartoon-like skeleton balloons. It's a subtle, cheeky way to decorate for your Halloween bash!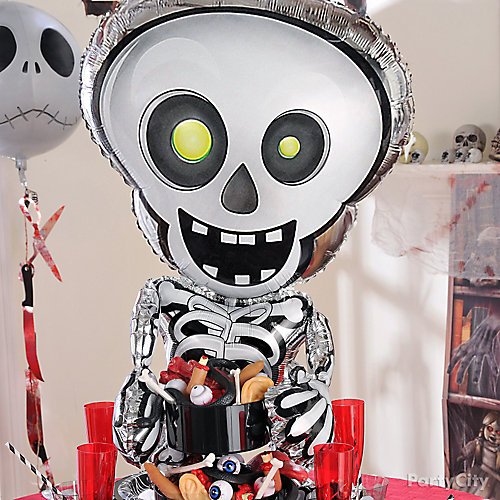 Idea 4: Hey guys, I found some eyes!
Have this little guy hang out with the candy containers. Stack two black containers and fill them with fake body parts like eyes and ears, and pose this skeleton with the assortment. Handing out eye "candy" is his favorite thing!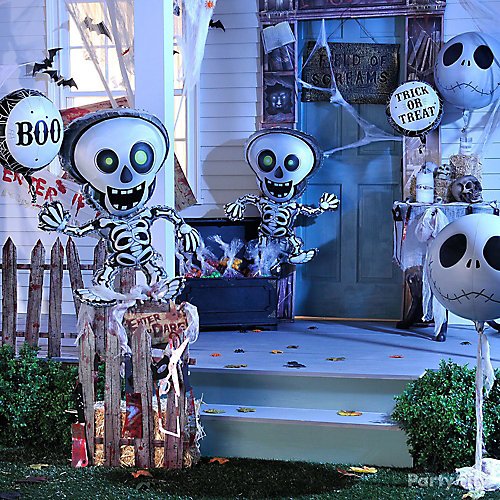 Idea 5: Come to skeleton town!
Gather several skeleton and Jack Skellington balloons to create your own Halloween Town! Mix the cartoon skeleton and Jack balloons with trick-or-treat balloons, and make sure to anchor them to bloody decorations to add a little creep. Use bloody fence stakes and an "Enter If You Dare" sign to hide the balloon weights – bonus points if you add a bale of hay. What bone-rattling fun!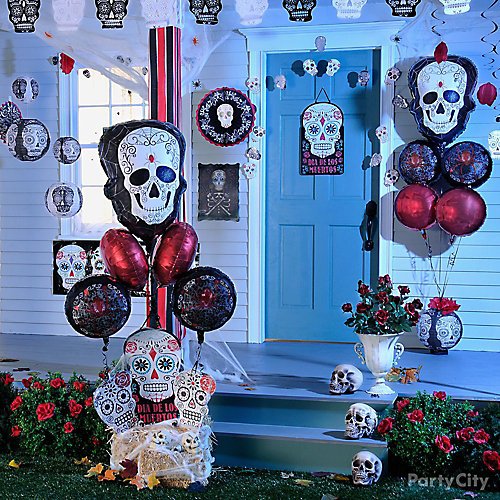 Idea 6: Use several skull bouquets to make a bold statement
Skulls everywhere! For another porch look, place a couple of Day of the Dead balloon bouquets and then add skulls to the stairs, the door and the windows – even have them hanging from the rafters!