When the holidays turn the corner, it's hard to steal the spotlight from Santa—unless you're the Grinch. As a staple of the season, How the Grinch Stole Christmas can warm the heart of even the grouchiest holiday grump. We took a page from Dr. Seuss and schemed up a modern look inspired by the classic tale. The Grinch would agree: these *awfully wonderful* ideas are just the spark you need to hatch up party plans with Grinch-themed decorations. Get all your Grinch goodies by shopping Grinch Theme Party!
Idea 1: Play with props
When it comes to Grinch-inspired Christmas decorations, it goes without saying that the Grinch himself needs to make an appearance. But as with any decorating theme, presentation is key. Make a playful reference to holiday scheming by creatively propping up Grinch decorations. A Grinch cardboard cutout peeking out from your fireplace or window alludes to the Grinch's attempt to of stop Christmas from coming.
Idea 2: Take green to new heights
If there's one thing you've got to get right in your Grinch Christmas decorations, it's the shade of green. Make sure you sprinkle pops of green throughout your decor in the same light shade of our favorite green grump—balloons are the easiest way to accomplish this feat. We love how this holiday balloon wreath takes a Grinch Christmas to whimsical new heights!
Idea 3: O Whoville tree, how lovely are thy curved branches!
Decorating with a Grinch-inspired theme isn't complete without a reference to Whoville. The iconic trees in this whimsical town are known for their curved point. It's to easy to create this look: simply attach extra branches to a slim tree and shape them to curve down. A large ornament at the top is the finishing touch to make this Whoville tree steal-worthy.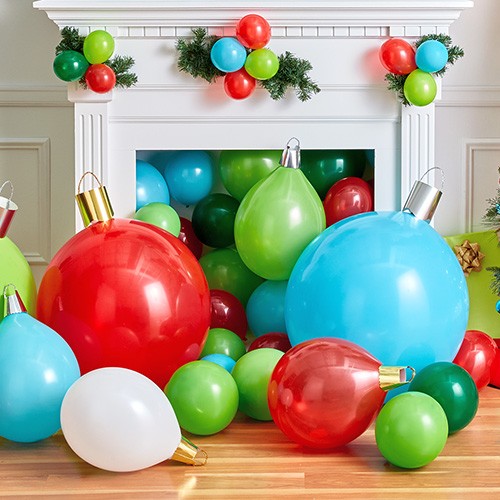 Idea 4: Pump up the fun with balloon ornaments
Inspired by Christmas tree ornaments, this easy DIY decoration is made with balloons, paper cups, and tinsel pipe cleaners. Create a vibrant Christmas scene by scattering the balloon ornaments around your Whoville tree or Grinch-themed mantle.
Idea 5: Tips for trimming the tree
We love ornaments of all shapes and sizes, but be sure to take care when hanging them on the tree. Without putting thought into the placement, the ornaments can make your tree look lopsided. Here's a pro tip: space your large ornaments evenly around the tree, then in the spaces, place medium and small decorations—like a Cindy Lou ornament.
Idea 6: Deck the halls with delicious decorating
Make a sweet holiday tradition part of your Grinch Christmas décor! A gingerbread Whoville house offers a fun take on the cookie-baking tradition and a whimsical decorative accent. You could even create the whole Whoville village! Everyone in Whoville and beyond will love this delicious take on the classic Grinch story.
Idea 7: Make your cookie party a mean one
Who says the holidays aren't the time to be Grinchy? A Grinch-themed cookie party has all the makings of a merry Christmas: sugar, icing, sprinkles, and of course, being together. Pro tip: pre-cut and pre-baked cookies like those in the shape of the Grinch will save you time in the kitchen and keep your cookie decorating on point.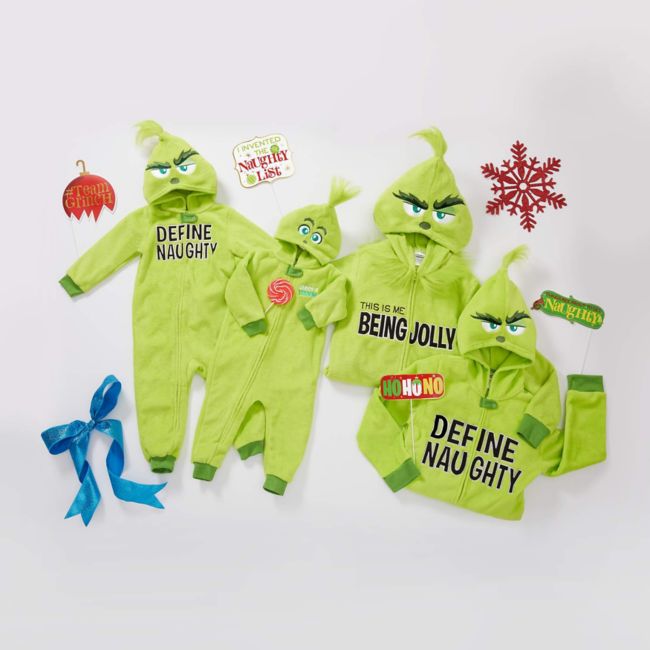 Idea 8: Get moody in Grinch Christmas costumes
If you're going to do mean things, do them in style. Mope around comfortably in onesies and take on that moody spirit in Grinch costumes and accessories. Dress up your entire family or that one person that's ho hum during holiday season in festive Grinch apparel. Hit up that party in a Grinch-themed outfit and don't forget the sour attitude to match.
From parties to decorating, these ideas will get you plotting a Grinch holiday takeover. Our Grinch-themed Christmas party supplies are ready for all your scheming. The Grinch would be so proud.