Steal the show with green grumpy punch!
Our easy drink recipe is sure to warm the hearts of your guests or grumpy grinches at your holiday movie party. Play up the homemade appeal by serving this drink in mugs and top them with candy canes. It's a refreshing take as a drink for your guests and as a movie party decorating idea!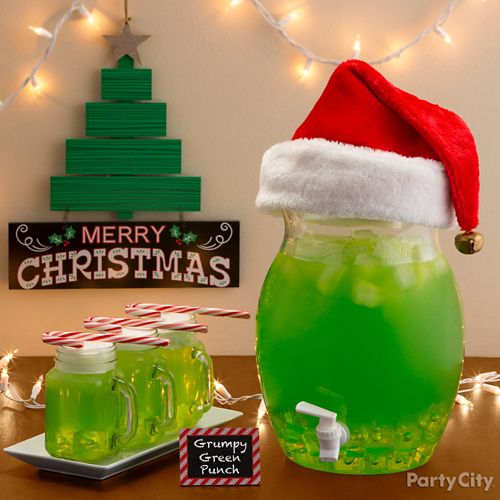 How-To
Ingredients:
1 gallon of lime sherbet
1 2-liter bottle of lime soda
1 large can (46 ounces) of pineapple juice
Candy canes
Ice cubes
Supplies:
Serving fork
Mason jar mugs
1) Scoop out ice cream
Scoop ½ gallon of lime sherbet into beverage dispenser. Use a serving fork to spread out the ice cream.
2) Pour soda
Pour lime soda over the sherbet.
3) Top off with candy canes, ice cubes
Dispense green punch in Mason jar mugs, and top off each drink with ice cubes and candy cane treat.