Your food table is often the first stop your party guests make when they arrive…and the first photo they upload to their Instagram. To kick your graduation party off with a bang, dazzle your guests with sweet treats and savory snacks that look almost too amazing to eat. (Spoiler alert: They taste as great as they look!)

Make a fun feast of themed eats and serve them on graduation tableware to create picture-perfect party decor. When it comes to graduation party food, it's always OK to bite off more than you can chew!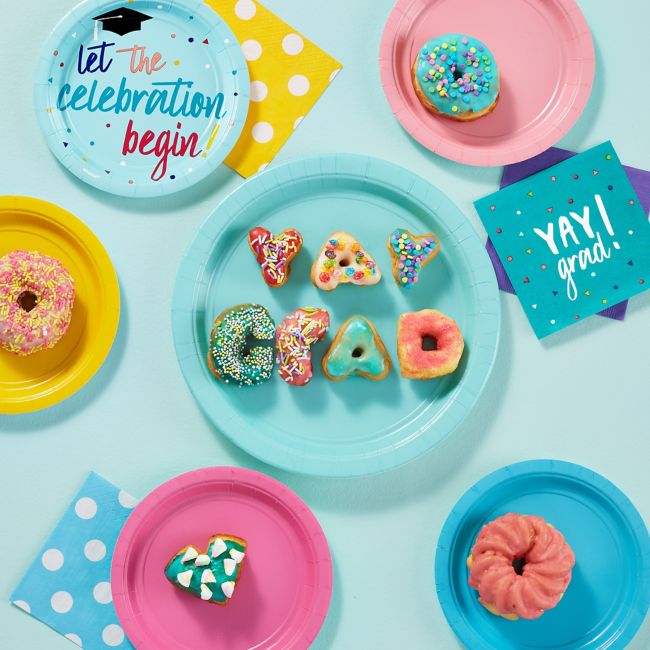 1. Tasty trend alert: donut letters
Have you heard? Donuts are the new cupcakes! And letter donuts are the hottest trend of them all. You dough-NOT need to find a specialty bakery and pay top dollar for these personalized treats. Follow our donut letter how-to for the simple steps to make these at home.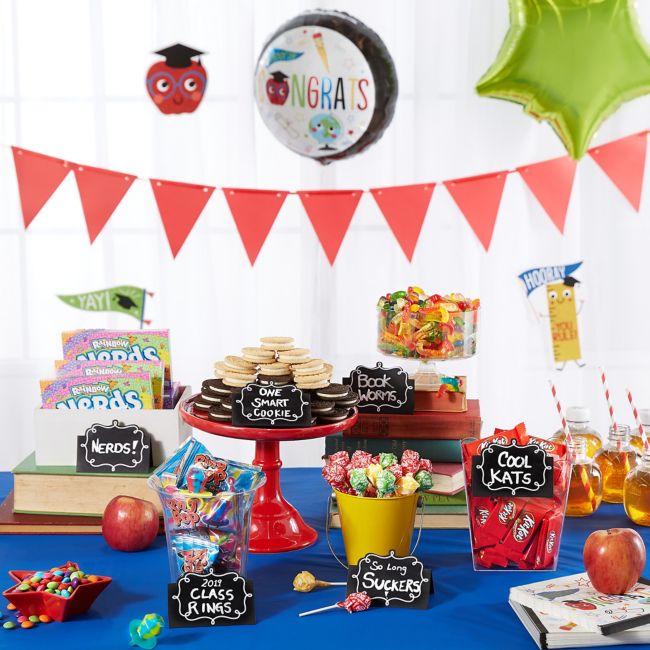 2. Cutesy kindergarten graduation
Your little one is ready to embark on a lifelong journey of learning. Celebrate this first educational milestone with a colorful candy buffet that will have your grad riding high (on a sugar high, that is!).
Shop candy by color to get your candy buffet off to a stylishly delicious start. To complete the look, follow up with other Kindergarten Graduation Party Ideas. Now that's party planning genius!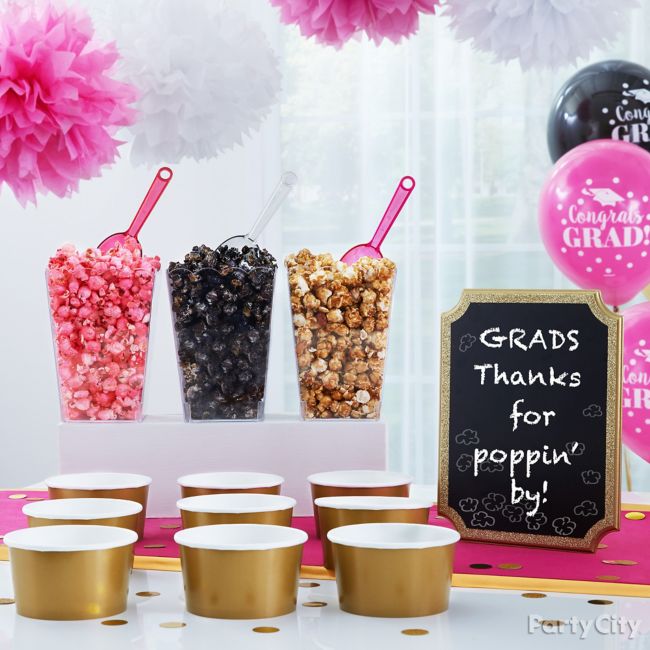 3. Colorful popcorn bar
Popcorn is the finger food that never fails to delight. Using food color mist, choose colors that match your party color scheme to add a pop of color and a burst of deliciousness to your party buffet!
Make your colored popcorn an edible centerpiece by placing popcorn in clear scalloped candy containers. Your treat now doubles as a party decoration! Add a few candy scoops and your popcorn bar is ready for party time.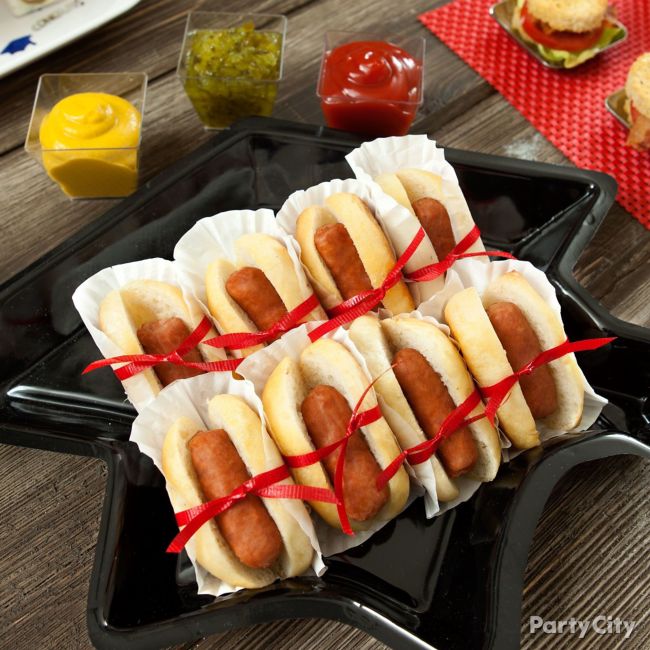 4. Diploma dogs
Nothing tastes as good as graduating feels…except these mini diploma dogs! Place mini hot dogs in buns and wrap them in white baking cups with red ribbon ties to look like your new grad's diploma. Arrange the dogs on a graduation cap serving tray with mini clear cubes full of condiments. Munching on these, your grad will feel like the top dog!
5. Customize a store-bought cake
Your grad's hard work paid off! Now your work begins to create an A+ party. Work smarter, not harder by getting a store-bought cake and using cake toppers to personalize it. For a cake that is as sweet as your scholar, and so on-theme it looks custom made for your graduation celebration, there's no easier way to save time and money. Now that's having your cake and eating it too!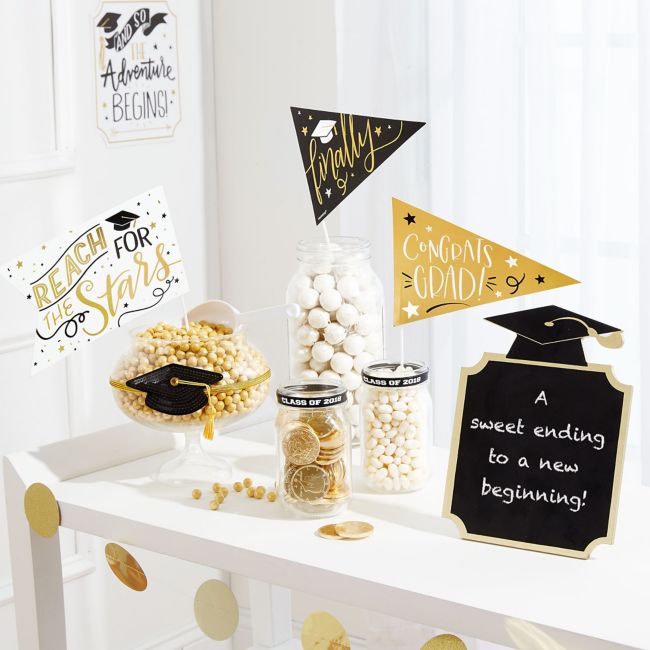 6. Classy candy buffet
Your grad is moving on to new adventures—life is sweet! What better way to celebrate than with a stylish array in a candy buffet? Personalize your spread with your grad's favorites in colors that match your party decor. Clear containers show off your taste in style…and in flavor! See all of our classy grad treat table ideas.
7. Party picks trick
What simple trick turns finger foods into stylish munchies? Party picks! With one step, a graduation-themed pick turns average bite-sized apps into the valedictorians of the party food table. Find party picks and more when you shop all mini tasting party supplies.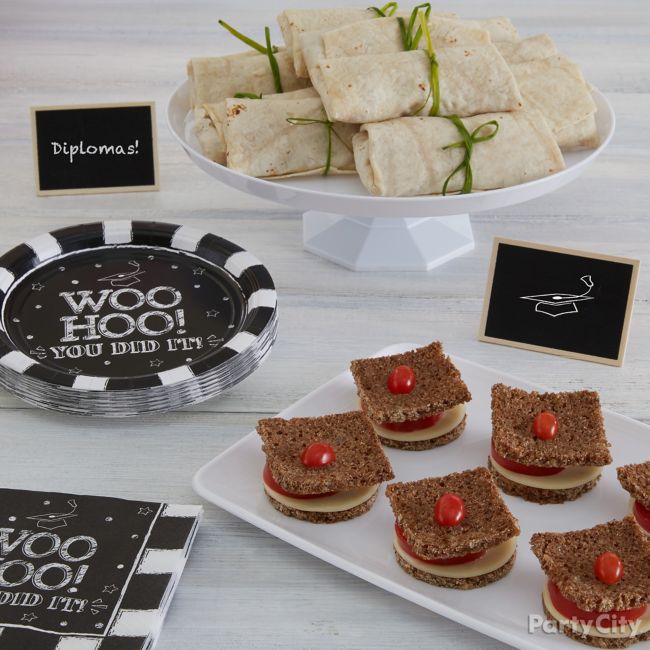 8. Graduation snackables
Grads waited a long time to toss their hats in the air--now they get to toss these grad cap sandwiches in their mouths! In a matter of minutes, you can make a platter of these tasty themed snacks using rye bread, tomato slices and circles of mozzarella cheese. And while your grad worked hard to earn that diploma, you'll find it's easy and fun to achieve the look of little diplomas using small burritos wrapped in green onion. Grad tastes rad!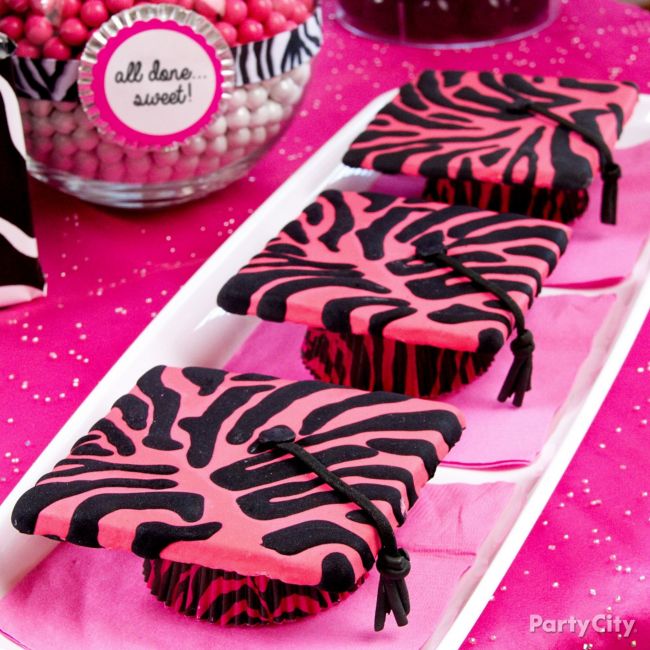 9. Pretty in pink grad cap cupcakes
Be the teacher's pet with these zebra grad hat cookie cupcakes. In a few simple steps you can make a dessert that will drive your grad wild! Follow the simple Pink and Zebra Grad Cap Cookie Cupcake Topper How-To and tame this exotic treat!
10. Brainy brunch
Anytime is the right time for breakfast foods. Add delicious brunch favorites to your grad menu for a genius party win. Fluffy pancakes and plump berries alongside crispy chicken and waffles will make the party smell like heaven dipped in syrup! Your guests will rave when you serve up this breakfast of champions. Keep everything hot with chafing dishesin your party colors.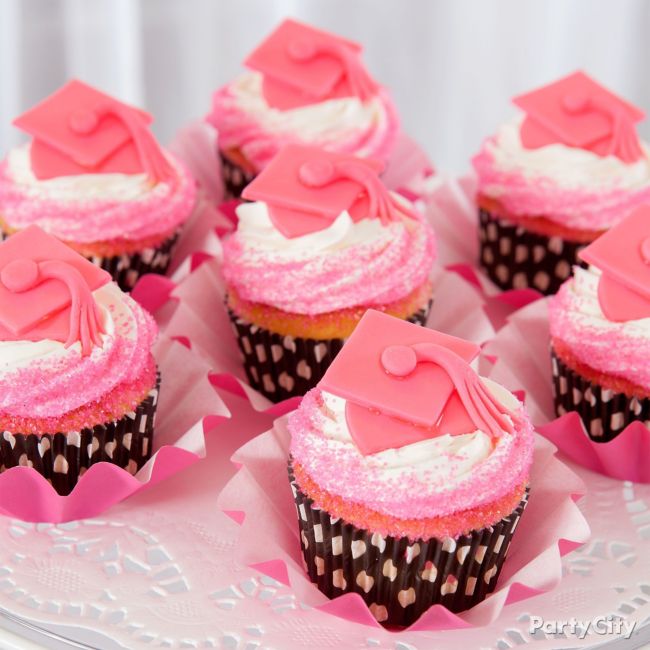 11. Hats off to cookie cupcakes
Cupcakes in vibrant colors and dazzling designs send your food display to the head of the class! To make these pink zebra designs, start with polka dot baking cups, white icing, and pink sprinkles. Use pink fondant squares, strips and dots to assemble the hats, and place the cupcake on a large wavy baking cup. They look too cute to eat…but your guests will gobble them up anyway.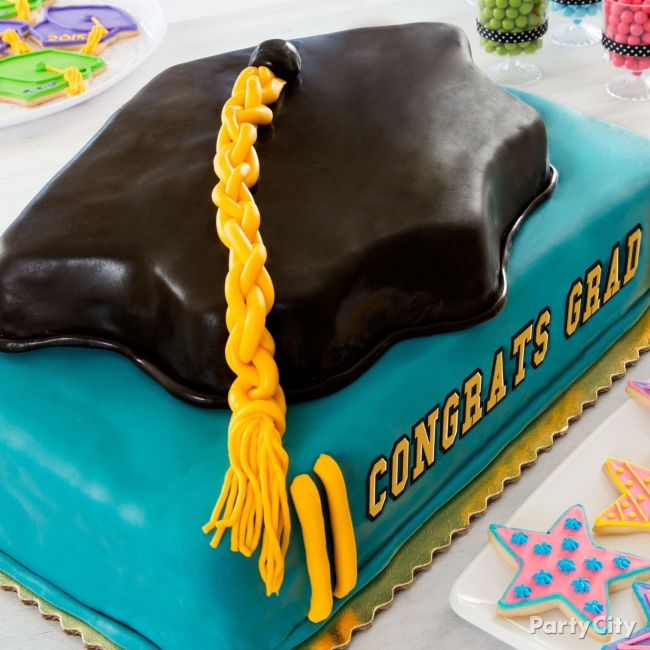 12. Bookworm graduation cake
Surprise your bookworm graduate with a book they can sink their teeth into! Use your bookworm's school colors to create a custom dessert that really takes the cake! This fancy fondant cake doubles as your table centerpiece (just remember to snap some pics before cutting into it). Enough hitting the books, now it's time to take a bite out of them!
13. Commencement cake pops
Give your cake pops a graduation makeover! Create smiling grad pops by dipping your cake pops in yellow Candy Melt. Once they dry, dip them in chocolate Candy Melt for the grad cap. Top with a square of candy bar and add a strip of yellow fondant (and a teensy fondant button). You have a delectable edible! Use a black icing tube to draw smiling faces. Then watch the smiles on your guests' faces when they pop these cake pops into their mouths!
With yummy food inspiration filling your head—and teasing your stomach—the next step is bringing these ideas to life. Shop graduation party supplies to get started. Don't forget to tag us in your Instagram photos @PartyCity so you can inspire us back!