Honor-roll snack ideas to please all your party valedictorians. Hats off to graduation tasting party ideas and appetizers that grads and guests will gobble up! Wow your star student and party guests with bright con-GRAD-ulatory decorations and a table of clever cafeteria-themed cuisine, served in trendy mini containers for munching and mingling!
Shop all mini tasting party supplies or graduation tableware.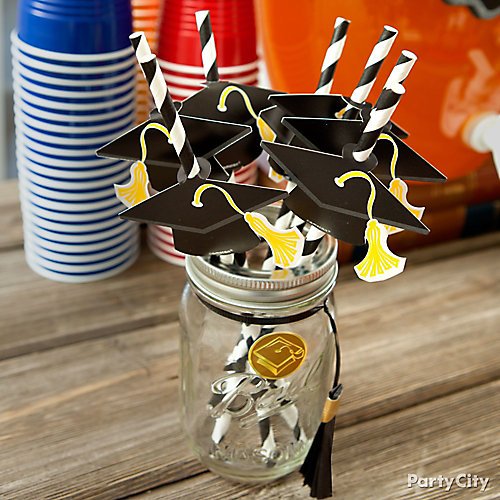 Idea 1: Sip in style with grad cap straws!
Here's an easy way to add a little pomp and circumstance to the party beverages. Set out a jar filled with black-and-white mortarboard straws so everyone can feel like a grad for a day. DIY a tassel with a piece of folded-up black tissue paper wrapped with some gold duck tape. Use a little black ribbon to tie it onto the jar and add a mortarboard sticker seal for extra credit – you overachiever, you!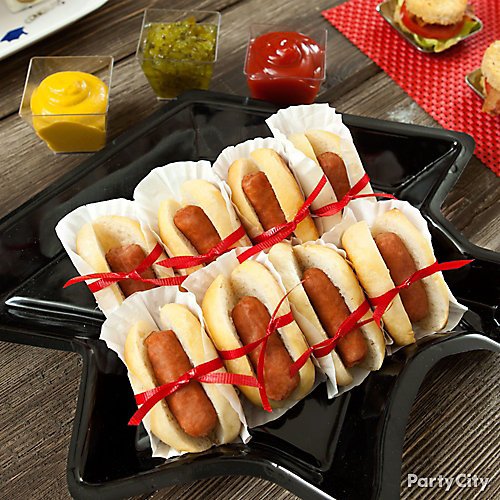 Idea 2: Graduate them to Diploma Dogs!
Hot-diggity-dog – everyone will give top marks for a mini bar of delish Diploma Dogs! Wrap mini hot dogs and buns in white baking cups with red ribbon ties to look like the diploma your grad just received. Arrange the dogs on a graduation-cap serving tray with mini cubes of condiments for dipping.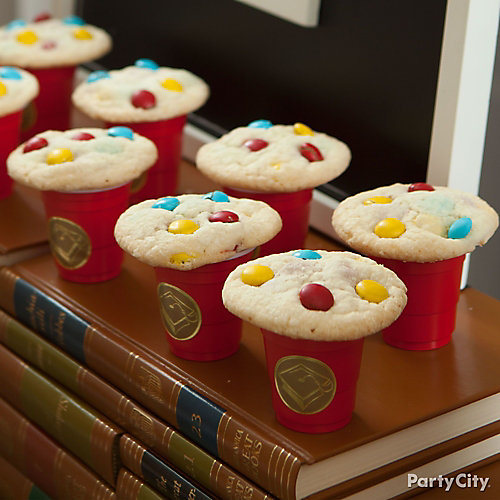 Idea 3: Yummy graduation cookie hats!
Graduating is sweet and so is this treat! Bake up a batch of the grad's favorite sugar cookies with colorful chocolate drops. Stick gold graduation seals onto red shot glasses filled with milk and top each one off with a cookie grad cap. Line 'em up in rows for a grad-tastic assembly of treats partygoers can snack-and-dip as they mingle. Shop all baking supplies.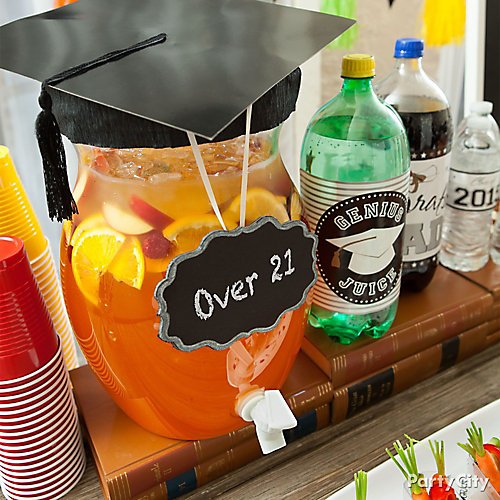 Idea 4: Get the party started with spiked punch!
For the Over 21 crowd, this spiked punch is sure to please. Just mix peach-mango juice and rum with slices of oranges, peaches and raspberries for a lip-smacking good beverage – perfect for grown-up grads!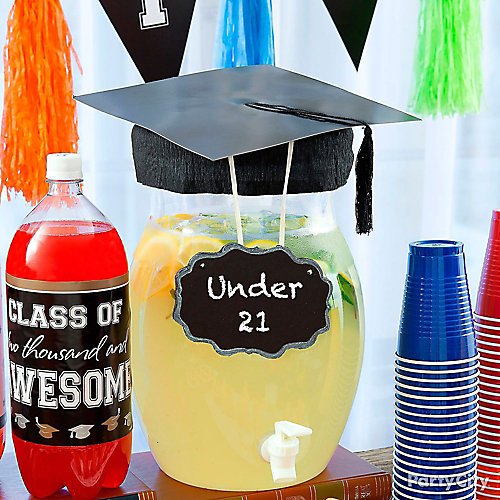 Idea 5: Make an awesome all-ages lemonade
Since the party will have grads and guests of all ages, set up a drink bar with a choice of punch, lemonade and soda bottles with novelty grad labels. For a refreshing non-alcoholic drink, fill a large beverage dispenser with lemonade, mint, and slices of lemon and lime. Earn top marks by giving the dispenser a grad makeover with a mortarboard cap on top and a chalkboard sign that reads "Under 21" on the front.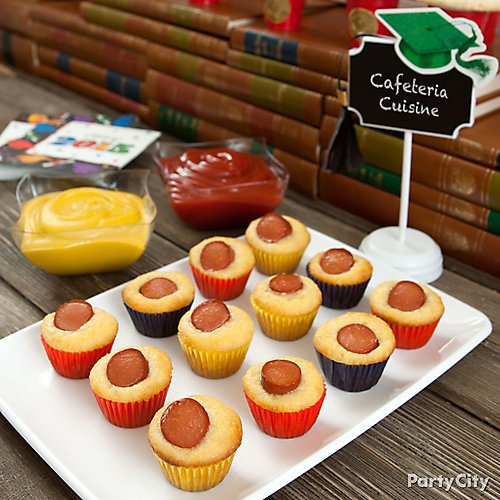 Idea 6: Earn a diploma in deliciousness with corn dog muffins!
Whipping up tasty grad grub is a no brainer with corn bread mix, hot dogs and a mini muffin pan. To make these bite-size apps, cut up a hot dog into sixths and pop each piece into the well of a mini muffin pan filled with prepared corn bread batter, then bake. Display your cafeteria cuisine in colorful baking cups with condiments close at hand in mini bowls and a chalkboard sign with a glittery grad cap cut-out.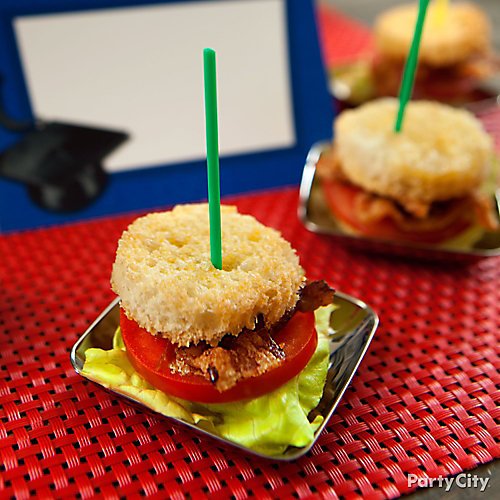 Idea 7: Mini BLTs make the grade
These BLT minis are too cool for school, but they're perfect for the graduation party! Cut out mini rounds from a loaf of french bread and toast them in the oven on an oiled pan. Layer the rounds with a yummy sandwich spread – we used aioli – plus lettuce, tomato and bacon. Serve them up on mini silver plates with colorful picks so everyone can easily grab and snack.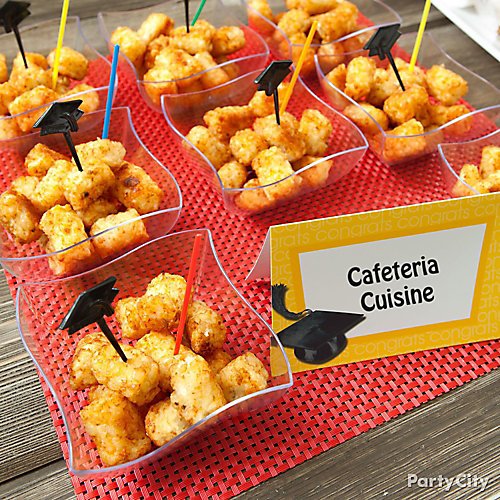 Idea 8: Easy grad party snack: tasty tots!
Serve up tater tots in wavy bowls for a grab-and-go snack perfect for munching while mingling. Make this grad grub even easier to nosh on with a mix of solid-colored party picks and graduation picks with mortarboard caps. Set a matching thank you note card with a printed headline like "Cafeteria Cuisine" – A+!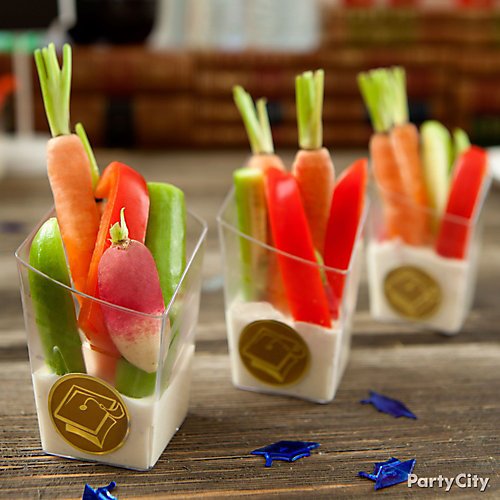 Idea 9: Graduation veggie cups
Start your grads off on the right foot with mini veggie cups! These grab-and-go clear cups of greens like bell pepper slices and mini carrots in creamy ranch are the perfect size for munching – and they protect from double dipping! Just add a gold mortarboard sticker seal for a mini-sized decoration that earns top marks in being on-theme.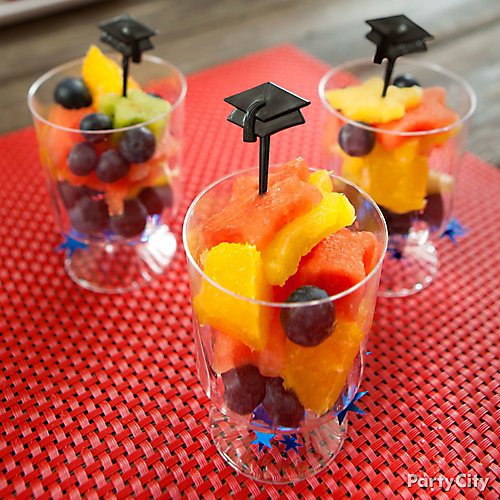 Idea 10: Serve fruit appetizers
They'll eat up these appetizer cups full of fruity jewels. Peel and slice yummy fruit like kiwi, watermelon and mangos, then cut them up with a small star cutter. Sprinkle the fruit in pedestal cups with blueberries and tangerine slices with a graduation cap pick as a festive way to munch. For extra school spirit, wrap star wire garland around the base of the cup.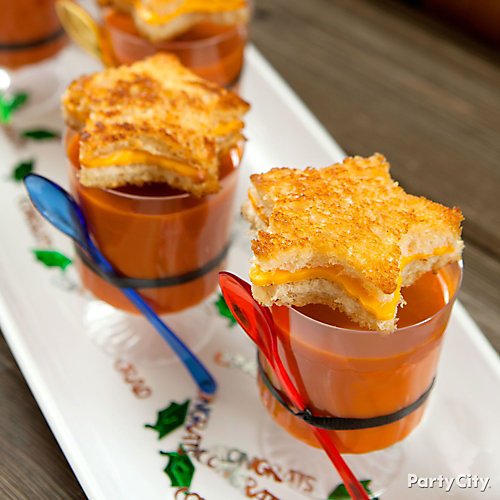 Idea 11: Mini tomato soup + sandwich stars = yum!
Treat your star student and party guests to a class-act appetizer! Everyone will be WOWed by these mini tomato soups with their own tiny spoon tied on with some ribbon. Make a delicious pairing with sandwich stars cut out from grilled cheese sandwiches using a small star cutter.