Grad season is already here! Though you might wish you could turn back the clock, your graduate is ready to enter the big, wide world. Whether they're college-bound, heading to a trade school or entering directly into the workforce, this monumental milestone deserves a celebration. We've compiled a list of unique high school graduation gift ideas that strike a balance between usefulness and fun. Because isn't balance what adulthood is all about?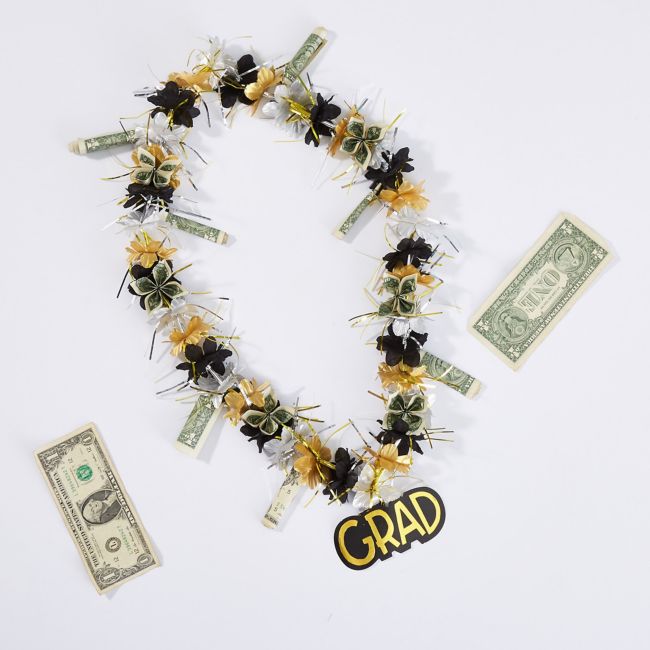 How to make an easy graduation money lei
A money lei is a popular graduation gift that puts a modern spin on tradition. DIY your own using your choice of lei. Roll up dollar bills and use mini clothespins to attach them. The denomination of bills is up to you, but a larger quantity will add to the WOW factor, and small bills can really add up!
For a next-level money lei, fold bills into flowers and attach to the lei using glue dots, which adhere on both sides but can be removed without ruining the money.
How to make graduation candy leis
What's the sweetest graduation gift we can think of? Grad candy leis, of course! This DIY gift both thoughtful and affordable.
When choosing types of candy, consider the graduation venue: mini chocolate bars work well, but if the ceremony is outside, it may be a melting hazard! Some melt-resistant options are gumballs, lollipops, Airheads, Smarties, jelly beans, Jolly Ranchers, peppermints, butterscotch candies, rock candy, Skittles, Starburst, Warheads, sour twists, Nerds, jaw breakers and Life Savers.
If you choose to use clear pretzel bags, fill the bags with candy, leaving a few inches at the ends. Attach using the included twist ties. Grad cap cutouts and 5-inch lengths of tulle can be used to add personality.
You can also use a roll of Cellophane. Cut a strip of plastic wrap about three feet long and six inches wide. Place sections of candy along the strip and tie off sections using curling ribbon. Keep reading for a detailed how-to!
Graduation gift ideas for her
Wall art, canvas bags, purses, fitness watches, makeup pouches, luggage tags, tea & coffee, mugs, succulents (easy to maintain in a dorm room), stationary (to encourage letters home!), journals, calendars, planners, sunglasses, blankets, instant cameras, charm necklaces, aromatherapy diffusers, earrings, bracelets, scarves and candles! Shop all graduation gifts.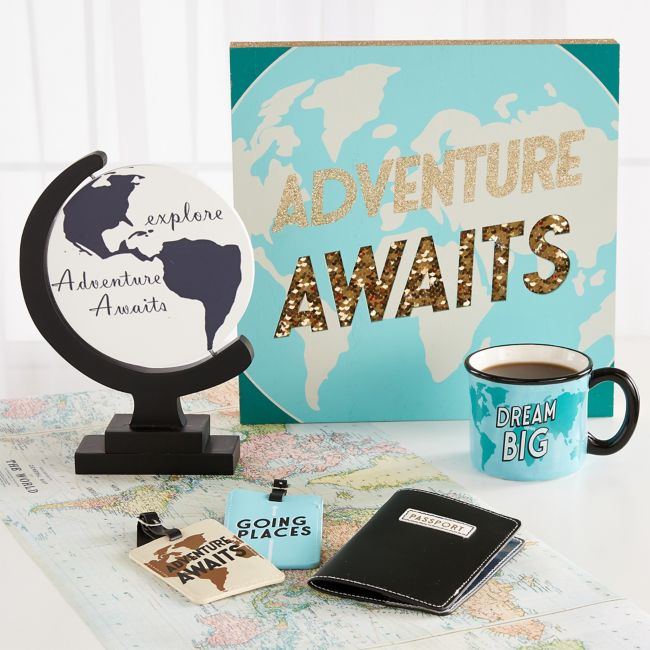 Graduation gifts for him
Desk accessories, wall art, luggage tags, key chains, fitness watches, shaving kit, electric razor, headphones, tea & coffee, mugs, planners, sunglasses, blankets, beanies, vests, chess board, money clip, cuff links, tie case or a multitool!
Classic graduation gifts
Watches, jewelry, gift cards, cold hard cash…some things never go out of style. Since this special occasion marks the graduate's transition into adulthood, many families use graduation as an opportunity to pass down family heirlooms like a pearl necklace, recipe box or family photo album.
Framed photo of family & friends
Capture sweet memories by presenting the graduate with a framed photo of friends or family they can display in their new dorm room. Some frames also hold their graduation cap (extra important if they created a DIY grad cap design), diploma or tassel. These memorabilia frames help protect these treasures from wear and tear in storage and will likely hang proudly in the grad's future home or office.
Experiences, not things.
Some of the best gifts aren't things you can wrap in a box. Give your graduate the gift of time together: after graduation, you can celebrate as a family during a special event or trip. Do they have a favorite band? Get them tickets to an upcoming concert. Is there a show they've always wanted to see? Plan a weekend getaway! A gift certificate to a cooking or pottery class is a great way for your grad to de-stress after finals. And if you have a larger budget, many families plan a special summer vacation for after graduation.
A trip down memory lane
Slip a check or cash gift into a Dr. Seuss book your grad loved as a kid, then write a special message on the inside cover instead of giving a card. If you want to add a bit of nostalgia to a graduation gift basket, a Dr. Seuss accessory would be a sweet nod to their childhood.
Gifts for their dorm room
Are dorm room registries a thing? Because they totally should be. Incoming college freshmen need SO many things to complete their dorm rooms (and make little dorm rooms feel like home). An electric kettle, personal fan, cute laundry bag or new bedspread may not *sound* like fun graduation gifts, but they're the kind that keep on giving.
College survival kit
Let's face it, packing for college can be ridiculously stressful. No matter how many lists your grad makes, they're bound to forget a few things—which is why a "college survival kit" makes such an awesome gift. Fill a container with some of the essentials for freshman year: snacks (popcorn, candy, chips, Pop-Tarts, pasta, beef jerky, gum…), a coffee pot or instant coffee packs, plastic bags, a first-aid kit, scissors, a toothbrush, toothpaste, mouthwash, floss, tissues, lotion, hand sanitizer, super glue, sunscreen, cough drops, hair ties, ear plugs, a towel, lip balm, cotton swabs, pens, notebooks, a power strip, Command Hooks, cleaning supplies, and a letter reminding them how proud you are of this big step in their life.
Pack everything up in a carry-on suitcase or bathroom caddy, or opt for something a little cuter: a plastic paint can works for smaller kits, and pack larger kits in a decorative party tub or galvanized bucket featuring their new school mascot or favorite sports team.
Memberships and subscriptions
Every graduate is different, so give a gift as unique as they are. You know that thing your grad really loves? There's probably already a subscription box dedicated to it—whether it's novels, skin care, unique snacks, or stickers. Other perfectly practical gifts are memberships for classes at a local gym or even a streaming service so they can watch their favorite shows between study sessions.
College Merchandise
If your college-bound grad didn't pick up memorabilia from their future alma mater during a student tour, a sweatshirt or bumper sticker sporting their new college mascot makes a perfect gift! Many colleges sell branded campus hats, bags and other gear online.