Hang your grad tassel on trend-setting stripes and dots! Just right for a casually chic graduation party. Black and white always makes the grade as a classy pairing, and pops of pink and gold give it a fresh modern look! Complete your party with more great ideas for a glitzy graduation from a popcorn bar and pretty balloon bouquets to buffet food ideas and fruit treats in your party colors. Our gallery will help you connect the dots—and stripes!—for a look that's top of the class!
When you're ready, shop all graduation party supplies.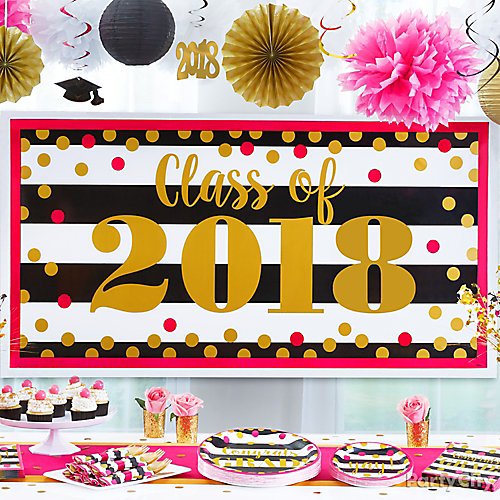 Idea 1: Use stripes and dot graduation decorations to shine with class
Hang a congratulatory grad banner over the party food table as an easy way to get a sophisticated look. An on-trend pattern also makes for a stylish photo backdrop when paired with other hanging decorations! Check out all of our graduation decorations.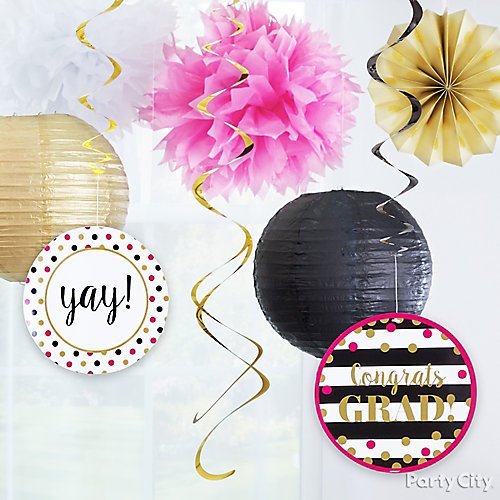 Idea 2: Get your grad decor in on the pomp and circumstance
Caps off for this poppin' arrangement! Round lanterns and fluffy hanging decorations make stripes and dots sparkle for your grad's celebration. This display also makes for an eye-catching photo backdrop. For extra credit, add a couple of hanging swirls!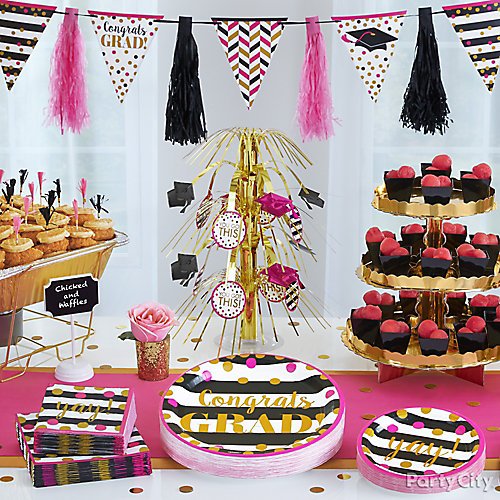 Idea 3: Easy graduation table decorations
After grabbing the diploma, it's time to mix and mingle. Create a stylish backdrop for fun with a party room that shines bright with colorful dots, stripes and chevrons. Choose pennant banners and glam centerpieces, and label the food with buffet signs. Plates and napkins with celebratory messages are a special touch! See all graduation tableware.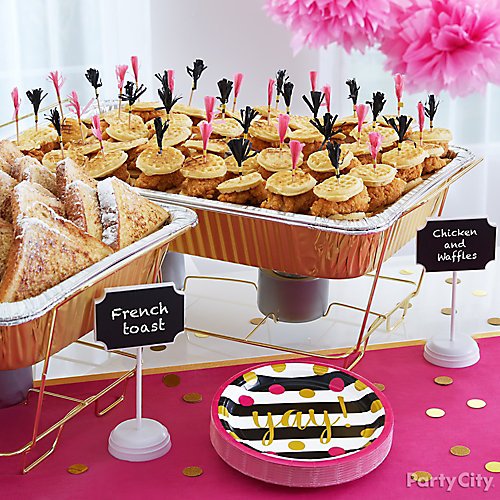 Idea 4: Chicken waffles and French toast? Oh yes.
Make a toast to your grads with this buffet idea! Brunch favorites like French toast and mini chicken and waffles fuel up grads and guests, keeping them in step with all the pomp and circumstance. Don't forget the chic chafing dishes—they keep food looking golden throughout the day!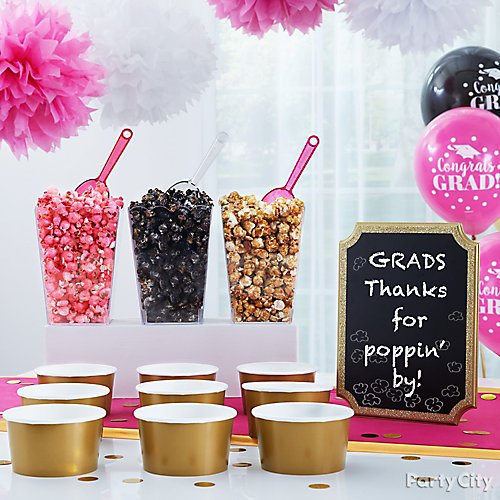 Idea 5: Thank grads and guests for poppin' by!
There's more than one way to add a pop of color to graduation decor—and a gourmet popcorn bar is an easy way to add flavor! Easily create color-coated popcorn with food color mist, and then place them in clear scalloped containers. Make sure to have candy scoops on hand so guests can scoop up their own helpings into treat containers!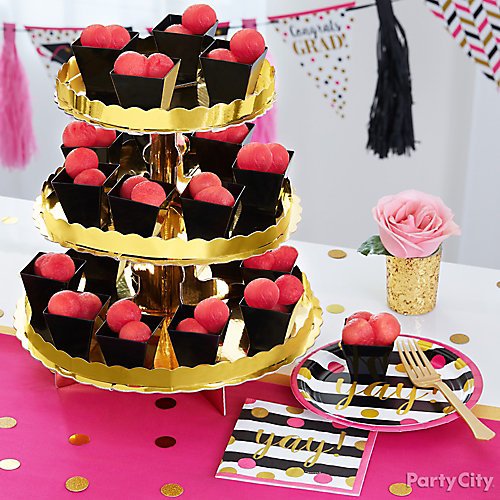 Idea 6: Sweet and simple graduation fruit cups
Here's a refreshing take on a grad party fruit cup! Using a melon baller, scoop out bits of watermelon and place them in a black mini-tasting container. Make them pop on your food table by placing them on a gold cupcake stand, creating both an eye-catching and mouth-watering decor!