Gather gal pals for a bash celebrating besties! Long before the significant others, boxes of chocolate and flower bouquets, you had your squad of soul sisters. That BFF bond gets the spotlight on Galentine's Day held every February 13. Browse our ideas for the perfect makings of a celebration that's all about treating yourself and friends to food and fun.
Idea 1: Give your decorations a lift!
Your gal pals lift up your spirits, and the decorations at your Galentine's Day party should do the same! Balloon creations like a balloon wall arch make for a stunning focal point. Accent it with shape balloons—food-themed balloons are the best for a gal's night out!
Idea 2: Gather balloon friends!
The best gal pals come in all shapes and sizes, just like balloons! A shape balloon in a whimsical character like a pink llama or unicorn makes any tablescape or photo op oh-so-adorable!
Idea 3: Fill up on favors your gal pals will love!
Galentine's is all about letting your besties know that they're, well, the best! Shower them with small trinkets and favors that have clever quips. They'll smile at sayings like "you are my cup of tea" on a mug and remembering the Galetine's celebration with besties!
Idea 4: Eat your heart out over stylish plateware
Red and pink hearts abound during the Valentine's season, but add the color gold and you get an on-trend update. Plates, cups and lovey-dovey table decor in pops of red, pink and gold make the celebration with your gal pals effortlessly chic.
Idea 5: Food before dudes
Galentine's Day is all about the friendships with your gal pals and a sweet celebration of food before dudes. Make sure yummy appetizers are first on the agenda. This "fries before guys" food idea does just that! Place this savory snack into doily-lined cordial cups, and add heart sticker clings on each container for a sweet touch! On a sparkly chalkboard, write a clever quip like "fries before guys" to celebrate your gal pals and fondness for food before dudes! Then make your friends chuckle by serving mini cheesecakes on glam plates and a clever chalkboard sign that declares "cheesecakes before beefcakes"!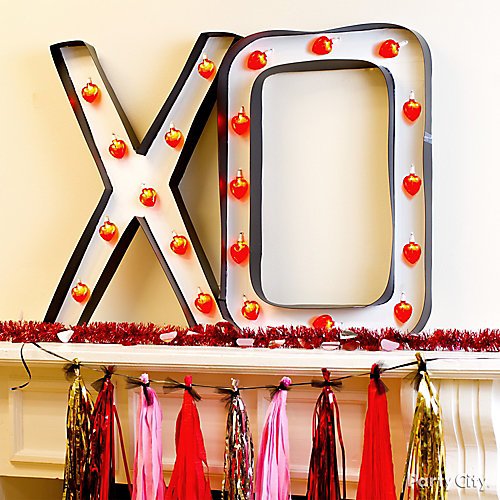 Idea 6: Set hearts aglow with a DIY light-up marquee!
Try out this Pinterest-worthy decor idea! Cut out large 'X' and 'O' letters from white foam boards and line the letters with strips of black poster board. Remove the heart-shaped casing on the lights and then poke the bulb through the foam. Reattach the cases and adhere the lights in place with hot glue.
Idea 7: Create a heartfelt backdrop!
For a gathering that puts the bond of friendships in the spotlight, set the stage for love! Start with a kit full of fans and lanterns; add a tassel garland, and top off with heart cutouts on the walls and table. Or make your setup pop with color by lining up balloons of various metallics against the wall. Your friends will love either look!
Idea 8: Treat yourself and gal friends to the sweet stuff
Do more than tell your gal pals that they're sweet—show it through a candy buffet and other desserts! Try this pink-alicious idea: Pour strawberry milk into mini plastic wine glasses and place a pink heart sugar cookie on top. Sprinkle pink and purple conversation hearts on a serving tray and arrange your glasses on top for a sweet touch. For something that's simple but just as sweet, serve crispy rice squares mixed in with your fave colorful heart sprinkles. Stick a trendy striped straw in each treat and dip them in yummy light pink Candy Melts®. (For light pink color, mix pink and white melts.) We love how they look served on red doilies for a vintage candy shoppe look!