Break up the fright this Halloween with some fun! Whether you're dressing up for Halloween at work, attending a Halloween party or getting ready to trick-or-treat, wear a costume that'll bring out your inner comedian!

Keep reading to check out our favorite costume ideas that are sure to crack up the Halloween crowd, from inflatables to hilarious group costumes. When you're done, keep the laughter going and shop all funny Halloween costumes!
Idea 1: Inflatable Halloween Costumes
It's easy to guess why we get pumped up about inflatable costumes. Whether you're a giant sloth, a unicorn, or the classic T-rex, dressing up as an oversized creature naturally brings out a different side of you—and isn't that what Halloween is all about? This video will inspire you to grab your dancing shoes—err, an inflatable costume—and get down and boo-gie!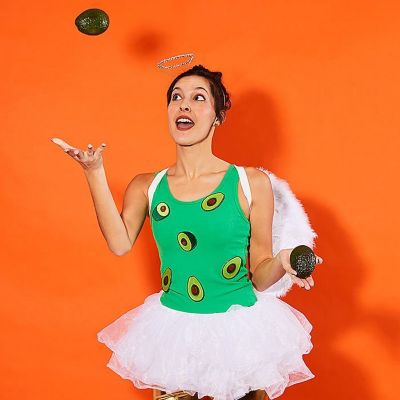 Idea 2: Holy Guacamole Pun Costume
So cute! Add a modern twist to the traditional angel wings and halo by adding the three iron-on avocado patches to whatever outfit you're rocking. We needed extra guac—so feel free to bust out the puffy paints if you do, too. And if you're looking for a cute and funny costume pairing for you and your BFF, go for the Oh Deer costume accessory kit.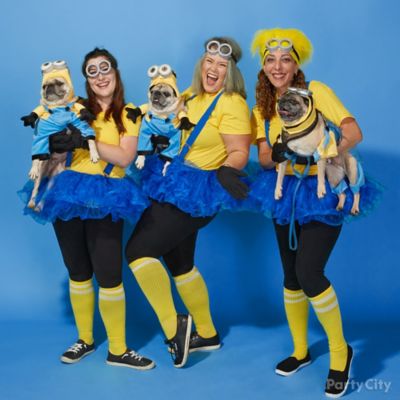 Idea 3: A minions costume idea you'll go ba-ba-ba-ba-ba-na-nas for!
Kanpai! Gather your friends this Halloween to dress up as Gru's trusty little yellow sidekicks! Create your Minion ensemble with a yellow shirt, blue suspenders, a blue tutu or blue shorts, black gloves, yellow socks, and a pair of goggles. With various baby and dog Minion costumes, everybody can dress up as Bob, Dave and the rest of the bunch. The more Minions the merrier! Complete your Despicable Me group costume by carrying around some bananas!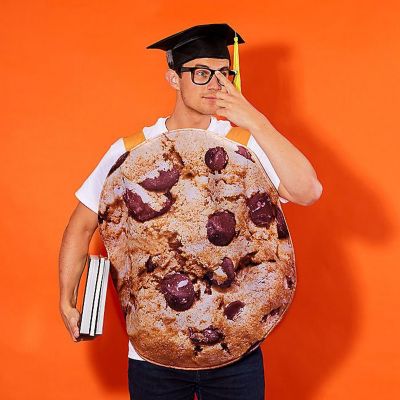 Idea 4: Smart Cookie Pun Costume
Skip the crummy costumes and go right for this easy idea. Wear whatever you're most comfortable in, then add a giant cookie, graduation cap and glasses. BOOM! Comedy. You can also turn this into a group costume—tell everyone you're a batch of smart cookies.

Looking for more knee-slappers? See more Pun Halloween Costume Ideas.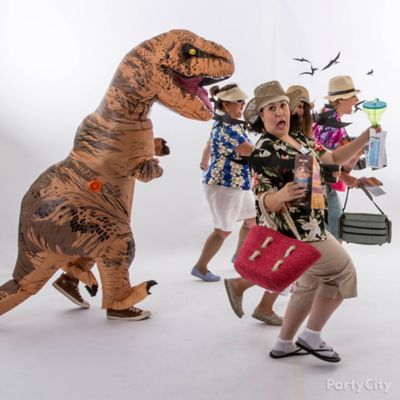 Idea 5: T-REX ATTACK! Jurassic World Group Costume
Get ready to make a scene at the Halloween costume contest with this funny group costume idea. Have one person lead the chase in an inflatable T-Rex costume, and dress up the rest of your group as tourists in Hawaiian shirts and straw hats. Add extra accessories like bags and cameras, or get crafty and DIY park maps from Jurassic World! Planning a group costume for your BFFs or family? Shop all group costumes.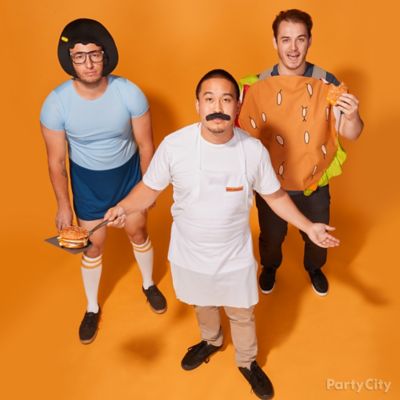 Idea 6: Grill up a good time in a Bob's Burgers group costume!
Let everybody know who has the best burgers in town! Coordinating a group Bob's Burgers costume will be as wacky as the Belcher family themselves. With an adhesive moustache and white apron you'll be ready to run a burger restaurant that will blow Jimmy Pesto's Pizzeria out of the water. The eccentric friend of the group can put on the burger suit and bring Gene's unique charm to the costume party. Butt wait, you can't get the party started without Tina's rocking dance moves! Have a friend throw on the Tina wig and dress and watch them shake the night away! To add an extra creative touch, carry around spatulas and prop burgers.


To get more funny and creative ideas for you and your friends, read our article for more Group Halloween Costume Ideas!
Idea 7: Funny Illusion Costumes
Sometimes creepy, sometimes cool, ALWAYS funny. Your friends will do a double-take when they catch sight of you in one of these optical illusion costumes!