Olaf knows snowsational brownies when he spots them!
Lovable Olaf the Snowman makes a memorable entrance at your Frozen-themed party. Use the Frozen icing decorations to decorate iced brownies. They'll make your Arendelle party citizens want to break into song!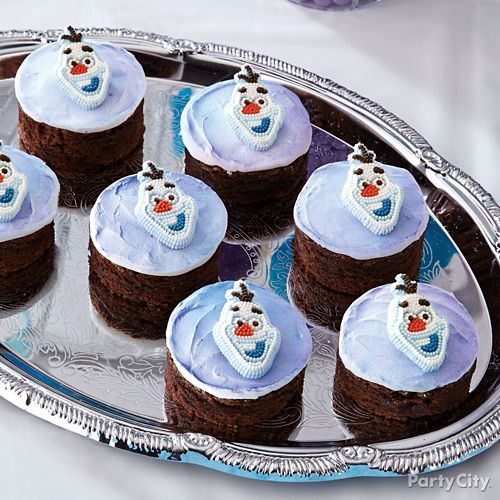 How-To
Ingredients:
Favorite brownie recipe or mix
Ready-To-Use White Decorator Icing
Violet Color Mist Food Color Spray
Blue Color Mist Food Color Spray
Frozen Icing Decorations (Olaf used)
Supplies:
12 in. x 2 in. Round Pan
Cooling grid
3 in. round cookie cutter
9 in. Angled Spatula
1) Make brownies
Prepare batter followng recipe directions. Bake and cool brownies. Remove from pan. Use round cutter to cut shapes.
2) Decorate brownies
Use spatula and white decorator icing to ice tops of brownies smooth. Use violet and blue food color spray to lightly spray icing. Attach icing decoration to brownies.