When I was a kid, the kids table at Thanksgiving was full of fun activities to help keep all the little ones occupied while the adults cooked and spent time together. It was always so much fun to spend time with cousins. So, I wanted to make a special table for the kids this year. And, since my niece is a huge fan of Frozen, I decided a Frozen 2 Thanksgiving table would be perfect!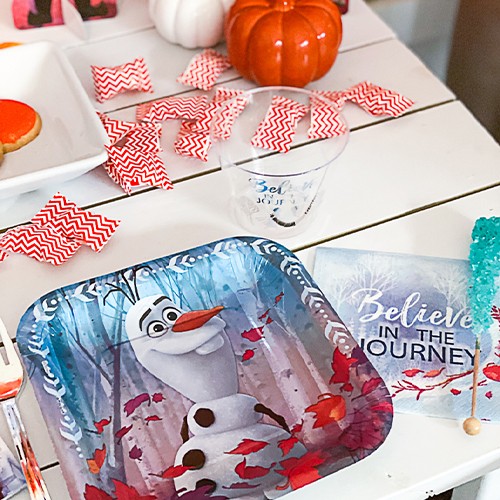 Supplies:
Frozen II Dessert Plates
Glitter Olaf Putty
Frozen II Beverage Napkins
Metallic Frozen II Plastic Cups
Olaf Craft Kit
5in and 9in Balloons
Balloon Arch Strip
My boys and I blew up over 100 balloons to make a fall colored balloon garland to hang on the fireplace mantel. Once they were all inflated, we stuck them in the balloon arch strip and hung them on the mantel. I added a felt leaf banner I've had for a while under the balloons.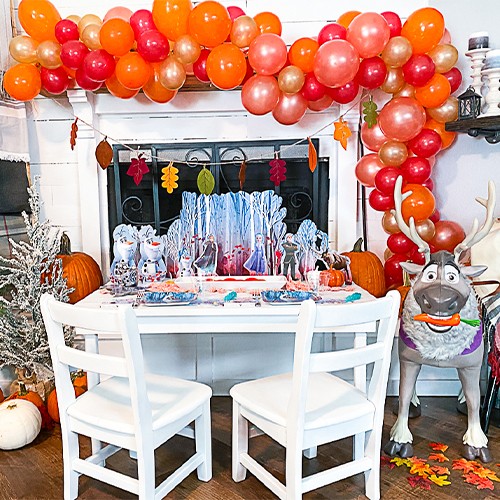 Next to the table I set up a few Christmas trees on one side and a large Sven toy on the other. Then, I scattered some pumpkins and fake fall leaves around on the floor.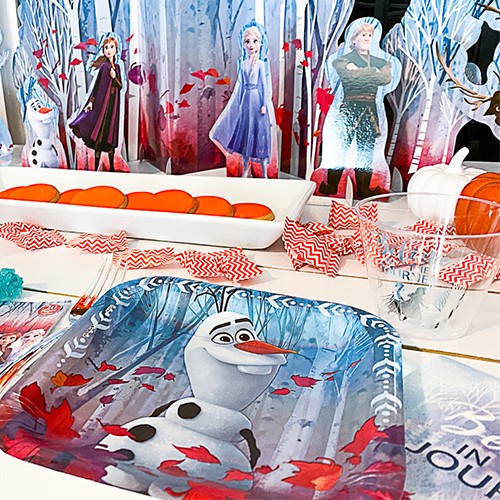 Finally, it was time to set up the table. I used some chipboard Frozen II decorations on the back of the table to cover the fireplace opening. Then, I added cute Frozen II plates, napkins, and cups.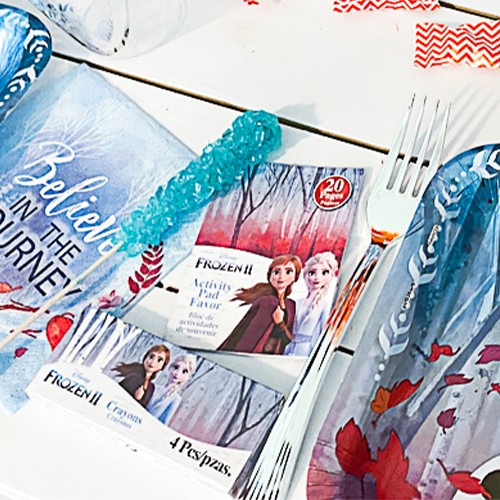 But, I wasn't done yet! Next I added small activity books and crayons to each place setting. And, since Olaf is everyone's favorite, I was sure to grab some Olaf putty and Olaf craft kit to keep the kids busy.
Then, I placed some simple orange cookies to a tray with some food markers for the kids to decorate.
This table was absolutely perfect for Thanksgiving!