My daughter and I thought that National Friendship Day would be the perfect opportunity to spread some cheer to her BFFs. What better way to celebrate than with the ultimate friendship duo of Mickey and Minnie Mouse.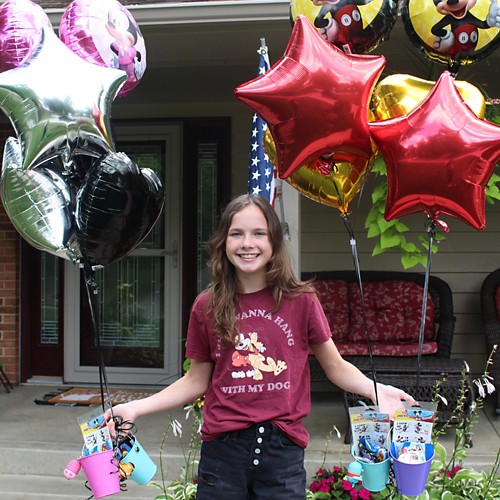 Create a Balloon Bouquet at Party City to Celebrate Friendship Day:
Mickey and Minnie Balloon Options
Foil Shaped Balloons (Heart & Star)
Metal Favor Pail
Mickey and Minnie Favors
Keychains
Pop Rocks Candy
Toy Story Candy
We headed to our local Party City to put together a fun Balloon Bouquet and goody bag. Straight to the Mickey and Minnie section we went for inspiration! Right away we found the Mickey Mouse Forever Balloon Bouquet 5 piece set. Since we were going to be making 4 of these gifts, we decided to make a similar bouquet by using 3 balloons, a Minnie or Mickey Forever balloon, and 2 coordinating foil shaped balloons. While the Party City employee was filling our balloons, we moved on to filling a goody bag.
Instead of opting for a traditional balloon weight for our bouquet, I saw that metal favor pails were on sale for $1 each. I knew this would be perfect for filling up with Disney themed goodies and for holding down the balloons. We wandered the aisles and found lots of fun Disney fillers. From Toy Story Jelly Bellys, to Tsum Tsum keychains and even our old pal Mickey on tattoos.
This is a tricky time for kids and their friends. Finding ways to stay connected and encourage each other has become a challenge during social distancing. We decided that the best way to spread this Friendship Day cheer would be to do a porch drop-off. My daughter really enjoyed surprising her friends with a little treat to show them how much they mean to her. And I can tell it really made their day too. Mission complete—that's what friends are for!