Create a modern Thanksgiving tablescape full of clean colors and easy DIY decor. Cook up a refreshing Thanksgiving table! Keep it simple this season with pops of color, playful patterns and easy DIY decor. We'll show you tips and tricks to make a modern Thanksgiving tablescape with plenty of festive touches like a cutlery wreath, turkey gourds and a beverage bar. Get a cornucopia of awesome decor and place-setting ideas that you'll give thanks for!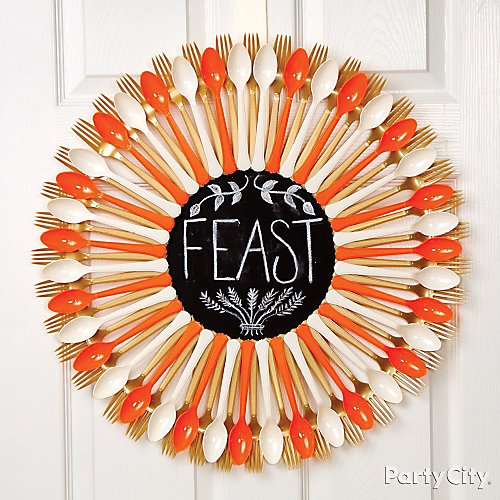 Idea 1: An un-fork-ettable Thanksgiving wreath
Feast your eyes on this elegant and easy-to-make wreath! All you need are spoons in harvest hues of cream and orange — give it a glint of gold with a layer of gold forks! Cut out a circle from a piece of black poster board (available at Party City stores), then glue a layer of gold forks to the circle edge. When the forks have dried, glue the orange and cream-colored spoons on top, alternating between colors. Finally, hang with a piece of ribbon and write a simple saying in the center with chalk to greet your guests to the feast!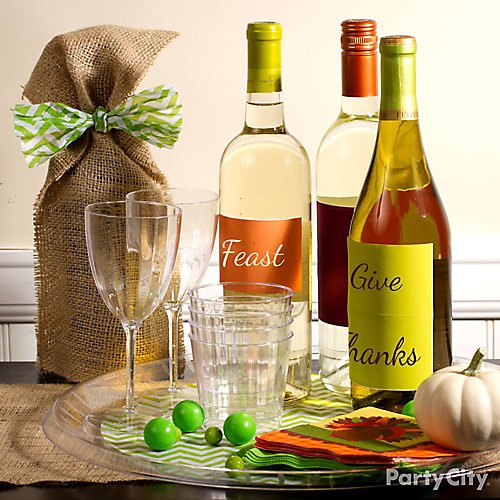 Idea 2: A toast to being thankful!
Set up a simple beverage bar of refreshments for your friends and family to help themselves. Visit your local Party City store to print stickers for wine bottles – write in festive sayings or have them printed. Keep with the color pattern by gluing a circle of green tissue paper to the bottom of a clear platter. Arrange beverages, glasses and napkins with some festive fall touches like mini pumpkins and burlap wine covers for a festive and fab drink bar.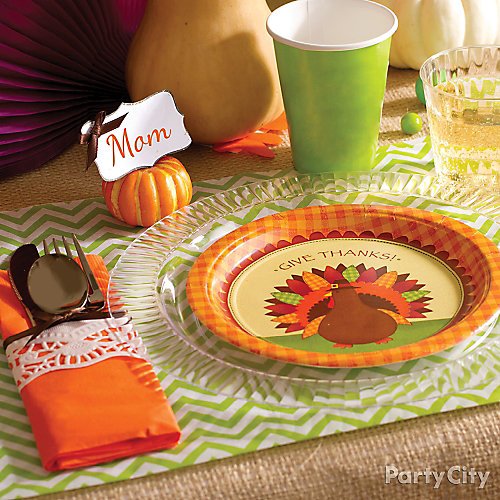 Idea 3: Energize autumn hues with a burst of green!
Start with a neutral-colored table cover, like burlap from your local crafts store, then make a single connected placemat from green chevron tissue paper to flow from one end of the table to the other. Make the designs pop by layering a patterned paper plate on a clear charger with coordinating solid-colored cups and napkins. A mini faux pumpkin makes an excellent place-card holder — just pop on a little bow and the name of the guest you're thankful for!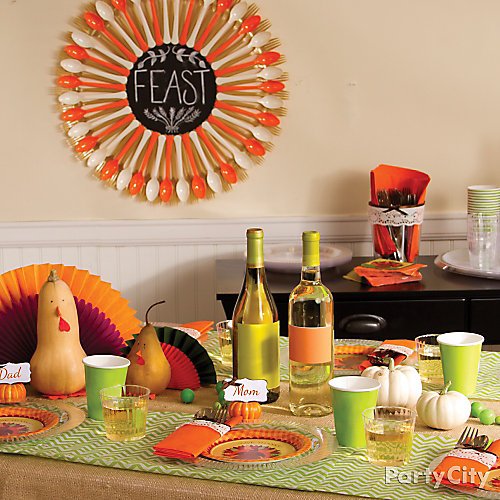 Idea 4: Cook up a refreshing Thanksgiving table
For a modern Thanksgiving table, play with bold colors and cheerful patterns. Mingling vibrant shades of orange and green will really give your tablescape a trendy feel. Try including white gourds or other white accents among all the bright colors to break things up with a touch of the unexpected.