Your gamer is leveling up a year older. How do you unvault an amazing birthday party? Follow these seven DIY steps to hit a high score with your gamer and their squad. Amp up your party decor with themed party games, gifts, tableware and more. Game on!
Jumpstart the action with some Fortnite-inspired fun. Supply Llama looks like it wandered straight out of the game and into your party! Fill a Supply Llama pinata with loads of favors and let your party squad fill up their reserves with the loot.

Pro tip: Before it's time to set your guests loose on the pinata, use it as a centerpiece for your guest tables or your dessert table.
2. Gamify your party decorations
As party host, your challenge is to gamify your party room. In only three steps you can crush your decoration challenge!

1. Themed tableware sets the mood. Plates, napkins, table covers and cutouts set the stage for a birthday battle to remember.
2. Decorating is in the details: a disco ball, foil themed balloons, favor bags and even your Supply Llama all add to the action-packed gaming vibe.
3. Throwing a party is a battle, so stack the deck in your favor to guarantee victory. A party kit comes with everything you need and makes triumph over your party planning challenge a sure thing!
Floss like a party planning boss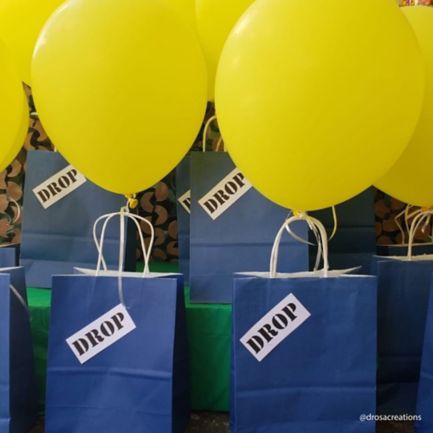 3. Loot Drop to the rescue!
By the middle of the party even your battle born gamers will start running low on life force. Come to the rescue with a loot drop. Make it look official with themed containers or favor bags tied to yellow latex balloons. Go a step beyond and personalize favor bags with your guests' favorite game character names. Talk about next level!
4. Take your party treats from noob to ninja
Party plan smarter, not harder, with this simple DIY that packs a big decoration punch. Use cardboard table decorations to make your own themed cupcake toppers, cake toppers, cake pops and more. These versatile decorations can be added to most any sweet treats or party foods to elevate your party host game.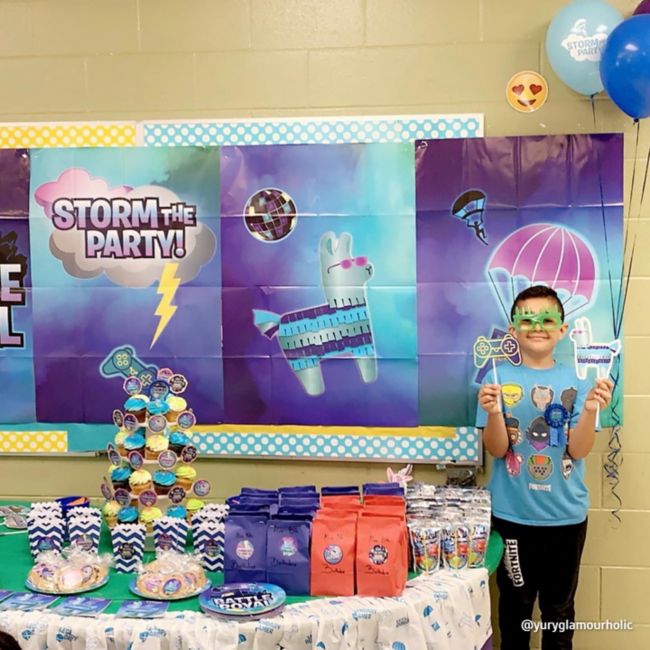 5. Level up your party photos
Create sharable memories worthy of the Gamer Party World Cup with a professional looking photo backdrop. A few balloons, booth props and a selfie wall instantly transform regular party photos into championship winning photos!
6. Get your party into gear
Recreate the look and feel of the game with Fortnite-inspired gear. Set up a party Item Shop where guests can choose their party skins. Boom! You brought Fortnite to life. Now, it's time to storm the party!
It's game time!
Armed with inspiration, you're ready to go forth and unlock the ultimate birthday bash. Consider these seven ideas your party hosting Battle Pass. PartyCity is your Item Shop. Oh, it's on!