This wedding season, you can create your own elegant balloon decor on a budget using Party City's super affordable wedding supplies and materials. If the theme you are going for is light, airy and whimsical, this project is for you! DIY a greenery filled balloon garland and create floral balloon tails for your own engagement party, or for a friend's surprise proposal. These two balloon ideas would even be a super cute way to decorate the guest book signing/gift drop-off station at any garden themed wedding!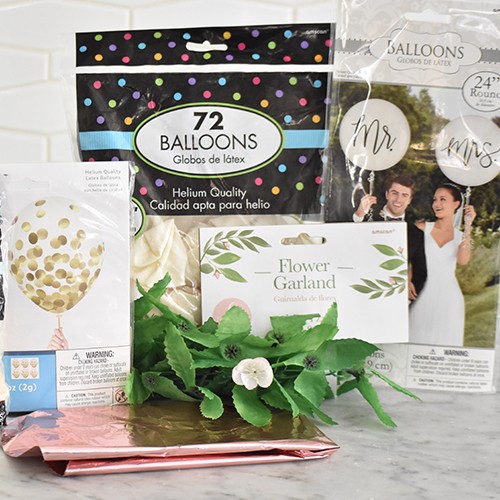 Supplies:
White Balloons 72ct, 12in
Metallic Gold Confetti Balloons, 6ct, 12in
Clear Balloons 15ct, 12in (optional)
Rose Gold Round Balloons
Mr. & Mrs. Wedding Balloons 2ct, 24 in
Mr. & Mrs. cursive letter balloon banner
Love & Leaves Flower Garland (2)
Faux Greenery
Balloon Arch Decorating Strip 25ft
Electric Balloon Pump
Tape
Instructions:
Before getting started, decide how many balloons you think you will need to complete this project. If you plan to make your balloon garland anywhere between 6ft-8ft, I suggest following the balloon count in the provided supplies list.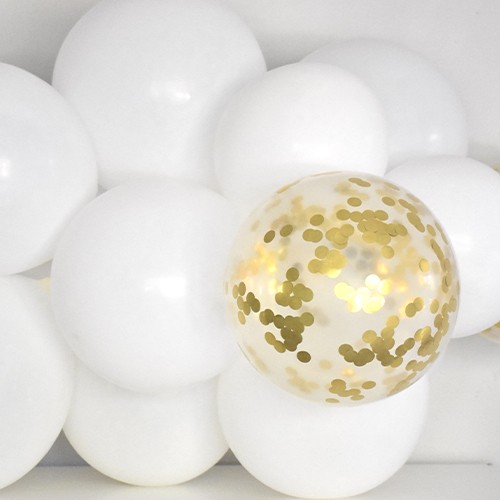 2. Assemble your garland by randomly placing the different balloons throughout the balloon decorating strip. Try to make it as full as possible by filling as many of the punched holes as you can.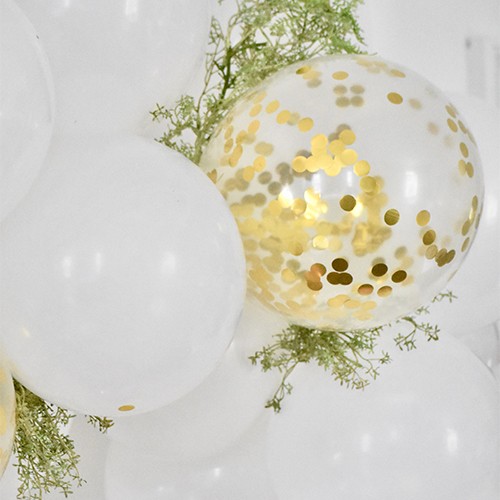 3. Place pops of the faux greenery randomly throughout the garland to give it a touch of floral elegance. If you do not have any faux greenery on hand, no worries! You can clip real leaves from a tree or bush in your backyard!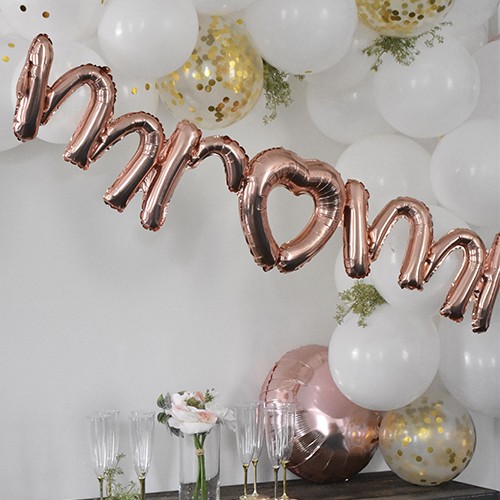 4. Blow up 3-4 rose gold round balloons using an electric pump or straw, then place them randomly throughout the garland using clear tape. Using a straw, blow up the Mr. & Mrs. cursive letter balloon banner as well and use clear tape to attach it directly to the front of your garland.
These balloons will serve as your accent colors only so try not to overdo it with the rose gold rounds.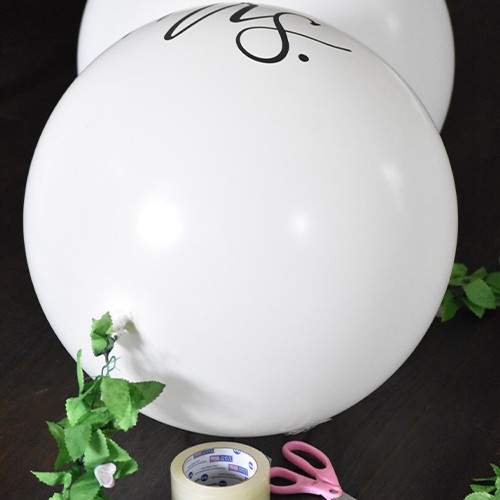 5. Inflate both of the Mr. & Mrs. 24in wedding balloons with helium. Once you've blown them up, use clear tape to attach a love & leaves flower garland to the tails of each balloon. You can trim the garland to be however long you would like it to be, but I think it's absolutely beautiful when it's long and sweeps the floor!
Once you've completed your garland, hang it and place your 24in Mr. & Mrs. balloons throughout the room to set a romantic scene!