National Flip Flop Day is the perfect time to kick off your summer celebrations. Here is how you can create a fun flip flop scene right at home to celebrate.
Supplies:
Bright Flip Flop Cutout
Flip Flop Balloon Bouquet 5pc
Flip Flop Lunch Napkins 16ct
Flip Flop Honeycomb Garland
Giant Flip Flops Balloon, 25in
Bright Flip Flop Dessert Plates 60ct
Flip Flop String Decorations 6ct
Sun Piñata Decoration
Helium Tank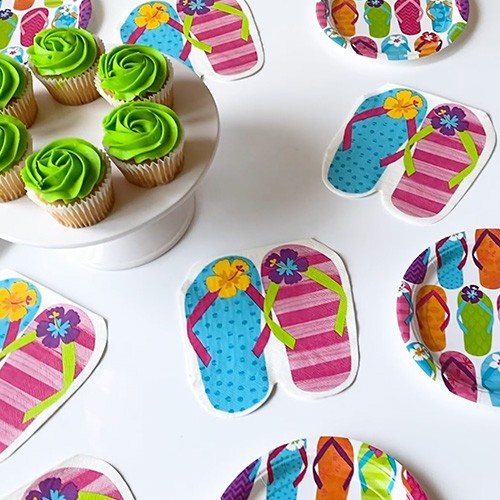 Here's how to set the scene:
Blow up all the balloons using the helium tank and secure them with ribbon. Attach each ribbon to the legs of the party table.
Tape the Bright Flip Flop Cutout and Flip Flop String Decorations to the wall to create a backdrop.
Add the Sun Piñata Decoration to the back wall, just under the Bright Flip Flop Cutout.
Scatter the Flip Flop Lunch Napkins and Bright Flip Flop Dessert Plates around table to decorate (and allow easy access once it's time to grub).
Add any desserts or snacks of your choice to the table. I used store-bought cupcakes and made peanut butter cookie "flip flops."
Now it's time to party!