Now that we've found Nemo, it's time to find the perfect ideas for a Finding Dory party! Swim through an ocean of kids birthday party ideas for games, snacks, cake, and more!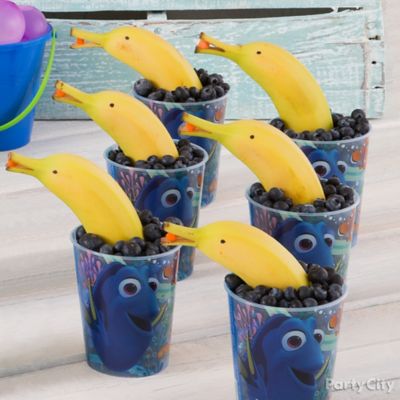 Idea 1: These fish are friends…and food!
Fill these charming Dory cups with your favorite treats for a sure-fire snack idea. To add friends from the deep blue, sculpt some goofy banana dolphins. Start by cutting the end off of the banana so you have a flat base to sit at the bottom your cup. Carefully cut into the stem of the banana and gently separate the halves to create a mouth, propping them open with bits of carrot. Use a permanent marker to draw an eye, and then surround your new friend with blueberries to swim around in!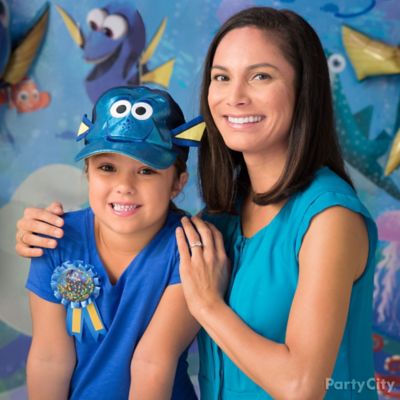 Idea 2: Make waves with fun Dory accessories!
Add a splash of cute to the birthday girl's outfit with Dory accessories like a Dory hat with fins poking out, or an award ribbon in party colors!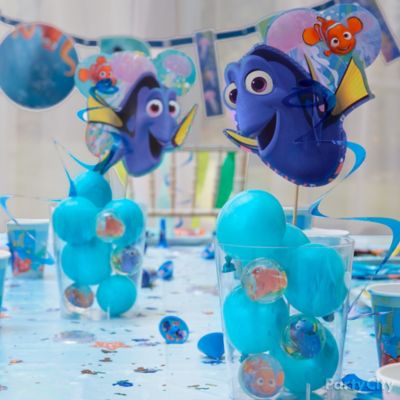 Idea 3: Learn how to whip up a delightful Dory centerpiece
To set up this striking centerpiece, fill a clear plastic cylinder with layers of mini blue balloons—filled with air, not helium—and Finding Dory bounce balls. Dory and her friends will look like they're floating! Finish by adhering a Dory Swirl decoration to a wooden craft stick and slide it in so Dory sits right at the top.
Idea 4: Assemble a kelp forest around the party table!
For this crafty idea, you'll need three different colors of streamer in shades of seaweed green and blue. Cut strips of each shade a little longer than the back of your chair, then use tape to affix one end to the top of your chair. Gently twist one streamer at a time to create the look of curly kelp, and then tape the end of the streamer to the bottom of your chair. Finish with a swirl decoration.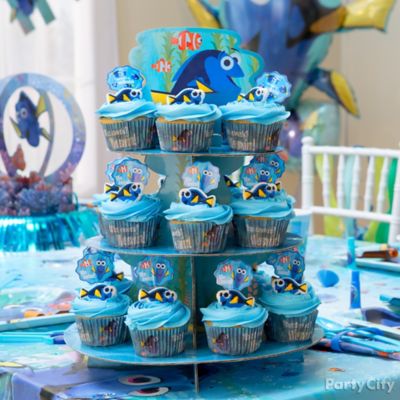 Idea 5: Edible Dorys are swimming atop the cupcakes!
A cupcake tower is a foolproof crowd-pleaser, and this Finding Dory tower doubles as an oceanic backdrop for the tiny edible Dorys swimming atop your cupcakes! Paper Dory cupcake picks are another fun addition. The little fish won't be able to resist!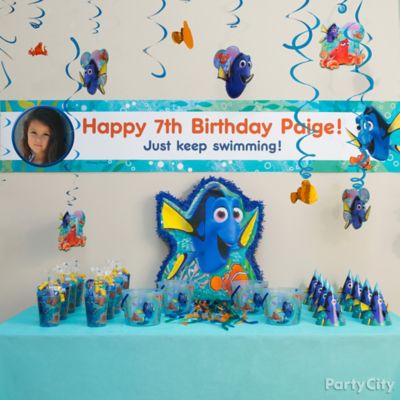 Idea 6: A one-of-a-kind birthday decoration
Your little swimmer will feel so special when they see their picture on a custom banner with Dory. Hang it in a prominent party space so all of the marine life at your party can appreciate it!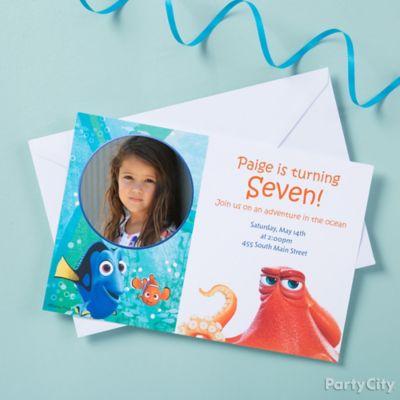 Idea 7: Her friends are sure to take the bait!
Sending customized invitations with a photo of the birthday girl will inspire excitement for the big day! They also make a lovely addition to scrapbooks when you memorialize the party.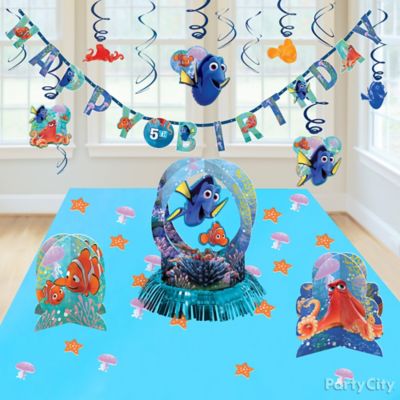 Idea 8: Make table decorating smooth sailing
Hang Finding Dory swirl decorations from the ceiling so Marlin, Nemo, Hank and Dory can swim above your party! Set up centerpieces with their favorite Dory friends, and distribute jellyfish and starfish table scatter on a blue tablecloth to make the kids feel like they're exploring the open ocean!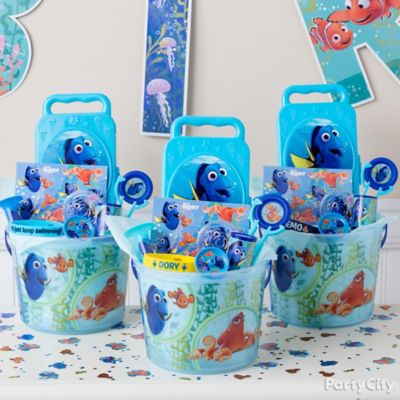 Idea 9: An ocean of Dory favors and treats!
Send the kids home with reusable favor buckets swimming with baubles! Using a bucket means there's room for big favors like activity kits, with space left over for a treasure of other treats!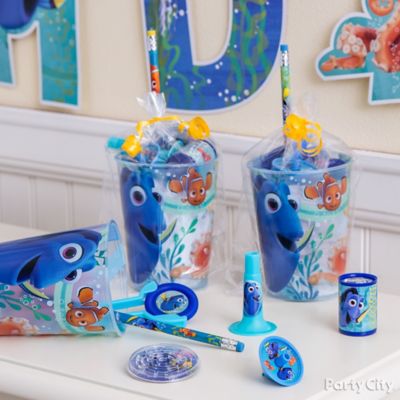 Idea 10: Fill reusable Dory cups with fishy favors!
Choose Finding Dory favor cups instead of traditional treat bags for a favor that lasts! Keep the little fish dreaming of undersea adventures long after the party ends when they use their Dory toys and new favorite cup again and again.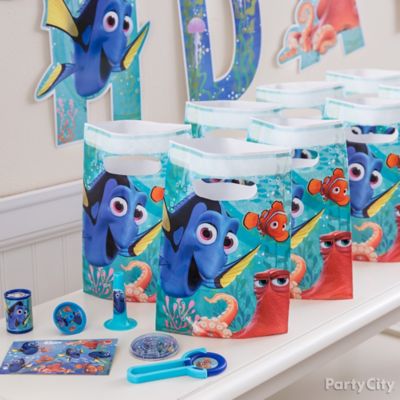 Idea 11: It's high tide you tried a time-saving favor kit!
Can't keep your head above water planning for the party? Favor kits are an easy way to save time while still presenting engaging party favors. Your favors are done faster than riding the California Current!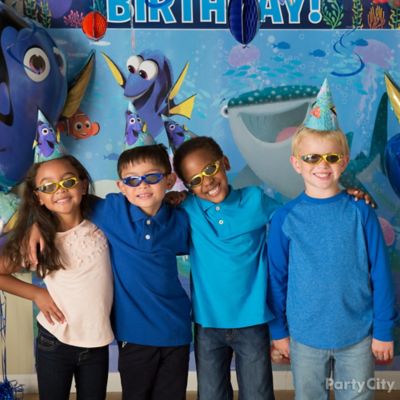 Idea 12: Get the little fish ready to party
Passing out pre-party favors like these party hats and sunglasses give the kids something to pose for pictures in and wear throughout the party. This is an especially good idea for little fish with impatient fins!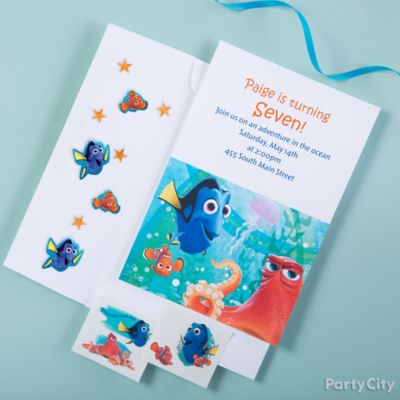 Idea 13: Spark their excitement with a surprise!
When the kids open their invites, they'll be delighted by the eye-catching Dory confetti and enticing temporary tattoos! Suggest they save their tattoo to wear to the party.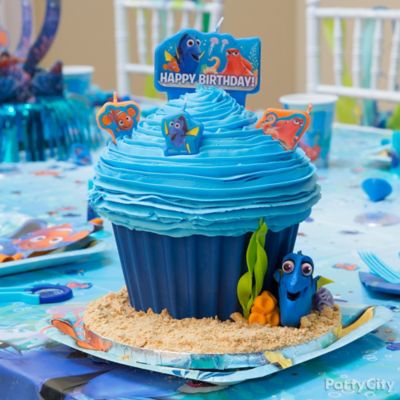 Idea 14: Make a special cupcake for the birthday girl!
If you're looking to wow, bake a whale of a cupcake! Use an easy giant cupcake pan to make the cake and pick out special Dory candles! You can even sprinkle "sand" and create a seamless, edible baking cup by melting yummy candy melts for a professional look.

Using a pastry brush or silicone spatula, coat the sides of your bottom pan with candy melts. Chill for twenty minutes, then pour the second half in and coat a second layer. Chill for at least thirty minutes. To sculpt Dory, melt 10 oz. Candy Melts following package instructions, then mix in 3 oz. corn syrup. Stir together until smooth, then wrap in plastic wrap and keep on the counter overnight. In the morning, unwrap and use it like clay!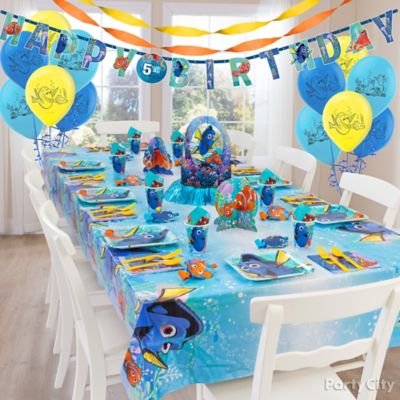 Idea 15: Set the stage for undersea adventure!
With the right supplies, setting up the perfect Dory party table is a snap. Decorate with yellow and royal blue to match Dory, with little splashes of Nemo orange. Since Hank the Octopus is so good at camouflage, fold your Hank napkins so they just peek out from the party cups!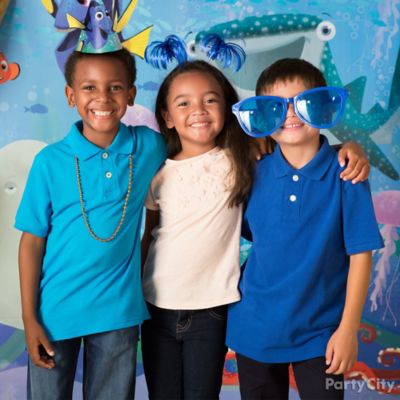 Idea 16: Create an aquatic photo booth!
A Finding Dory scene setter creates the perfect deep-sea backdrop for a goofy photo booth! Provide props to encourage smiles, and if someone's being a Mr. Grumpy Gills, see if they can keep a straight face while you speak whale! Photos make a perfect accompaniment to a thank-you note after the party.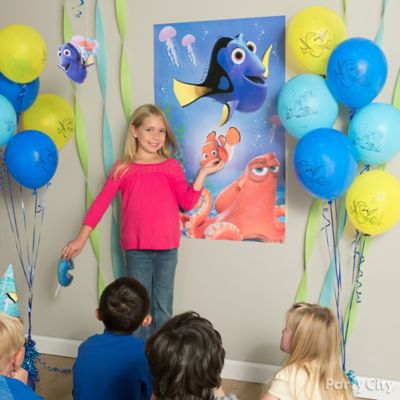 Idea 17: Play pin the fin!
In this deep-sea spin on Pin the Tail on the Donkey, players are blindfolded as they try to pin the fin on Nemo! Incorporating themed games keeps the party fun, and this game doubles as a colorful party decoration!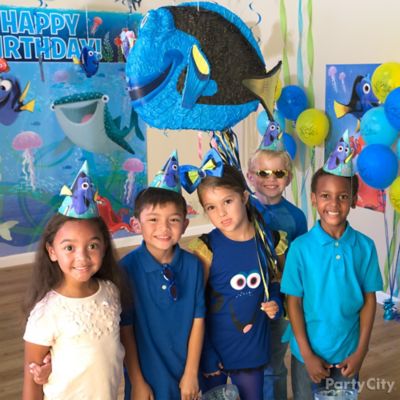 Idea 18: Swim on over, it's pinata time!
This 3D Dory pinata adds a bold touch to your ocean decor, and can be filled with cool favors and candy for a fun party game! Even the smallest guppies can play by using the pull-string ribbons. Once the pinata opens, everyone can plunge in to collect their prizes and place them in Finding Dory favor buckets!
Idea 19: Say thanks by including a keepsake!
To make a lasting impression with your thank-you note, include a photo from the party to help the little fish remember the special day. Handwrite a special memory from the party on the back of a themed card, and try to include a moment when the guest was having an especially good time!