Christmas is almost here and it's time to start decorating and transforming our homes for the holidays! If you are anything like me, then you are always looking for new and creative ways to celebrate life's special moments. This year, skip the traditional greenery garland and get the entire family together to work on this super festive balloon project. It may be a little bigger than your average balloon garland, but that just gives you an excuse to spend a little more time together this holiday season!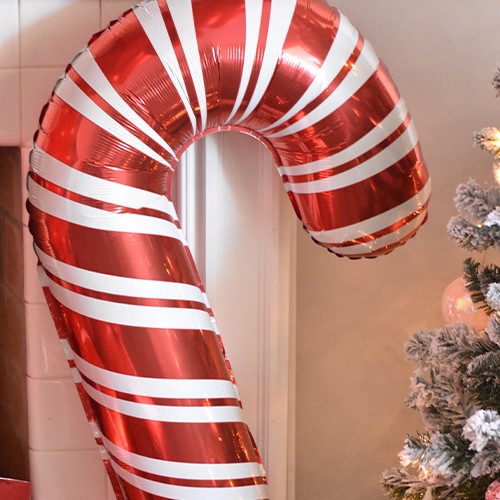 Supplies:
Red Balloons 72ct, 12in
Red Balloons, 50ct, 5in (2)
Candy Cane Balloon, 28in
3D Santa Balloon, 19in
Red Star Foil Balloon, 19in
Red Cubez Balloon, 15in
Red Paper Fan & Honeycomb Decorations, 9pc
Mini Glitter Red Star Cutouts 5ct
Silk Ribbon Color of Your Choice (or fishing wire)
Red Gift Bow
Balloon Arch Decorating Strip 25ft (or fishing wire)
Electric Balloon Pump
Command Hooks
Tape
Instructions:
Before getting started, decide how many balloons you think you will need to complete this project. If you plan to make your balloon garland anywhere between 8ft-10ft, I suggest following the balloon count in the provided supplies list.
1. Use an electric pump to blow up all of the 12 inch and 5 inch balloons, then tie them into clusters of four by size.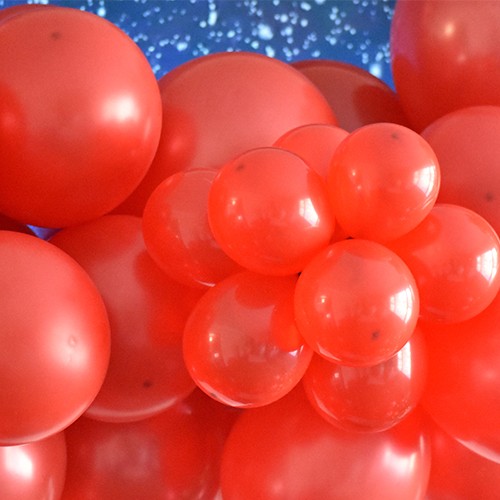 2. Assemble the base of your balloon garland by randomly tying the 12inch balloon clusters together until you have reached your desired garland length. After you have made the base, you can use fishing wire to tie on the 5 inch clusters in random/organic spots. (If you are a beginner with making balloon garlands, it may be easier to use the 25ft balloon decorating strip. Just poke a balloon tail into each hole and done. Super easy!)
3. Hang your balloon garland across the mantelpiece using command hooks. You can gently twist and adjust the garland as needed in order to achieve a perfect cascading look once it's up. (If you have a TV over your fireplace no worries! My command hook went on perfectly and was able to be peeled off without causing damage.)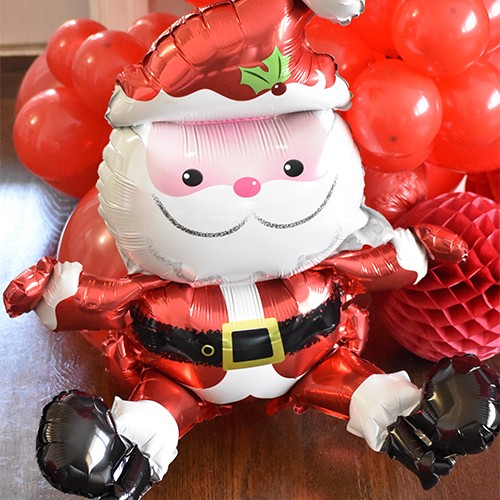 4. Use straws to inflate the candy cane, Santa Claus and red star balloons. Once filled, place them randomly throughout the garland using clear tape for attachment. These balloons will serve as your accents/pops of colors only so try not to overdo it!
5. Inflate the red cubez balloon, then tape ribbon and a bow onto it to give it the look of a gift box (these are super cute btw!). Once you've made as many as you would like, arrange them around the bottom of your mantelpiece.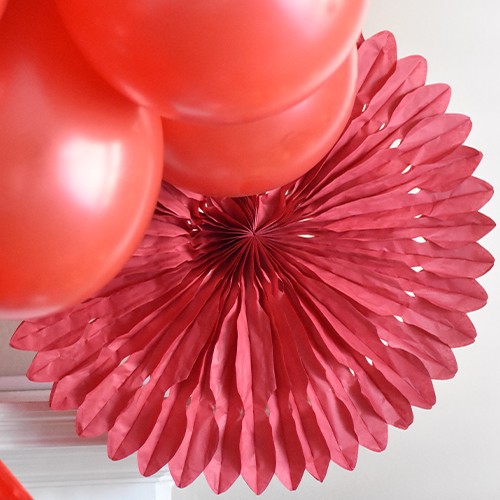 6. Assemble 4-5 pieces of the tissue paper fan decoration kit, then place them randomly throughout and around the garland in order to add more fullness. Use tape if necessary to keep them in place.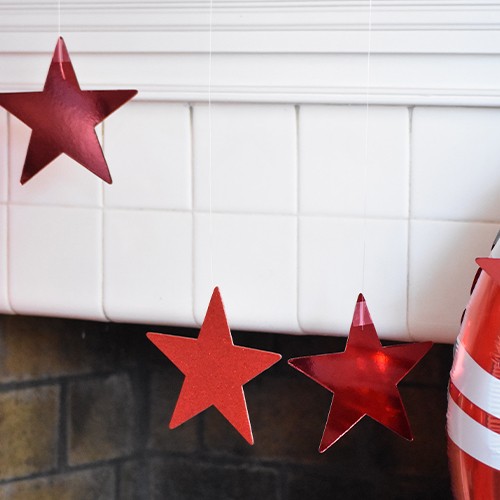 7. Cut the silk ribbon or fishing wire at different lengths and attach a star cutout at each end using tape. Feel free to place these anywhere throughout your balloon design. I chose to put mine in the same spot where my Christmas stockings would usually go.
Once you've finished your garland, you can use it as a cool backdrop for your 2020 family Christmas card photos. Happy holidays everyone!