Explore our birthday guide on how to throw an absolutely magical Elena of Avalor party! Get inspired to transform your party room into the kingdom of Avalor, play princess party games and more!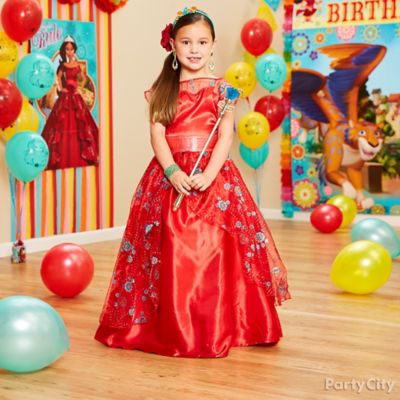 Idea 1: A special dress for a special day!
The birthday girl will feel positively regal in a ball gown just like Elena wore at her coronation. For extra birthday fun, she can accessorize with Elena's magic scepter and a flower for her hair.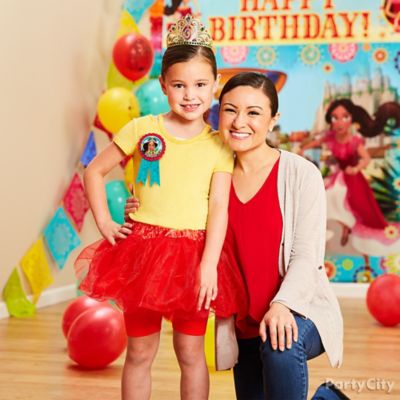 Idea 2: Add a touch of Avalor style
If she would prefer a more subtle birthday look, dress her in something comfy and beautify it with a tutu and a special Elena award ribbon. Then make the outfit princess-perfect with an Elena tiara!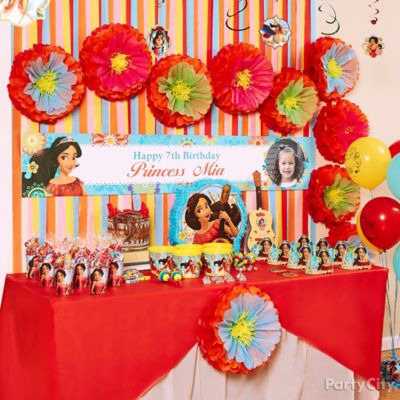 Idea 3: Welcome the princess to her kingdom!
Your adventurous little princess will love a special favor or treat table decorated with streamers, flower fluffy decorations and a special birthday banner! Expect big smiles when she sees her picture with Elena's.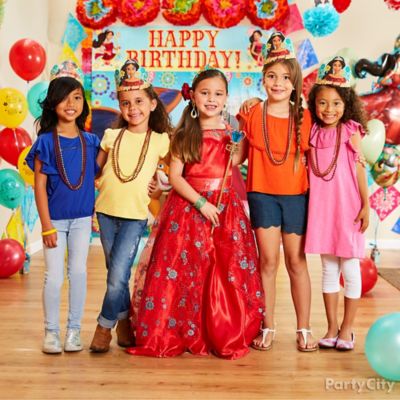 Idea 4: Goodies for the royal court!
Bring some fun Avalor style to the party by handing out paper tiaras and bright, colorful beads. These favors are budget-friendly and super cute!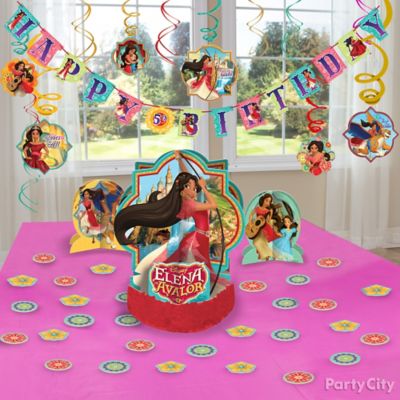 Idea 5: Adorn your party table in the brightest colors!
If you're in a hurry to start the adventure, beautify your party room with the essentials. Put up a papel picado-inspired birthday banner and swirls, pop up Elena table decorations and scatter bright paper flowers all around!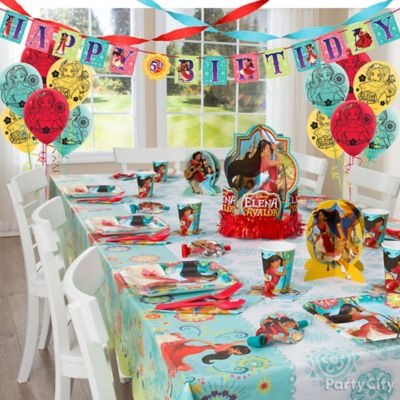 Idea 6: Decorate an adventure-ready party table!
Bright colors summon excitement to your party table! Start with an Elena table cover and spread out special plates, napkins and cups featuring Elena, Isabel and Skylar the Jaquin. For an extra-elegant touch, add simple balloon bouquets and hang a colorful Elena birthday banner inspired by papel picado.
Idea 7: Smile big for an Elena photo booth
It's super fun to pose for silly pictures with friends! Set up a colorful photo op by hanging an Elena scene setter and creating a few balloon bouquets. Then bring out all sorts of wearables, like party hats and beads!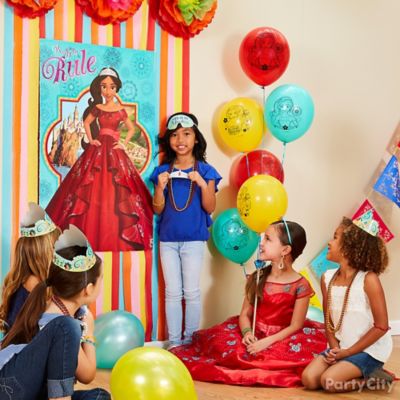 Idea 8: Time to crown the royal princess!
Everyone in the kingdom will love playing this Elena of Avalor party game! Let the kids take turns trying to pin on Elena's crown. You can give whoever gets closest an Elena award ribbon! If you want this to double as a room decoration, hang streamers and fluffy flowers before putting up the poster, then add lots of Elena balloons!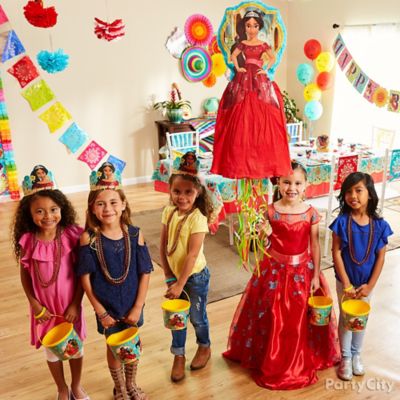 Idea 9: Fill up an Elena pinata with royal goodies!
Better hand out the Elena treat buckets or goodie bags, because it's time for the pinata! Because this Elena of Avalor pinata uses pull-strings, it's a fun kids party game for princesses of all ages, and can even be used safely indoors!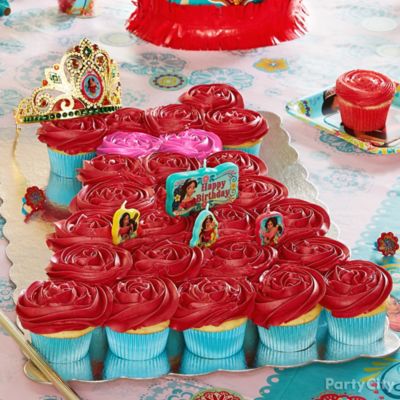 Idea 10: Make a wish for an awesome pull-apart cupcake cake!
Bake the birthday girl's favorite flavor of cupcakes. You'll need a total of 27 to make this design! Let cool, then frost in red and pink using a 1M tip and place the cupcakes together in the shape of Elena's gown. For added glam, style the cake with an Elena tiara and scepter, and don't forget the Elena birthday candles!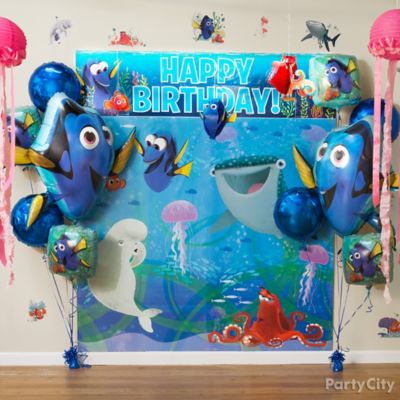 Idea 11: Jump right into Avalor!
The easiest way to ornament your party room like a magical kingdom is to deck it out in bright colors! Set up a lifesize Elena cutout for awesome pictures, then hang fluffy flower decorations and a colorful scene setter! Elena and Skylar look ready to jump out into your party to start an adventure with your party princesses.