An impressive champagne tower and more glam ideas in black, silver and gold! Out with the old, in with the bubbly! Toast the New Year with bubbly, hats and horns! A champagne tasting party is an elegantly fun way to welcome the new year – and nothing says "party" like our fab champagne tower. Get more bubbly NYE party ideas including wearables, cocktails, decorations and a champagne-theme cake!
Idea 1: Pair a shiny spray centerpiece with a glitzy mask!
See the new year clearly with a tableful of wearables – and a wearables centerpiece! To put this together all you'll need are beads to fill a candy container, a spray centerpiece and a mask of your choice. Put it on a table scattered with wearables, and your guests can party in style well past midnight!
Idea 2: Bring out the champagne and toast this tablescape
When it's time for the midnight toasts have the tables all decked out with balloons and fun wearables like glasses and beads. Just tie these "Pop, Fizz, Clink" balloons to a weight in the candy bowl and park them in the middle of the gold table cover and runner. All that's left is to open the bubbly and start the countdown!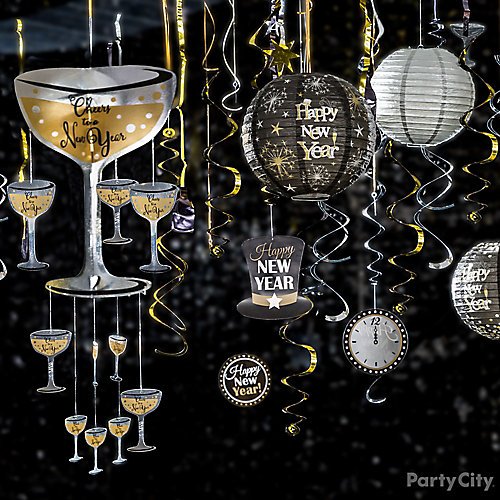 Idea 3: Metallic New Year's cutouts set the party scene
This hanging champagne coupe decoration will really set the stage for a night of partying! Surround it with your favorite metallic fans, hanging metallic fringe, silvery paper lanterns and thematic New Year's Eve cutouts. A glam backdrop of black floral sheeting is a must! Simply spectacular!
Idea 4: Ring in the new year with an easy idea for WOW decorations!
Glitzy gold number balloons are a super easy way to make a big impact. Mix in your favorite glam black, gold and silver balloons, fill with helium and tie onto weights at varying heights. For more ritzy balloon inspiration, keep clicking!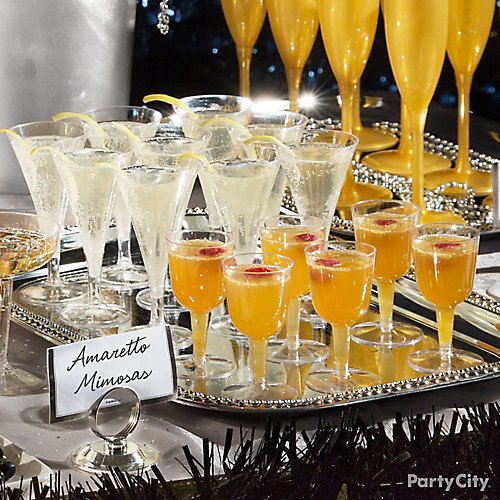 Idea 5: Amaretto mimosas = a gorgeous golden touch
For a rich twist on the classic champagne cocktail, mix a shot of amaretto, a splash of OJ and your fave bubbly to create elegant amaretto mimosas – the perfect drink to jump start an exciting new year. We added a raspberry to each glass to make the celebration that much sweeter!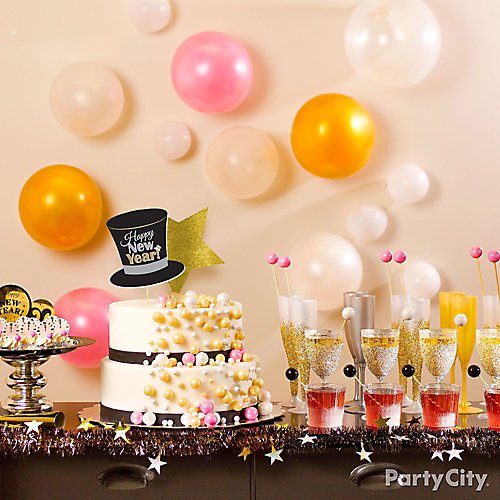 Idea 6: Make a bubbly party backdrop!
Create an effervescent atmosphere at your NYE party with a celebratory wall of balloons that look like giant champagne bubbles! Inflate clear, pink and gold balloons in different sizes and tape to the wall. A bubbly cake and glitter-dipped glasses make this party table even more cheers-worthy.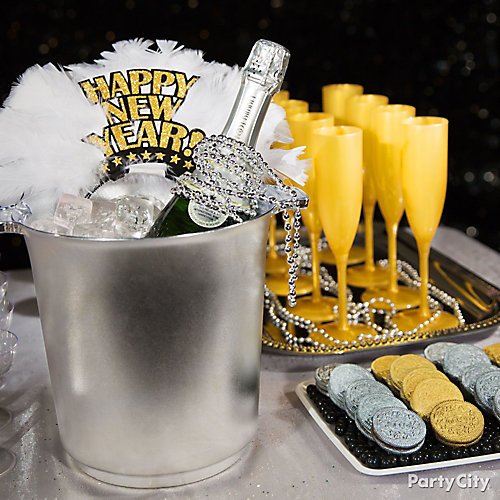 Idea 7: Transform ice buckets into elegant centerpieces
Make a swanky centerpiece with a bottle of sparkling wine, a New Year's tiara and some beads arranged in a silver-look ice bucket. Drape the beads from the neck of the bottle for a posh touch, and serve the blanc de blancs in gold flutes to make guests feel like VIPs.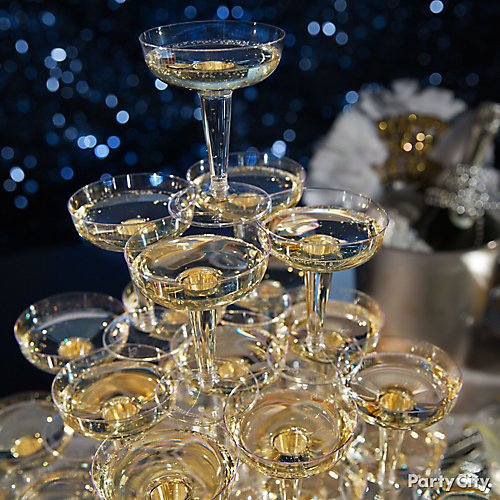 Idea 8: Pop, fizz and let it flow!
Right before the ball drops, thrill your guests with a glam champagne tower – a continuous pour into the top glass will fill the entire tower of 55 champagne coupes, one tier at a time. Make it the centerpiece of your NYE table to give the party old-Hollywood ambiance. The magic formula: 25 on the bottom tier, topped by 16, 9, 4 and 1 at the very top. Talk about a fountain of fun!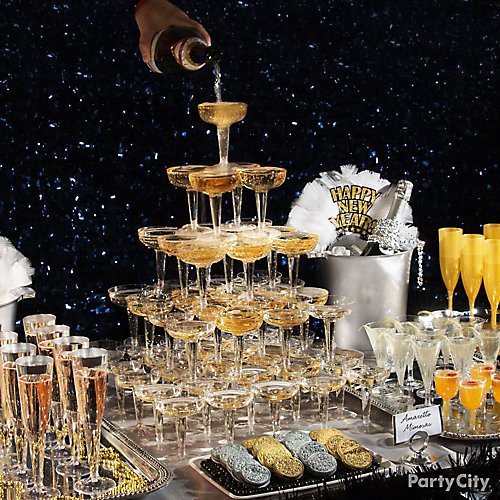 Idea 9: Out with the old, in with the bubbly!
Toast the New Year with bubbly, hats and horns! A champagne tasting party is an elegantly fun way to welcome the new year – and nothing says "party" like our fab champagne tower.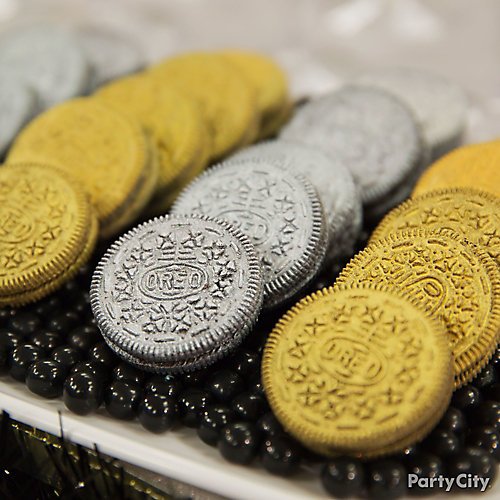 Idea 10: Mist cookies with metallic magic!
We heart this snazzy NYE treat idea: Use our food-safe color mist to give chocolate sandwich cookies a metallic sheen that matches the party colors. Display the cookies on a tray of black Sixlets®
Idea 11: Pile a WOW pyramid of hats
Hats off to a simple idea with a big impact. A top hat tower instantly sets the mood for a fun night and makes a striking centerpiece for your wearables table. Insta-glam for Instagram!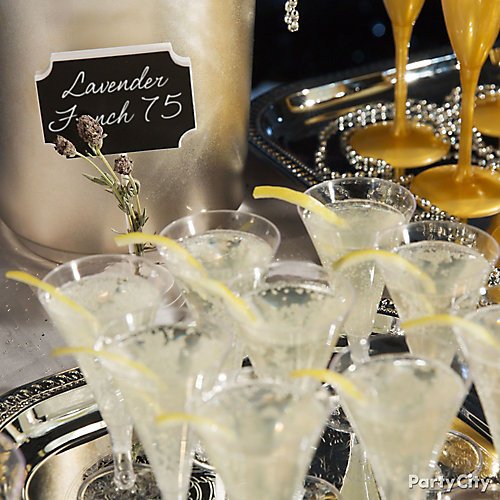 Idea 12: Celebrate fabulously with unique cocktails!
Make a Lavender French 75 your midnight kiss! Gently mix a couple teaspoons of lavender syrup (to make just mix one cup of water and one cup of sugar with ½ teaspoon of dried lavender), 4 tablespoons vodka and champagne, respectively, and a squeeze of lemon. Add a lemon peel garnish to the glasses and a sprig of lavender on the chalkboard sign for a glamorous display of NYE drinks.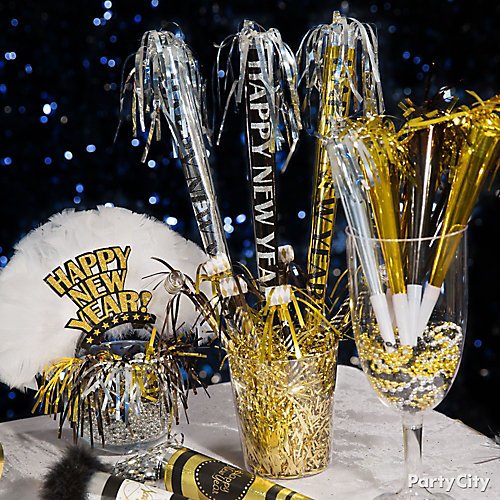 Idea 13: Have a blast with noisemakers
Make your fun party favors double as rockin' decorations. Fill clear containers with beads or tinsel and use them as a display for celebratory horns and squawkers. At midnight, pass out the noisemakers, pour the bubbly and celebrate the new year with hugs, friends and fam!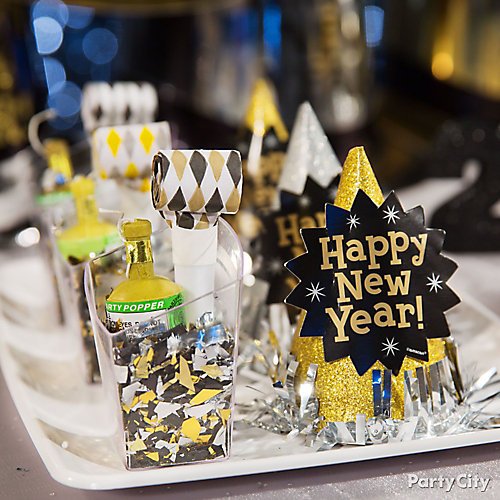 Idea 14: When the clock strikes 12…!
Prep your party peeps to ring in the new year with party hats, poppers and noisemakers. Fill a clear cup with confetti and add a blow-out and popper. Set the confetti-bombs next to a party hat on the same tray, and make the midnight revelry a blast!
Idea 15: Puttin' on the glitz!
Wind up the anticipation with a table full of celebratory gear. Have plenty of wearables like bow ties, top hats, party hats and glasses all alongside noisemakers and cups of confetti. You'll have everything ready for a night of shareable pics and a fun and fabulous "kiss me at midnight" champagne toast!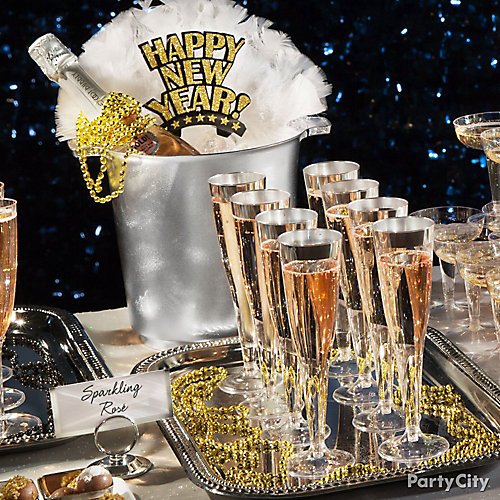 Idea 16: Cheers the new year with rosé-colored glasses!
Put a fun spin on the traditional NYE toast with sparkling rosé instead of champagne. Serve your New Year's bubbly on trays of beads with a place card holder and a gilded note card as a sign. A unique and tres chic way to ring in the New Year!