Autumn accents + creepy chic decor = a frightfully fabulous soiree!
Give spooky a makeover of eerie elegance by pairing ghosts, skeletons and all things scary with the trends of the autumn season like pumpkins and candles. With our tips, you'll move beyond the usual trick-or-treats and throw a stylish soiree that's something wicked to be remembered all year long.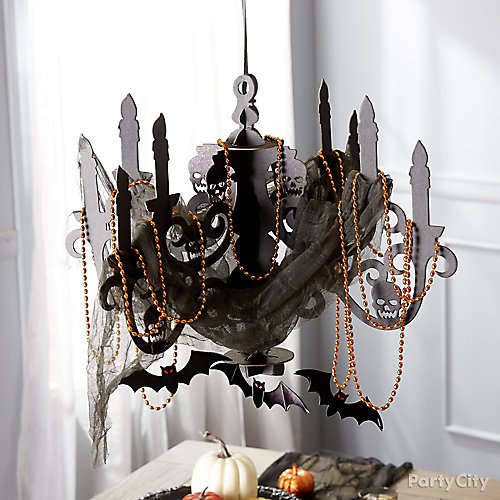 Idea 1: Give your house's light fixtures a scare
A paper candelabra works as a quick fix to make your home feel a bit more haunting for an eerie elegant dinner. Set the macabre mood by decorating the candelabra with black gauze, bat cutouts and shimmery accents like orange beads. No need for real candlelight—whether you hang it over the table or by the window, a paper candelabra makes your soiree lit.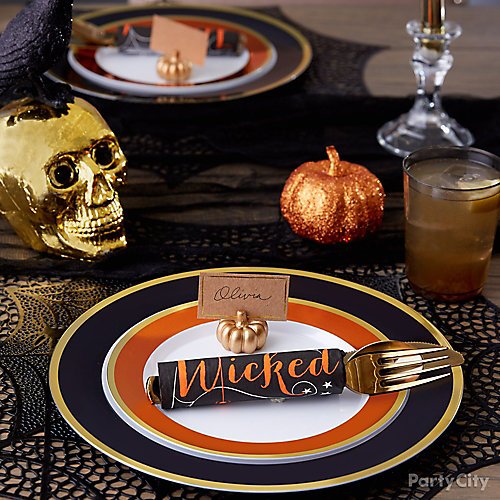 Idea 2: Bewitch guests with an elegant take on orange and black
The difference in your Halloween party feeling more soiree than shindig is your place setting. Start with placemats that add texture and set a spooky mood, like a spider web placemat, then layer on gold trimmed plateware in Halloween classic colors. Make wicked work for you by wrapping up gold-plated cutlery in a Halloween-themed napkin—one with clever wording with do the trick. Top it off a pumpkin place card holder as it accents your plate setting with a hint of autumn and makes your guests feel welcomed.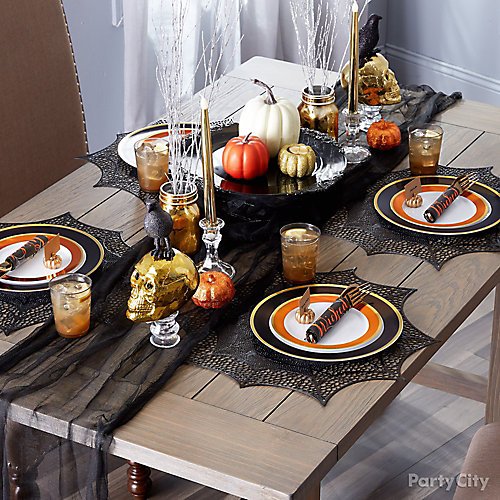 Idea 3: Create a Halloween tablescape that crawls with chic
The look of a formal dinner table relies on layering, and creating an eerie elegant setting is no different. That's why gauze is so appealing. With its sheerness and loose weave, gauze works as an eye-catching runner that doesn't dominate a Halloween centerpiece and other table decor. When using gauze as a table runner, let roughly two feet of gauze over the table edge—you can hold the fabric in place using double-sided tape. Add more texture to the gauze by folding pleats along the length.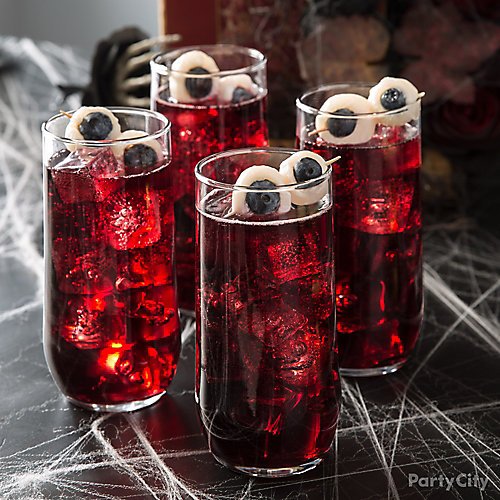 Idea 4: Give guests a taste of the "stare down"
Make a stare down work in your favor! An eyeball garnish—made out of blueberries and peeled lychee fruit—turns any drink into a ghoulish delight perfect for your elegant Halloween dinner party. It's as simple as peeling lychees, which you can buy by the can, and inserting a blueberry in the opening where the lychee seed used to be. Then place a set of eyes on the rim of your glassware with the help of a toothpick.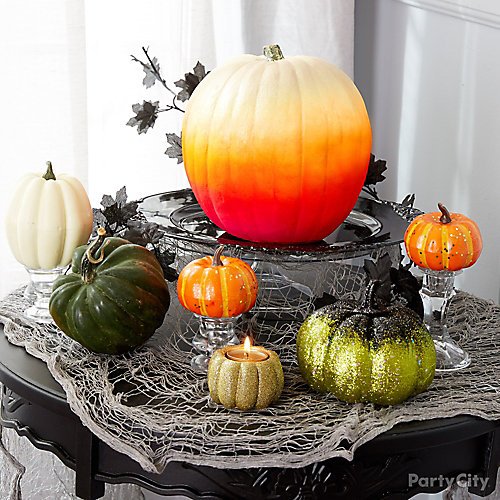 Idea 5: Elevate the no-carve pumpkin trend in more ways than one
No-carve painted pumpkins are a modern take on Halloween pumpkin decorating, and make for an easy way to give your fall harvest a luxe ombre look. Try your hand at this trend by coating a white pumpkin in washable hair color spray in pink, orange and gold. Show off your no-carve pumpkin masterpiece by creating a display that gives it height—placing it on a black serving charger atop a cake stand does the trick. Then add accents like gray gauze and a black leaf garland for a touch of eerie to the elegance.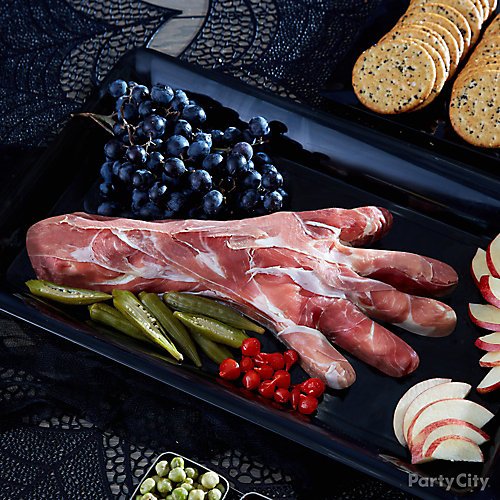 Idea 6: Make the macabre look tasteful with this appetizer
Need a hand in making your elegant Halloween dinner party something wicked to be remembered? Our easy Halloween appetizer idea can lend a "hand": mix together cream cheese with your favorite spreadable cheese, such as garlic and herbs. Then sculpt the dip into the shape of a hand—you can create a "handy" guide by tracing your hand and forearm on wax paper—and lay down strips of prosciutto on top, molding the strips to the shape of the fingers and forearm. Add other garnishes like grapes, crackers and apples to "flesh out" the presentation of your dish.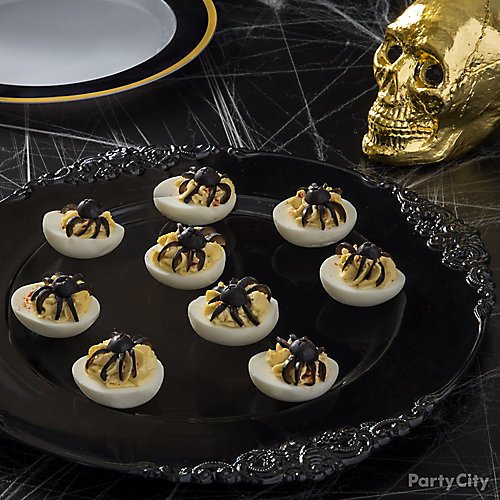 Idea 7: You'll eek with delight over these deviled eggs
The menu at your elegant Halloween dinner party should consist of spooky spreads, and we have all the tricks. Consider a popular appetizer like deviled eggs: turn them into treats fitting an eerie elegant gathering with a spider garnish made out of black olives. Looks like cold appetizers can give the chills in more ways than one!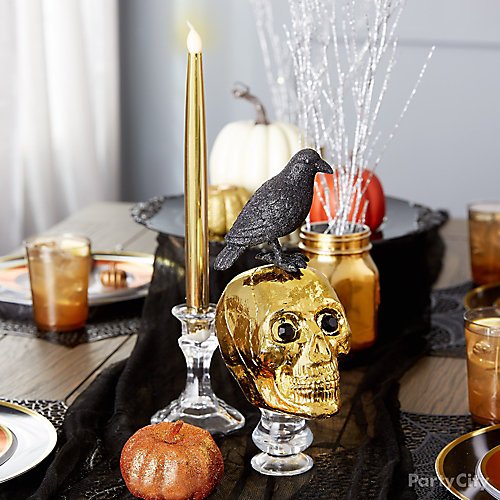 Idea 8: Kitschy becomes classy when paired with everyday decor
When it comes to setting the scene for an elegant Halloween dinner party, less is more. Choose a spooky focal point that comes in a metallic or shimmering finish, like a gold-painted skull, then mix in everyday accents like taper candle holders—they make for an easy way to create height in a centerpiece display. Just like that, Halloween decor goes from kitschy to classy!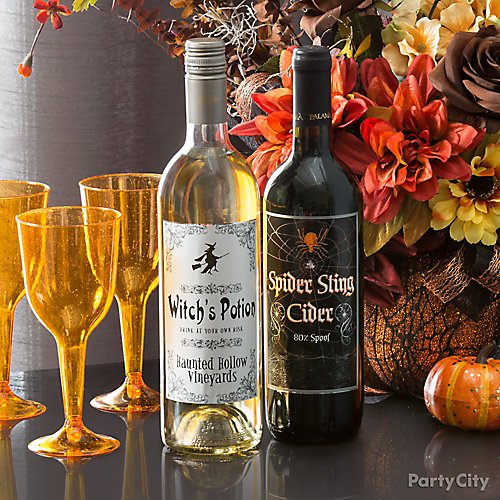 Idea 9: Give your bubble some fun Halloween trouble
Don't have an eye of newt or toe of frog? You can still turn your favorite wine into a witch's potion perfect for your elegant Halloween dinner party. Just dress up your wine bottles with a label that makes it sound like you brewed it fresh from a cauldron—your favorite "witch's potion" or "spider sting cider" will work up an appetite to eat, drink and be scary!