Candy and sweets get all the attention on Halloween, but a dinner of themed food can be just as hauntingly fun. Get themed Halloween recipes for yummy mummies, ghost pizzas, elegant spider egg hors d'oeuvres and more! Make your dinner frighteningly memorable with our guide to Halloween dinner ideas. Find your favorite recipes below, then serve them up on Halloween tableware!
Halloween Food Ideas
Sure, you could order a pumpkin-shaped pizza and be done with dinner, but we think your party guests deserve more. Wow them with themed Halloween food they'll all want to post to Instagram.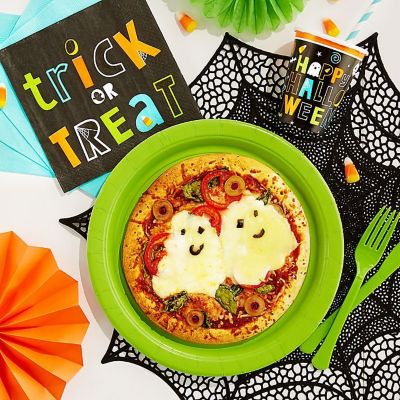 Idea 1: Ghoulishly Delightful Pizza
Pizza is hands down the easiest meal to serve hungry kiddos on a busy night. For a kids' Halloween party, invite little guests to turn this quick bite into a boo-tiful work of food art. Set out various toppings so they can create their own pizza, but make sure they save room for the so-called "cherry on top." Help them use a butter knife to cut out a ghost from a slice of mozzarella, and then the kids can create the eyes and mouth on their little boos with cut up pieces of olives.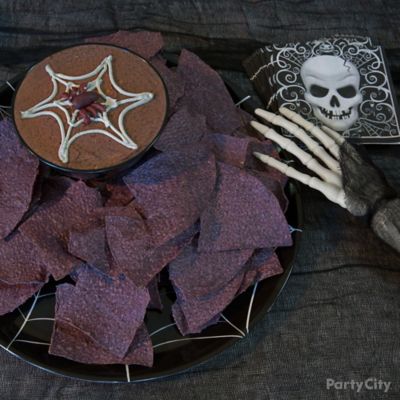 Idea 2: Trap Your Taste Buds in This Spider-web Hummus!
Don't be scared – this olive spider won't bite! To make this freaky-deaky dip, blend 2 cans of black beans, 3 tsp tahini and garlic, and 1 tsp cumin in a bowl. Pipe on a spider web with tahini or sour cream, then use a knife to cut eight legs from an olive to add to your olive spider in the center. Serve the dip on a matching platter with blue corn chips.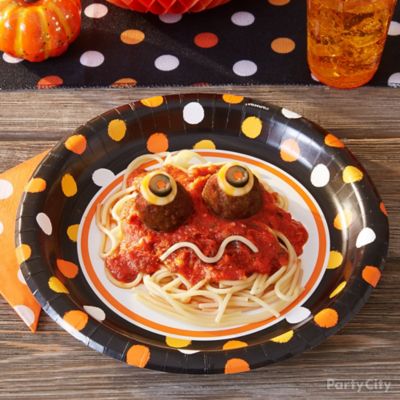 Idea 3: Spook up an Appetite With Silly Spaghetti Faces!
Spaghetti always makes for a quick and delicious dish, but for the spookiest season of the year, up the creep factor by transforming meatballs into "eyeballs." Simply cut out circles of Colby jack cheese and place a sliced olive on top. It's really that easy to make a Halloween dish that's a feast for the "eyes"!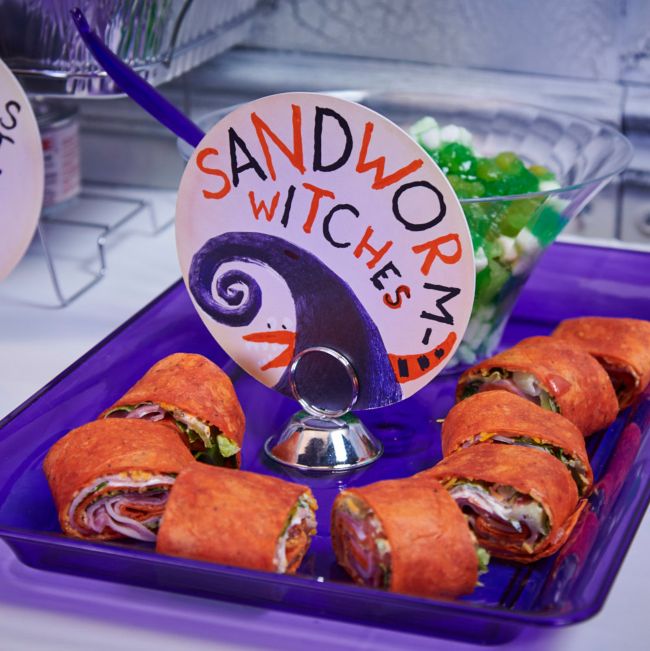 Idea 4: Nightmare Before Christmas Themed Food
They say you eat with your eyes first, which goes to show that Halloween party food is about scaring up an appetite at first glance. That's why clever names give ordinary food their own Halloween makeover. Label sandwich wraps as "Sandworm-wiches" or call green grapes as "Oogie Boogie Boogers." By renaming food with Halloween movie references, you don't have to conjure up a complicated feast.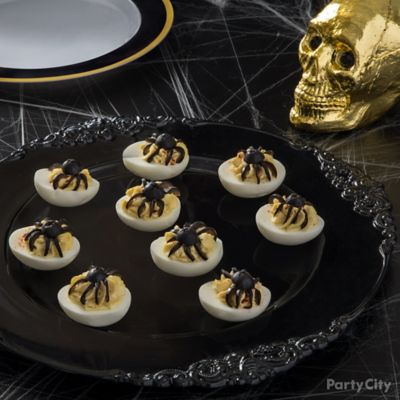 Idea 5: Olive Spider Deviled Eggs
The menu at your elegant Halloween dinner party should consist of spooky spreads, and we have all the tricks. Consider a popular appetizer like deviled eggs: turn them into treats fitting an eerie elegant gathering with a spider garnish made out of black olives. Looks like cold appetizers can give the chills in more ways than one!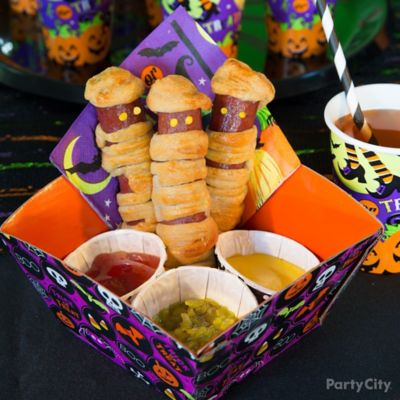 Idea 6: Mummies in a Blanket!
Everyone loves a little tombs-day snack! Grab a tube of croissant rolls and cut little strips to make the mummy wrappings. Wrap the hot dogs, leaving a little space for mustard eyes, and bake them to get the wrappings crispy. They can hang out in the graveyard with the mustard, relish and ketchup.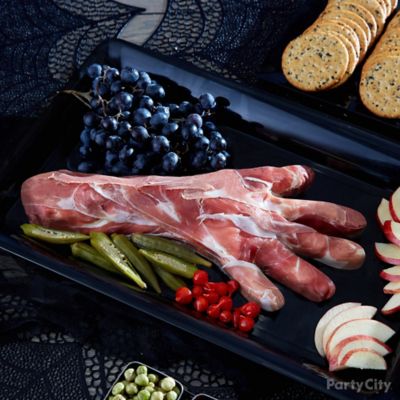 Idea 7: Make the Macabre Look Tasteful With This Appetizer
Need a hand in making your elegant Halloween dinner party something wicked to be remembered? Our easy Halloween appetizer idea can lend a "hand": mix together cream cheese with your favorite spreadable cheese, such as garlic and herbs. Then sculpt the dip into the shape of a hand—you can create a "handy" guide by tracing your hand and forearm on wax paper—and lay down strips of prosciutto on top, molding the strips to the shape of the fingers and forearm. Add other garnishes like grapes, crackers and apples to "flesh out" the presentation of your dish.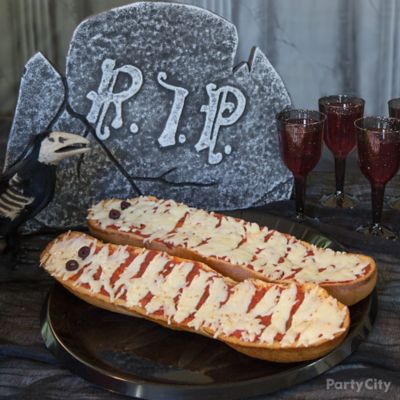 Idea 8: Try a French Bread Yummy Mummy
Wrap up French bread in true mummy fashion for a spooky and delicious pizza bread! To make, slice a loaf of French bread and cover with pizza sauce. Layer strips of mozzarella cheese for mummy wraps and a couple sliced olives for eyes – eerily easy! After baking, keep your pair of crypt keepers toasty in a warming dish until it's time to serve.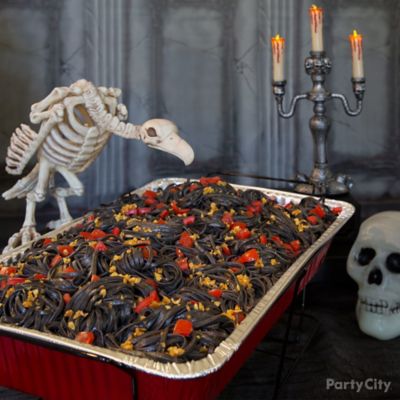 Idea 9: Spooky Squid-Ink Pasta
Serve a Halloween-hued dish everyone will want to sink their teeth into! To make, saute 2 cups of cherry tomatoes and 4 cloves of chopped garlic in a pan with 1/4 cup olive oil until the tomatoes burst and the garlic has turned a golden-orange color. Add in 1 lb of cooked squid-ink pasta and toss to coat. Keep your creepy-yet-savory pasta warm in a chafing dish before serving on skull-covered plates.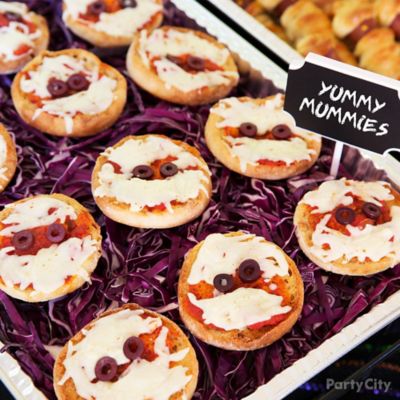 Idea 10: English Muffin Yummy Mummy Pizzas!
The little ones are wrapped up in their costumes, so serve food that's wrapped up in cheese! Use English muffins as the mini pizza base and pile on sauce, mozzarella cheese and olive slices (for the eyeballs!) and "entomb" them in the oven to bake. Once made, fill a chafing pan with red cabbage and place these on top. Cutest personal pizzas ever!
Halloween Table Setting Ideas
No matter what's on the menu, serve dinner in themed Halloween style! We have creative Halloween tablescape ideas for our next party, whether you're looking for haunting place settings or DIY centerpieces.
Idea 11: Set a Spread That Pops With Halloween Color!
The spookiest night of the year has become a month-long celebration of fun and fright. So no matter how early or late in the season you're hosting a Halloween dinner, make sure that it's brimming with pops of Halloween color. Accomplish this by using polka dot patterned paper plates, napkins, honeycomb pumpkins and a table runner—they seamlessly create a setup that's cute with spook and easy to clean up.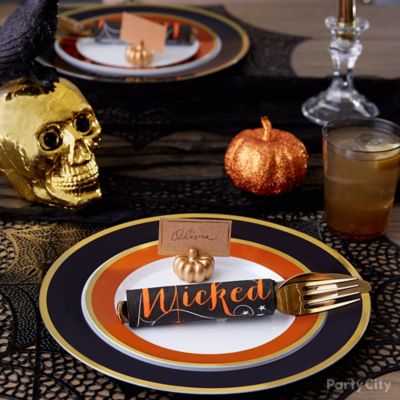 Idea 12: Bewitch Guests With an Elegant Take on Orange and Black
The difference in your Halloween party feeling more soiree than shindig is your place setting. Start with placemats that add texture and set a spooky mood, like a spider web placemat, then layer on gold trimmed plateware in Halloween classic colors. Make wicked work for you by wrapping up gold-plated cutlery in a Halloween-themed napkin—one with clever wording with do the trick. Top it off a pumpkin place card holder as it accents your plate setting with a hint of autumn and makes your guests feel welcomed.
Idea 13: Create a Halloween Tablescape That Crawls With Chic
The look of a formal dinner table relies on layering, and creating an eerie elegant setting is no different. That's why gauze is so appealing. With its sheerness and loose weave, gauze works as an eye-catching runner that doesn't dominate a Halloween centerpiece and other table decor. When using gauze as a table runner, let roughly two feet of gauze over the table edge—you can hold the fabric in place using double-sided tape. Add more texture to the gauze by folding pleats along the length.
Idea 14: You'll "Eek" With Delight Over This Easy-to-Make Craft!
Using a Mason jar as a cutlery holder is a simple solution for keeping utensils in one place, but for your Halloween dinner, turn it into a creepy-crawly cutlery display with a little DIY eek. Simply stretch webbing around the outside of the jar and then adhere little plastic spider figurines. As guests reach for utensils or straws, they'll eek with delight as they grab and go!
Idea 15: Bone-Chilling Plates for a Spine-Tingling Buffet!
Set the table – and the mood – with a spooky skull plate pattern. A bold skull pattern rimmed with gold lets you play with gold accents for the cutlery and the table decor. This crow wants a bit of eyeball squid-ink pasta!
Idea 16: Plate Setting Fitting for the Pumpkin King
Get your party guests thinking "this is Halloween" by serving up a plate setting featuring the Pumpkin King. Mix and match Nightmare Before Christmas themed beverage or lunch napkins, dessert plates and lunch plates to your liking—it's hard to go wrong when Jack's got your back. Love this party theme? Keep reading: This Nightmare Before Christmas Party Is Every Fan's Dream.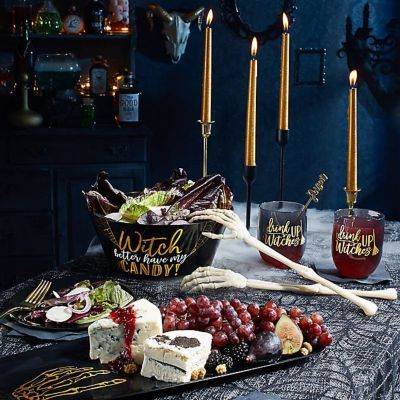 Idea 17: Wickedly Elegant Platters, Bowls and Serveware
If you're hosting an adult Halloween dinner party, you'll love the Wicked Halloween party theme. On-theme serving bowls, platters and skeleton hand salad tongs will give your dinner an extra dose of Halloween magic.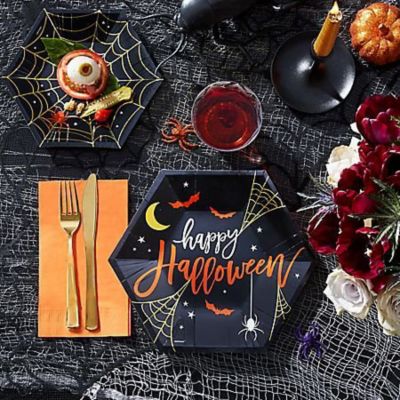 Idea 18: Chic, Memorable Halloween Plates
Check out these plates! They get extra credit for coming in unique shapes, and that shiny gold lettering is next level. Keep things sophisticated with a black, orange and gold color scheme.
Cute Halloween Dinner Ideas
Make trick-or-treating a night beyond the sweets with a gathering that's scary cute! Little trick-or-treaters likely have candy on the brain, but they'll still need to fuel up for the big night. Make your dinner more than a grab-and-go by turning it into a festivity that's too cute to spook. See more Cute Halloween Party Ideas.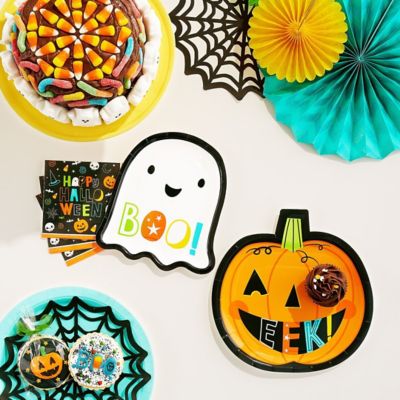 Idea 19: Spook-tacular Plate Setting
Let your plateware set the scene! The cutout shape of these ghost and pumpkin paper plates make them adorably unique and play up the too-cute-to-spook vibe.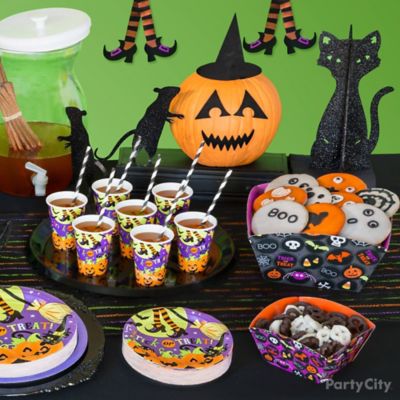 Idea 20: Fly to the Buffet!
Conjure up a magical buffet for the little spooks! Build a table full of goodies that are as festive as the plates. Everyone will love ideas like mummy pizza bites or broomstick cider. Boo cute!
Day of the Dead Dinner Ideas
Make a marvelously macabre offering to your party ghouls with a decadent Day of the Dead buffet table! For more sugar skull inspiration, check out our Day of the Dead Buffet Ideas.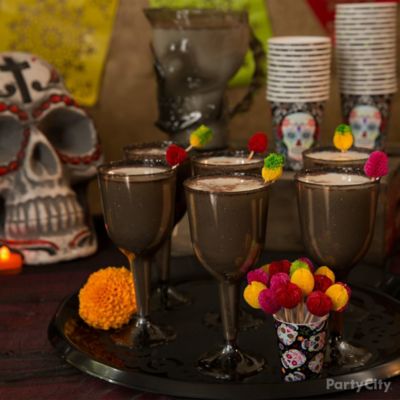 Idea 21: Try This Haunting Twist on a Cocktail Classic!
Impress your ghoulfriends with this devilish concoction we dug up! Shake up 1 part rum, 1/2 part coconut cream and 1 1/2 parts pineapple juice and strain into a goblet filled with ice cubes. Top off this perfect potion with a sprinkle of cinnamon and a fruit pom-pom pick. We call it the Calacas Colada (calacas is Spanish for skeleton), but everyone will call it delicioso!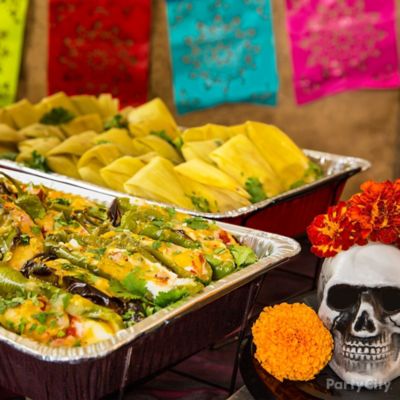 Idea 22: A Frightfully Delicious Feast!
Make their taste buds come alive with classic Mexican dishes like tamales and stuffed peppers! Prepare your dishes in advance, then keep them at the perfect temperature for serving with chafing dishes. Now you can mingle without worrying the food is going cold as a grave! With the extra time you have, whip up a smiling skull centerpiece with a black tray, a skull prop and a handful of marigolds.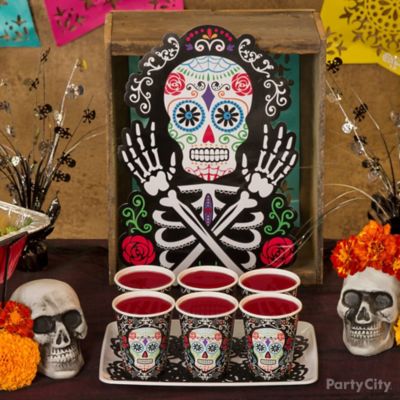 Idea 23: Lure Spirits With a Thirst-Quenching Offering
These sugar skulls will smile on anyone who pays their shrine a visit! Create a shriek-tastic altar scene that's equal parts decoration and beverage bar. Set out thirst-quenching cups of punch in sugar skull cups on a tray of lacy black doilies. A couple sprays of skeletons, Day of the Dead cutouts, skulls and colorful flowers will make this shocktail station the perfect stop after the buffet – bottoms up!
Drinks for a Halloween Dinner party
Did we hear someone say "spirits?" Summoning a delicious drink menu will be a breeze with these cocktail recipes. If you enjoy these Halloween drinks, don't stop there! Our cauldron runneth over with clever and creepy cocktail ideas. Drink up our Halloween Cocktail Recipes.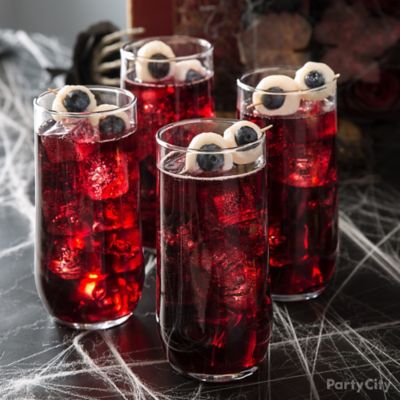 Idea 24: Lychee Eyeball Drink Idea
Make a stare down work in your favor! An eyeball garnish—made out of blueberries and peeled lychee fruit—turns any drink into a ghoulish delight perfect for your elegant Halloween dinner party. It's as simple as peeling lychees, which you can buy by the can, and inserting a blueberry in the opening where the lychee seed used to be. Then place a set of eyes on the rim of your glassware with the help of a toothpick.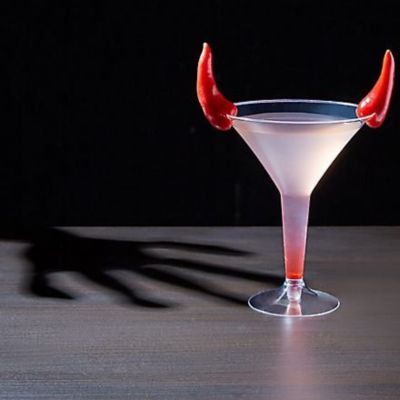 Idea 25: Devil Horn Cocktail
Serve up this cocktail with a devilish grin: the spicy kick will be a nod at the "trick" in trick 'r treat.
2 oz Grapefruit Jalapeno vodka
3 oz red grapefruit juice, freshly squeezed
1/2 oz simple syrup
Squeeze of lime
Grenadine and small red peppers for garnish
Combine first four ingredients in a shaker with ice. Shake until well combined, then pour. Add a few drops of grenadine to the bottom for an eerie red effect, then hint at this drink's sweet heat by garnishing with jalapeno pepper horns.
Don't Forget Creepy Halloween Desserts!
Trick or treat, give them something good to eat! Your Halloween dinner guests will want to sink their fangs into these sweets. If you like the taste of these, be sure to explore our Halloween Treat Ideas.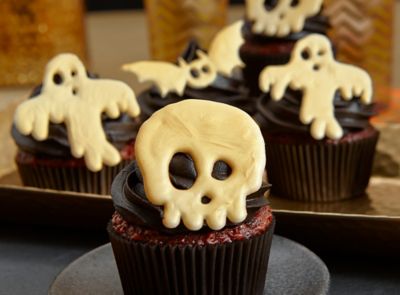 Idea 26: Candy Creeper Cupcakes
Top chocolate cupcakes iced in midnight black with candy creatures sprayed with Gold Color Mist Food Color Spray. Quick, easy and creepy! Get the full cupcake recipe from our friends at Wilton.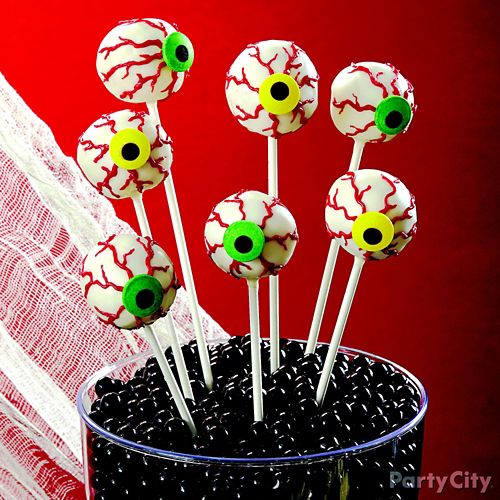 Idea 27: Scary Eyeball Doughnut Pops
These creepy peepers will win any scaring contest this Halloween! But they're so easy you won't be scared to make them. Just use your favorite doughnut holes and Candy Melts® candy for dipping and decorating. Create an eye-popping display by standing them up in a container of black Sixlets® or jelly beans.