Our guide to a fun and easy Halloween family dinner. Make trick-or-treating a night beyond the sweets with a gathering that's scary cute! Candy and sweets get all the attention on Halloween, but little trick-or-treaters still need to fuel up for the big night. Make your dinner more than a grab-and-go by turning it into a festivity that's too cute to spook. You're in the right place to come a-knocking for the ideas and easy tricks to hosting a kids Halloween dinner.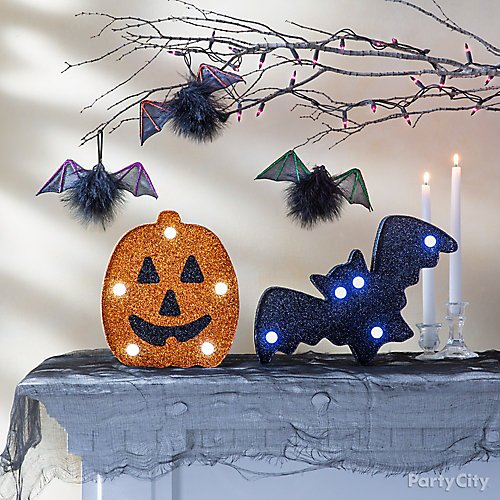 Idea 1: Light up the fun with fright!
Decorations for your Halloween dinner should put the spotlight on the Halloween fun. The perfect place to do that is on a fireplace mantel or shelf. Just a handful of spooky cute items, like light-up pumpkin and bat marquees, make the difference in letting the spirit of the season shine!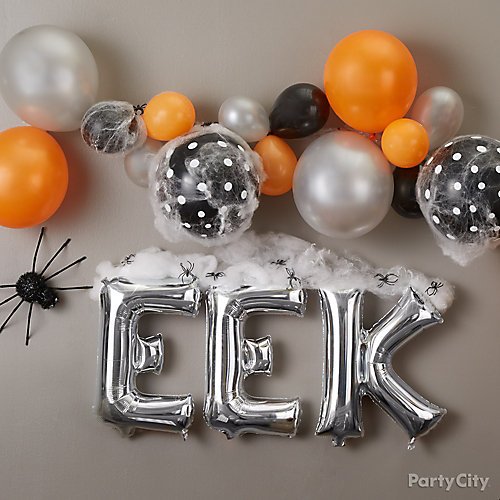 Idea 2: Get all the details on making this boo-tiful wall decoration
Get your guests to say "boo-tiful" when they see this stunning focal point at your party. A balloon garland is a go-to decorative backdrop for good reason—it works for nearly any celebration theme because all you need are balloons in your party colors. In addition to the orange and black, add more Halloween spook to the balloon garland with spider webbing and letter balloons that spell a playful phrase like "eek". Follow our guide for making a balloon garland that takes flight with a stylish take on fright.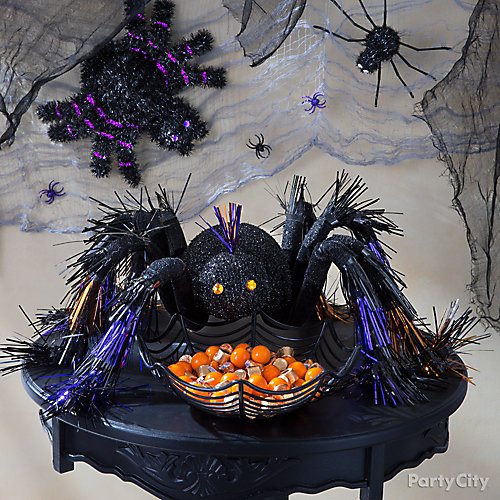 Idea 3: Snatch a morsel from a frightfully fun entry table
When little ghosts and ghouls arrive for your Halloween dinner, make sure you're ready to greet them with an entryway table crawling with fun. A candy bowl in the shape of a spider web is the perfect pairing to a spider decoration that shivers with shimmery tinsel. The little ones can't resist snatching a morsel from the clutches of this friendly-looking arachnid!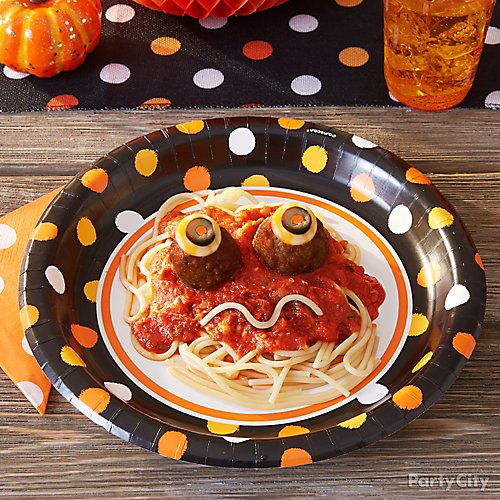 Idea 4: Spook up an appetite with silly spaghetti faces!
Spaghetti always makes for a quick and delicious dish, but for the spookiest season of the year, up the creep factor by transforming meatballs into "eyeballs." Simply cut out circles of Colby jack cheese and place a sliced olive on top. It's really that easy to make a Halloween dish that's a feast for the "eyes"!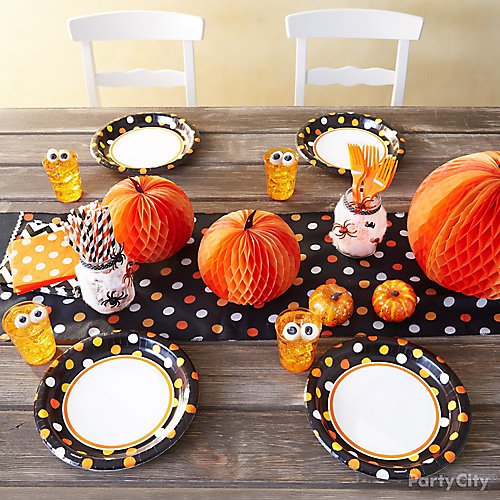 Idea 5: Set a spread that pops with Halloween color!
The spookiest night of the year has become a month-long celebration of fun and fright. So no matter how early or late in the season you're hosting a Halloween dinner, make sure that it's brimming with pops of Halloween color. Accomplish this by using polka dot patterned paper plates, napkins, honeycomb pumpkins and a table runner—they seamlessly create a setup that's cute with spook and easy to clean up.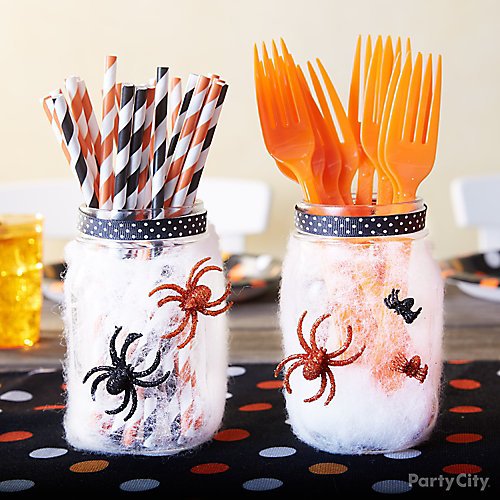 Idea 6: You'll "eek" with delight over this easy-to-make craft!
Using a Mason jar as a cutlery holder is a simple solution for keeping utensils in one place, but for your Halloween dinner, turn it into a creepy-crawly cutlery display with a little DIY eek. Simply stretch webbing around the outside of the jar and then adhere little plastic spider figurines. As guests reach for utensils or straws, they'll eek with delight as they grab and go!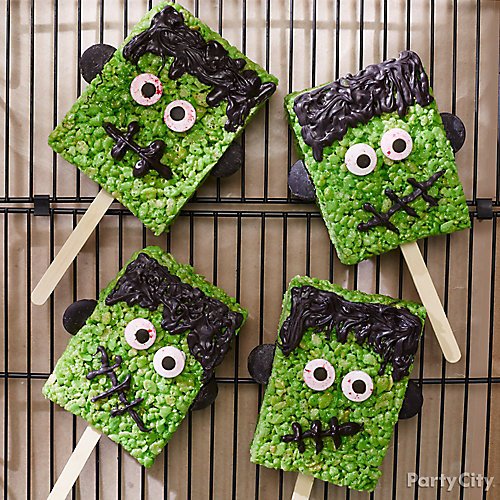 Idea 7: Bring these monster munchies to life in your kitchen lab!
After your little trick-or-treaters return from trolling the neighborhood for candy, send them to your kitchen to concoct a sweet creation of their own! These monster munchies are easy to bring to life using your favorite crispy rice treat recipe infused with a shock of Halloween decorating. Read our "lab notes" on how to make these monster munchies for your kids Halloween dinner party.