The Elf on the Shelf is still a relatively new Christmas tradition (10+ years is nothing compared to how long we've been putting trees in our houses), but we have a feeling you've heard all about it. In the 2005 book with the same name, we learn that The Elf on the Shelf is a special scout for Santa Claus. Scout Elves help Santa manage his naughty and nice list by observing your family's holiday adventures and reporting back to the North Pole after everyone goes to bed. Each morning, the Scout Elf returns and finds a new place to sit, waiting for someone to spy them. It seems like every year the Scout Elves come up with more elaborate ways to set themselves up, as you may have seen on your friends' Instagram posts.
The kids love it—after all, who wouldn't want a special surprise every day of December? Finding your Scout Elf every day really extends the feeling of Christmas magic through the whole month. For parents, however, the creative challenge of finding new ways to display their Scout Elf can get pretty overwhelming, especially on nights when there are a hundred other things that need doing.
That's where we come in. Keep scrolling for easy, quick, and creative ideas for Elf on the Shelf you can incorporate into your month of celebrating. Whether you're a seasoned Scout Elf pro or just dipping your toes into a new family tradition, check out these ideas for your friend from the North Pole.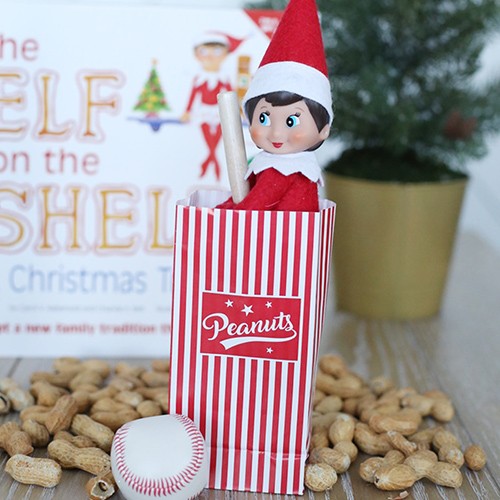 Idea 1: Baseball Elf
This idea is a homerun for any child who loves baseball! Have your Scout Elf sit inside of a half full peanut favor bag. She can hold a baseball keychain bat. Sprinkle peanuts around the bag and add in a plush baseball.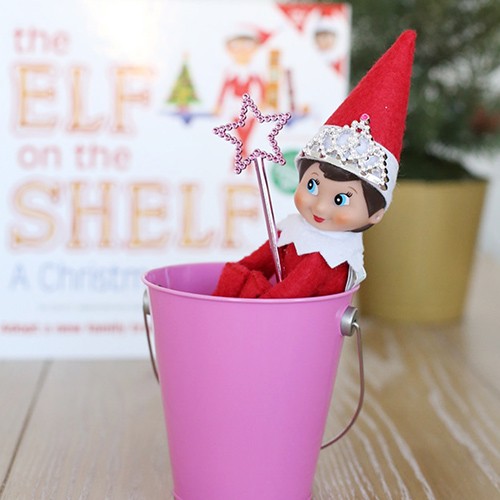 Idea 2: Princess Elf
Your Scout Elf can channel her inner Megan Markle and become a princess for the day. Remove the comb part of the miniature princess tiaras from the party favor aisle at Party City and attach to the elf hat using a glue dot removable adhesive. Your elf can sit inside of a party favor tin with her princess wand.
Idea 3: Duck Pond Elf
This might be my favorite idea yet! Cut a circular pond shape out of blue felt or paper (I used glittery paper). Place a few rubber ducks on the pond and your Scout Elf can hang out with the ducks!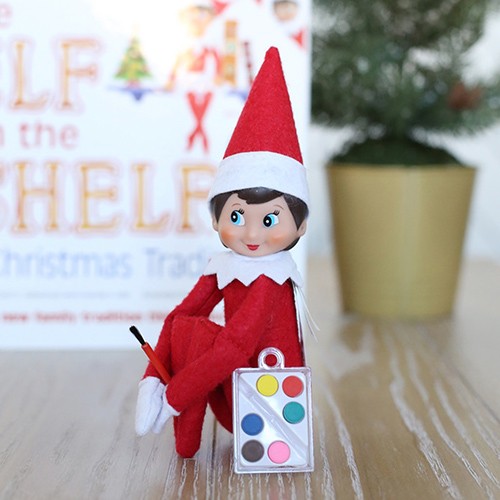 Idea 4: Artist Elf
My favorite party favors are the miniature watercolor sets (they really work!) that come with miniature brushes. They are elf size and would make for the perfect prop for any aspiring elf artist! Make sure to leave an extra set out for your child.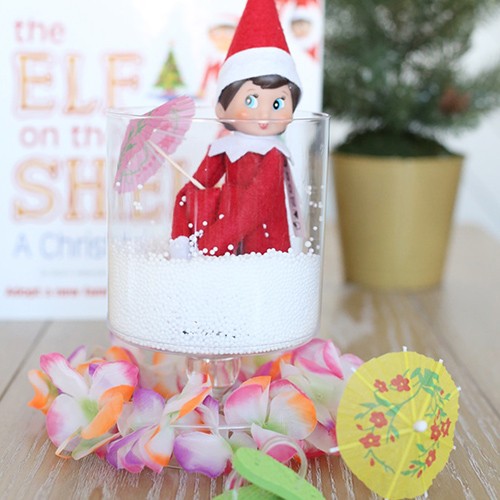 Idea 5: Beach Elf
Fill a jar with faux snow or sand. Brown sugar would also work. Your Scout Elf can sit inside the jar with a paper umbrella, like at the beach. Grab a couple mini flip flop keychains (I removed the chain) from the party favor aisle at Party City, along with a lei and your Elf is ready for a luau.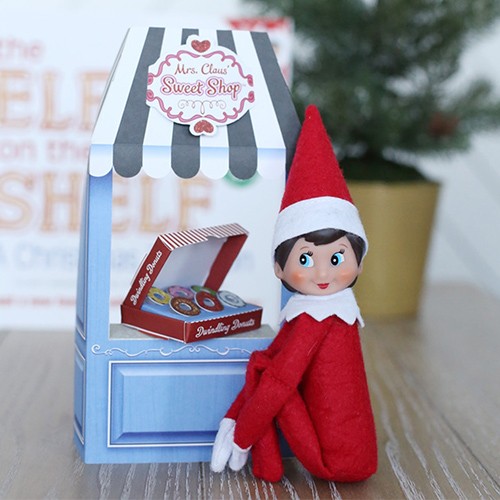 Idea 6: Sweet Shop Elf
If your Scout Elf needs a few more creative ideas, I highly recommend the Scout Elves at Play® Paper Crafts book. This book includes 30 paper crafts and detailed instructions with everything your Scout Elf needs to create a mini world of 3D fun in your home. We especially loved the sweet shop and donut box pop outs.
Idea 7: Serving a welcome breakfast
Some families start elf events the day after Thanksgiving, but most start on the first day of December. This is a great time to read the story of The Elf on the Shelf together, and remind your kids that their Scout Elf is watching for naughty and nice behavior. Present them with the special table setting set for them by their Scout Elf and then make breakfast together. Whip up reindeer pancakes for an extra treat—you can shape antlers from slices of bacon, and add berries and cream for the eyes!
Idea 8: Hidden in a mini forest
Anything in miniature will look adorable next to your elf, and these tiny trees are no exception. Surprise your family by decorating your mantel with mini trees and tuck your Scout Elf into the forest scene for your young ones to find.
Idea 9: Showing off their best moves
It's a Christmas dance party! Set the scene with silver and gold decorations so your elf can put on their dancing shoes. You can even hang your mini disco ball from the bottom branches of your Christmas tree so they can dance between the presents. They'll want some tunes to boogie to, so make sure to play some Christmas music!
Idea 10: Riding a reindeer
Since your Scout Elf is poseable, incorporate them into various decorating scenes throughout your house.
Idea 11: Making a new friend
If you've read The Elf on the Shelf a thousand times, introduce an Elf Pet to the family, which comes with a new story. Although no one is allowed to touch a Scout Elf, they *are* allowed to cuddle these reindeer friends! Kids love that they can cuddle and sleep with Elf Pets, and they're also perfect props for new elf scenes.
Idea 12: Setting up a Hot Cocoa Bar
Use your Scout Elf to introduce new family activities and traditions. Who wouldn't want to start their morning with a hot cocoa bar? You can make it as simple or elaborate as you want. Cocoa is already a treat, but you can add more pizzazz with pirouette cookies, peppermint sticks, or marshmallows.
Idea 13: Under the Christmas tree
If you display your Christmas presents under the tree, this is a perfect elf opportunity. Perhaps your Scout Elf needs to survey the gifts for Santa's quality control!
Idea 14: On a special ornament
This Orna-Moments wagon is actually a DIY craft. It comes with puzzle-like cardstock pieces you pop together, with string to make it an ornament. Super cute and super easy.
Idea 15: Popping with color
Sometimes your elves can hide in plain sight. Choose neutral colors so your elf's red outfit catches everyone's eye. The next day, try hiding your elf near an all-red backdrop to switch things up.
Idea 16: On an adventure
The secret to this photo-worthy setup is the suction cup boots. These come in a kit which features 15 elf-sized tools you can use to create this and other adventurous scenes.
Idea 17: Building a gingerbread house
When your kids think back on the holidays, the activities you do together will be their fondest memories. On a day when there's some time to spare, set up your Scout Elf with a gingerbread house—then invite your little ones to make their own!
Idea 18: At the North Pole
To create a festive North Pole scene, use a small bag of cotton stuffing to create a fresh pile of "snow." Place a few tinsel trees as a backdrop, and use an Elf on the Shelf paper crafting kit for the train and light pole. Your Scout Elf and pets will look adorable playing in the snow together!
Idea 19: In a box of Christmas Eve goodies
On Christmas Eve, it's nice to spend time together as a family. Curate a box full of goodies for a cozy night in: you'll need a new Christmas movie, snacks, cocoa, a storybook, and special Christmas jammies.
Idea 20: Saying goodbye
All good things must come to an end. Since Christmas Eve is the last time your Scout Elf will visit until next year, use candies to spell out a sweet goodbye next to a plate of cookies for Santa.