Inspire your guppies to explore the sea floor!
Start by hanging a Finding Dory scene setter, which makes a perfect backdrop for photos. Next, create a simple balloon bouquet by inflating helium balloons and tying them together at different heights—don't forget a cute balloon weight if you want your bouquet to stay at the bottom of your ocean!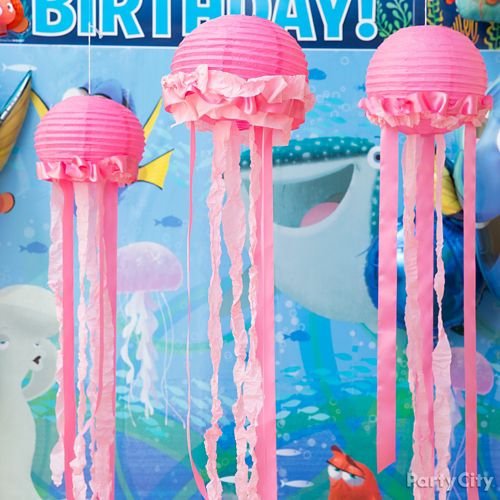 How-To
Supplies:
Three paper lanterns
Three plastic tablecovers: 2 light pink, 1 bright pink
For tentacles: streamers and satin or curling ribbon
Glue gun or tape
Clear fishing line
Scissors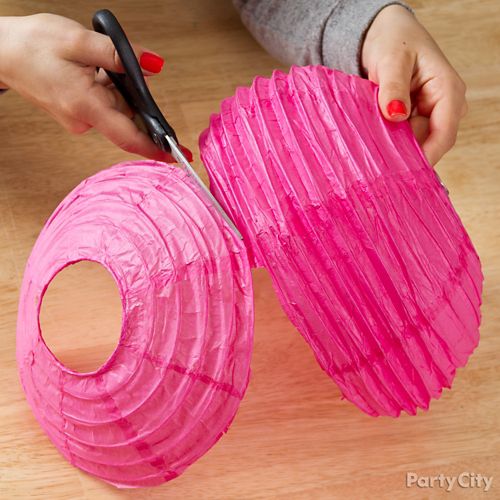 1) Trim the bottom
To get the domelike shape of a jellyfish, trim off the bottom with scissors. (Set aside the metal frame included with the lantern; you won't need it for your jellyfish.) Keep the clear fishing line; you can use it to string up the lanterns later!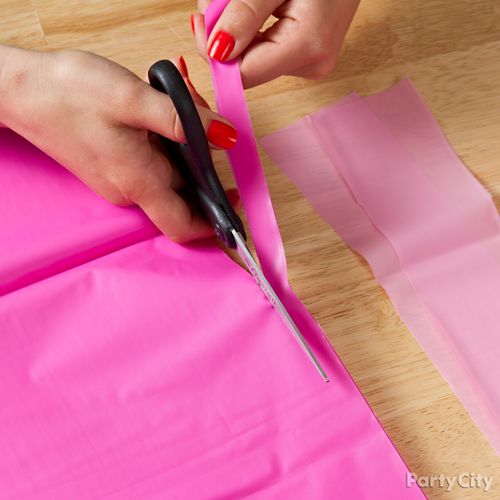 2) Cut tablecover strips
The main tentacles are made with strips of plastic tablecover. Cut six 1-inch strips, about 2 feet in length. Varying lengths and widths lets you create different looks!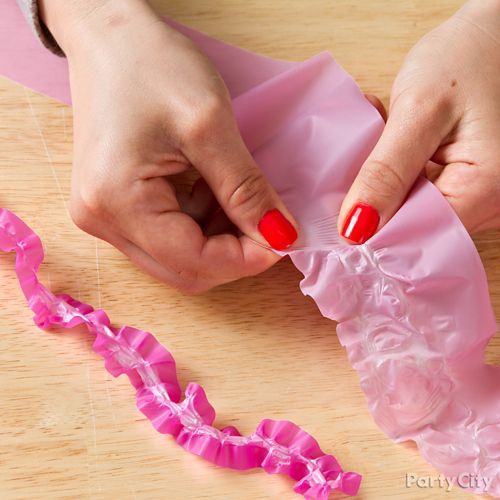 3) Just pinch!
To get the rippled "skirt" effect, either pinch satin ribbon over itself as you glue around your lantern, or pinch and pull at a plastic tablecover with your fingertips, working your way down the strip. (Other option: use a satin ribbon instead of tablecover.)
4) Create a "skirt"
Adhere your satin ribbon or tablecover using a glue gun or tape. These are really starting to look like jellies now!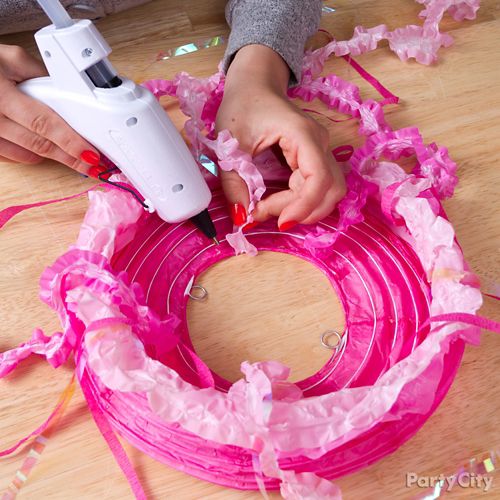 5) Time for tentacles!
Attach the tentacles using a glue gun for a nice smooth look. You can also use tape. Attach some to the outer edge of the lantern and some to the inner, smaller edge, spacing them out to get the 3-D effect of a real jellyfish. Love these!
6) Finishing touches!
Here's a close look at our finished jellyfish! Hang your jellyfish up to see how the tentacles are spaced. You can easily add more streamers and ribbon, and trim them to different lengths, to complete your creation! Hang them up with clear fishing line, ribbon or garland. This is o-fish-ally our fave DIY party ideas project!