Turn ordinary party supplies into exquisite Christmas decorations! Create unbewreathably beautiful DIY decorations! Turn your home into instaworthy perfection this holiday with unique DIY wreaths made from Party City supplies. We've got a sleighful of unique supplies you can use to make one-of-a-kind wreaths for any holiday celebration. From candy-coated to tinsel-lined, we've got unexpected wreaths that will blow your guests away.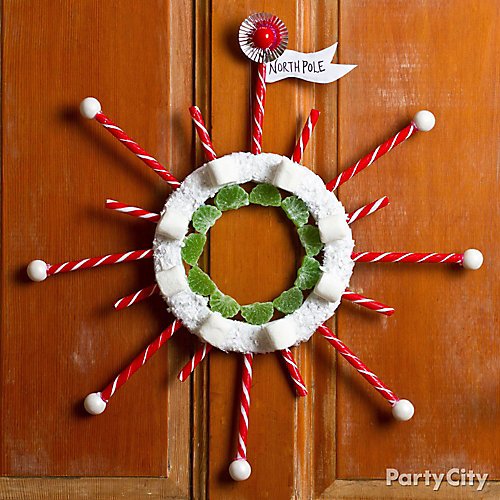 Idea 1: Candy-cane you dig this Christmas wreath?
Why make a Christmas wreath out of sweets? Because you can-dy! This funky starbust is made of gumballs and peppermint candy sticks glued to a foam wreath from a craft store. Marshmallows and a flurry of snow confetti add wintry flair, while fruit slices add a festive green touch. A special candy stick decorated with a red gumball, a silver baking cup and a white streamer "flag" points the way to the North Pole. Santa Claus just might skip the milk and cookies and try a nibble of this sweet wreath!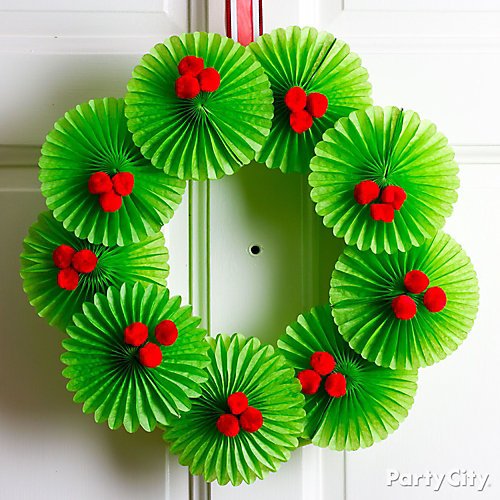 Idea 2: Deck the halls with a very merry paper fan wreath
This "holly" will never dry out! For this adorable Christmas wreath, we wrapped a foam wreath from a craft store with green streamer and hot-glued hanging paper fans all over. The holly berries are trios of red pom-poms. Display it from a bright red ribbon and you have yourself a holly-jolly Christmas wreath!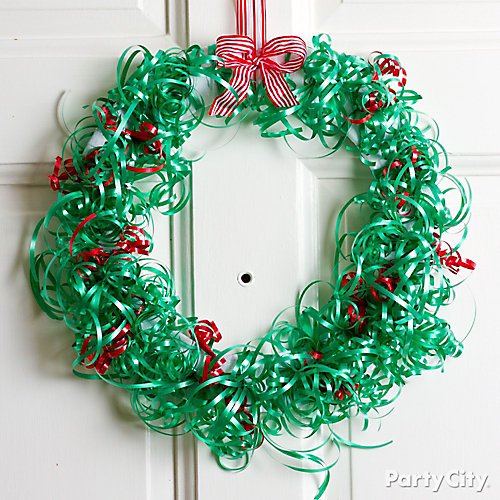 Idea 3: Bring "tie"-dings of joy with a ribbon wreath
Not only is this wreath the easiest Christmas decoration you'll make this holiday, it's also the most fun! Simply tie green and red curling ribbons around a vine or wire wreath and curl the ends with scissors. Attach it to a long piece of Christmas ribbon to display it on your door or window. This curly ribbon Christmas wreath is sure to "spruce" up your holiday decor!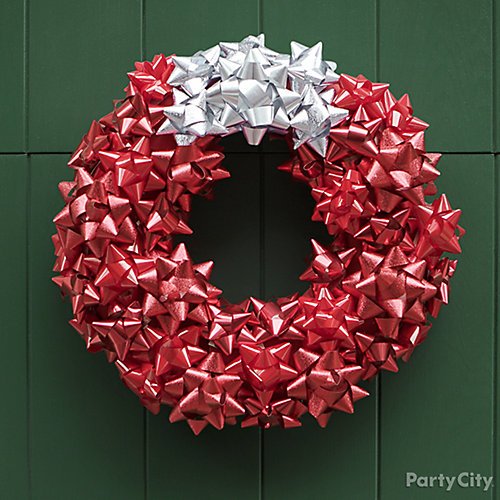 Idea 4: Bows aren't just for presents
Bows on bows on bows. Take our Modern Bows and create a festive, unique wreath. Start with a foam ring or wire form, then add Party City bows in your favorite holiday colors.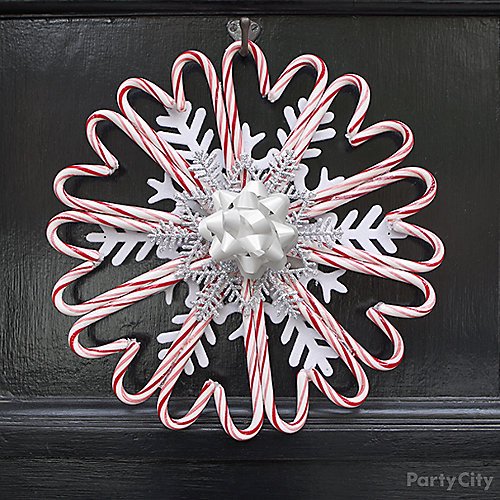 Idea 5: Candy Cane Lane starts at your door
Create your own candy cane wreath using candy canes (duh), snowflake décor, and a gorgeous gift bow. It's festive, fun, and will look great in all the holiday 'grams. Start with a Glitter Silver Snowflake Ornament as a base. Then glue a clear CD case to the middle. Layer and glue the candy canes together to for the wreath. Finally, top with a festive bow.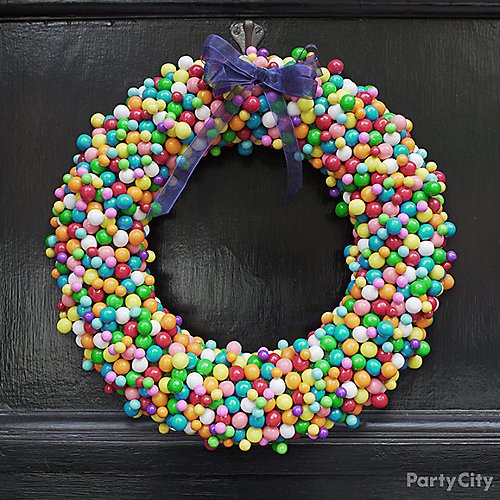 Idea 6: Make a bright, colorful wreath using Party City candies
Colorful gumballs aren't just for chewing! Create this fun wreath by gluing our Rain-blo Gumballs and Rainbow Chocolate Sixlets to a foam base. Make sure to use lots of different colors so it's as bright as possible. When you've filled up the entire wreath, top it off with some brightly-colored ribbon. It's perfect for any kid's holiday party.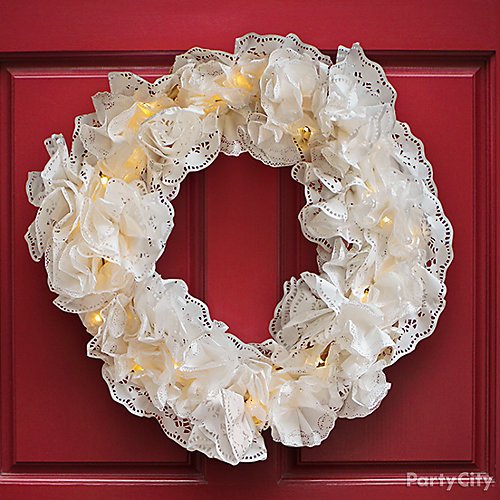 Idea 7: Turn ordinary party supplies into a DIY Doily Wreath
This wreath is perfect for any elegant holiday get-together. Starting with a foam ring or wire base, combine our white round paper doilies (make sure to use a lot of different sizes) and our 6-foot silver string lights for a wreath that will light up your home.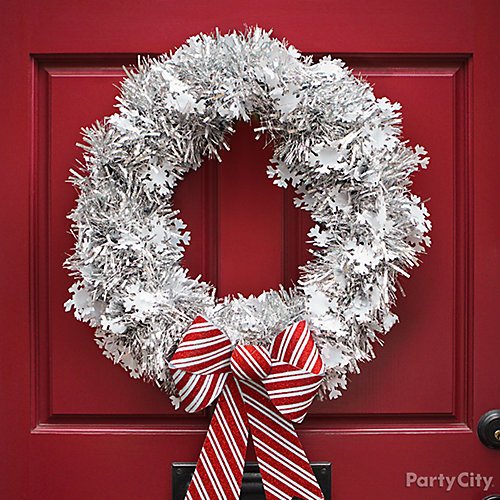 Idea 8: Make your home shine this holiday with this DIY wreath
Use our snowflake tinsel to create a shining wreath that will make your home look like a winter wonderland. Just start with a foam ring or wire form and wind our Silver Snowflake Boa Tinsel Garland around it. Top it off with your favorite bow. We recommend our Glitter Red & White Striped Bow.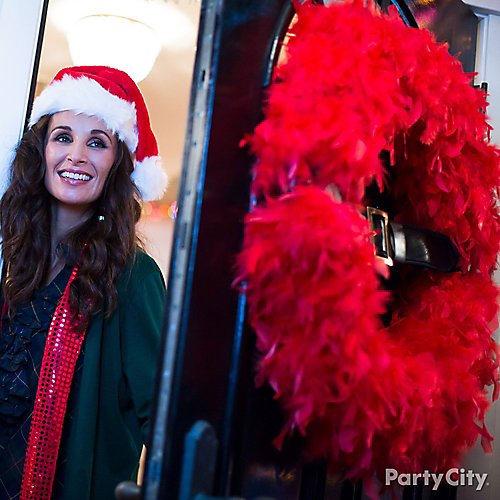 Idea 9: Dress up your door with a Santa suit wreath
Welcome Mr. Claus and his crew with this easy DIY wreath! You'll need a wreath form, a couple of red feather boas, black ribbon and a gold paper plate. Wrap the wreath with red feather boas and run a piece of black ribbon horizontally across the center as Santa's belt. For the belt buckle, we cut a square out of a gold paper plate and glued it onto the front. You'll be done faster than you can say "Ho, ho, ho!"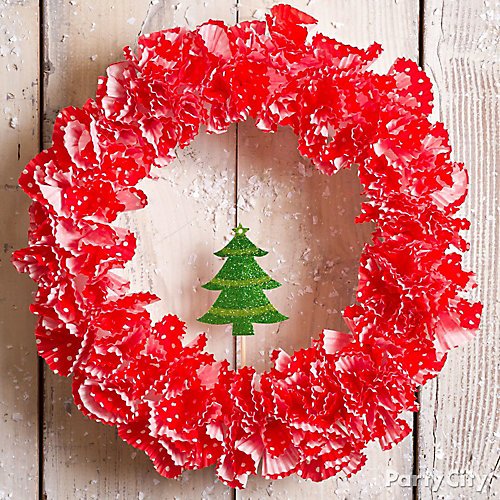 Idea 10: A DIY baking cup wreath is a piece of cake
Can you believe that this Christmas wreath is made up of pretty baking cups? It is! Use a pencil to poke holes into a foam wreath and stuff baking cups into them. Repeat this step all around the wreath base until it's as dense and full as you like. A sprinkling of faux snow is perfect for the winter season. This wreath looks so merry with a little Christmas tree – it's just a gift tag! – hanging in the center!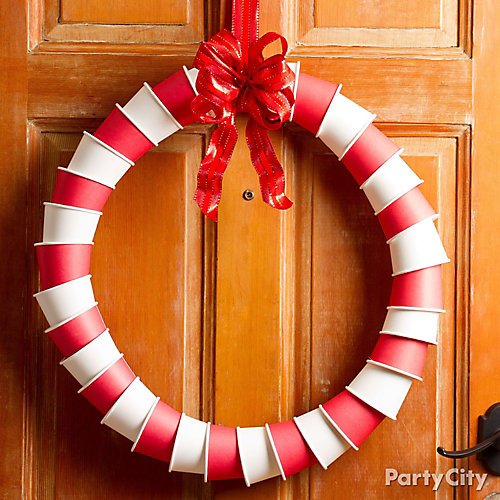 Idea 11: These cups runneth over with holiday cheer!
Christmastime = candy cane time, and this Christmas wreath inspired by the classic candy is just as sweet! To get your DIY on, insert a white paper coffee cup halfway into a red one and hot-glue them together. Continue "stacking" the paper cups in alternating colors until the ends meet and then top it off with a festive bow. This Christmas wreath is so easy to make, you'll have plenty of time to knock back a holiday cider (or two!).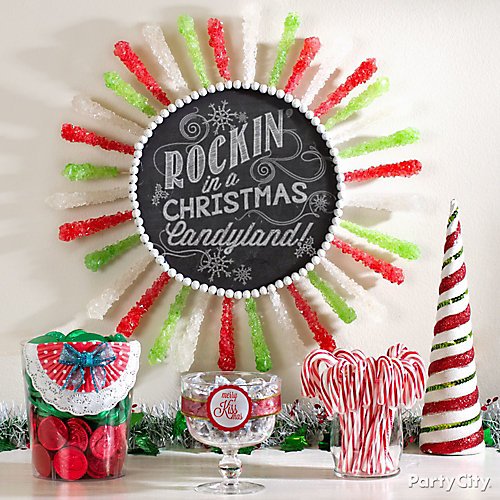 Idea 12: Say Merry Sweet-mas with a chalkboard wreath
You'll be rockin' the holiday spirit with this nifty DIY idea! We snipped off the round ends of holiday-hued rock candy sticks and stuck them into the foam wreath (wrapping it with white streamer gives it a finished look). Make the "chalkboard" circle out of black poster board, hot-glue to the wreath, and finish it off with a frame of yummy white Sixlets®.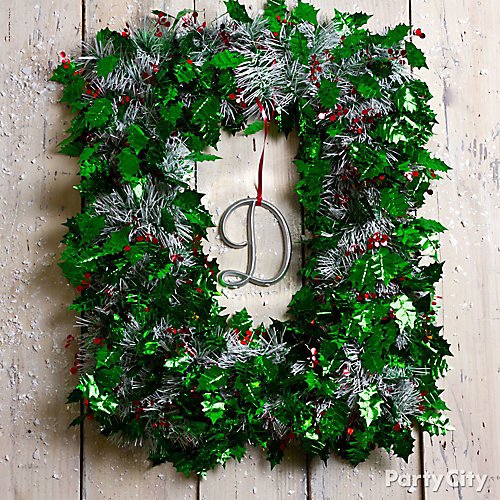 Idea 13: A trendy square wreath for the "holly" days
A cool retro square wreath is all the rage this season – and we made it even more fab by adding a monogram letter! First, cut a square or rectangular frame out of foam board (available at Party City stores). Then, wrap the frame with garland, securing it with hot glue. That elegant monogram is actually a cake topper and it comes in every letter! Just attach it with a little ribbon. How very Pinteresting!