Did you know that National Lollipop Day is at the end of July? It is a day that children of all ages can celebrate. What better way to celebrate such a fun holiday than making your own giant lollipop filled with lollipops?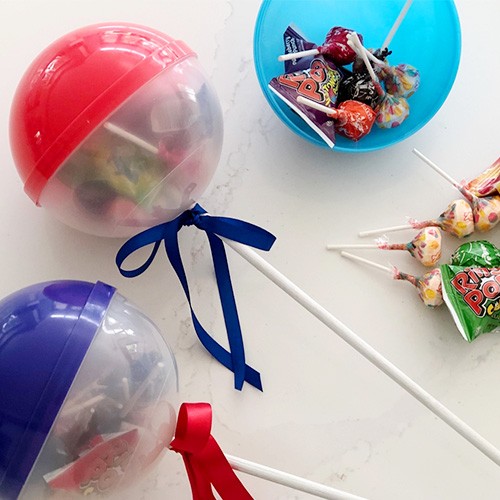 Supplies:
Ball Favor Container
Lollipops
5/16" Dowel
Drill
1/8", 7/32", and 5/16" Drill Bits
Hand Saw
Foam Brush
White Paint
Ribbon
Scissors
Instructions:
Drill a hole in the center of the clear side of the ball favor container. Start with a small drill bit, and gradually work your way to a 5/16" hole.
5/16" dowels come in the length of 36". Cut it down to 22" with a hand saw.
Paint the dowels white using a foam brush and acrylic paint.
Fill the ball favor container with an assortment of your favorite lollipops. Close the container and insert the painted dowel.
If desired, decorate the lollipop with ribbon.