You've probably seen these giant balloon arches and thought hmmm, that's something only a professional party balloon decorator would do. In actuality, these "wow" balloon arches are very do-able. The trick to making them is creating simple layers of four balloons tied together. Keep reading for the tutorial and take your summertime celebration to the next level.
What you'll need:
Balloon arch kit
Hand pump or electric pump
For arch: 3 packs green 9" balloons, 2 packs pink 9" balloons
For flowers: white heart balloons, 1 pack mini 5" balloons in bright pink and turquoise , yellow twisty balloons, accent twisty balloons in green or pink
Double stick tape
Scissors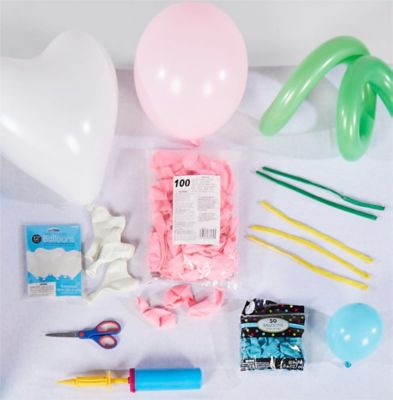 Step 1:
Balloons are air-inflated. You can use a hand-pump, but for large projects an electric inflator works best.
Step 2:
To make the layers, begin with pink and tie together 2 balloons. Make another set of two pink balloons tied together.
Step 3:
Make whimsical green vines from twisty balloons by wrapping around the base of a hand pump. Have a friend hold it and air-inflate the balloon. Release from the hand pump and complete inflation.
Step 4:
Make 2 vines and tie them together. You'll be able to easily wrap this around the completed column later. Create as many as you wish.
Step 5:
Balloons are air-inflated. You can use a hand-pump, but for large projects an electric inflator works best.Fill bases with water. Add your 2 pairs of pink balloons to the arch by tying them together around the base. Continue making layers. For this design, make approximately 8 rows of pink, and 16 rows of green.
Step 6:
To create tropical flowers, tie together 4 inflated white heart-shape balloons.
Step 7:
Next, make a colorful smaller flower to go on top by tying together 5 mini blue balloons. Create flower stamens by inflating just the tip of 3 yellow twisty balloons. Secure by taping the ends inside the flower with double stick tape.
Step 8:
Once you have about 5 layers, add the flower with small pieces of double stick tape. Wrap twisty balloon around the column. Continue this process to complete about 5 more sections for a full arch. If you like, create flowers in other colors like pink/purple and white/pink.