Now here's a cloud you'd want hanging around at a baby shower! Follow the steps below to make this poppin' DIY decor.
Supplies
1package of 12-inch white latex balloons 72 count
1package of 12-inch white pearl latex balloons 72 count
1 balloon pump
Scissors
1 roll fishing line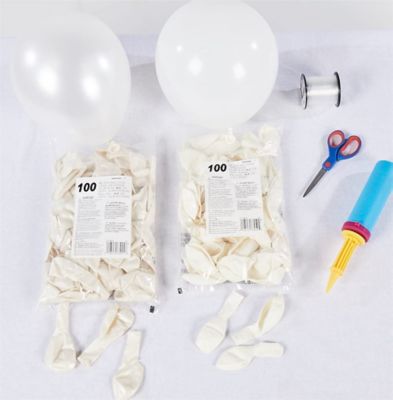 Step 1
Inflate several white and white pearl balloons with a balloon pump.
Step 2
Pair two balloons together and tie their ends to each other. Repeat this step with the rest of the inflated balloons.
Step 3
Take two sets of balloon pairs and attach them to each other with fishing line.
Step 4
As you continue to attach more balloon pairs to the cluster, the DIY balloon cloud will start taking shape.
Step 5
When the DIY balloon cloud reaches the desired size, hang from the ceiling with fishing line. Alternatively, inflate balloons with helium to create a floating cloud for display indoors or outside. For a special touch, add circle dot garlands to the bottom of the cloud.