My mom and sister are both early childhood teachers, and they are often the beneficiaries of my left over party supplies and excess buys for photo shoots. However, this holiday season, I was able to fully decorate my mom's classroom while her little learners were on Thanksgiving break. They will come back to a classroom that has been transformed into a winter wonderland.
Supplies:
Large Tinsel Tree With Ornaments
Red Balloons
Green Balloons
Balloon Arch Decorating Strip 25ft
Winter Wall Decorations
Santa's Sleigh Scene Setter
Snowflake Wrapping Paper
Snow Blanket
Pin the Nose on the Snowman
Airloonz Snowman Balloon, 55in
Christmas Lights Honeycomb Garland
Tinsel Boa Garland
Santa Hat
Reindeer Antlers
Elf Hat
Snowman Piñata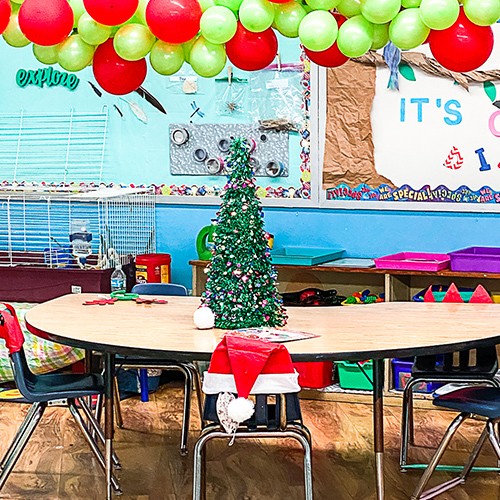 My mom, my son, and I transformed the classroom in just a few hours for right about $100 out of pocket.
We started with a long balloon garland to hang above one of the small group learning tables. The garland was easily hung on clothes line my mom uses for the kids art projects. It was a HUGE impact for less than $10!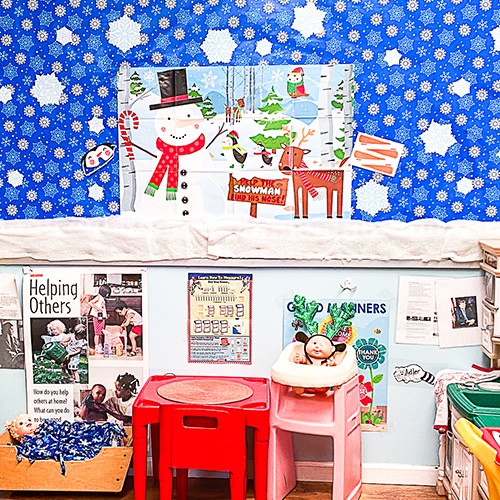 Once we finished the balloon garland, we recovered a lot of the bulletin boards. Party City has inexpensive scene setters, and we simply stapled them over the existing bulletin boards. Then, we added a tinsel garland trim. The scene setters were also great for door covers. Finally, we used inexpensive snowflake wrapping paper and a snow blanket on the bulletin board over the housekeeping center. We also added an adorable Pin the Nose on the Snowman game to that bulletin board. I love that my mom can use it for a classroom decoration and as a class party game before Winter break! I also added a small Christmas tree, and some fun winter dress up pieces to that area.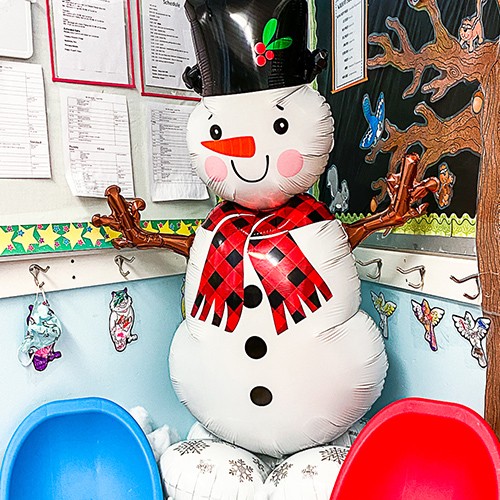 My mom has this weird little corner in her classroom for the kids' backpacks and jackets, but I thought it would be fun to add a giant balloon snowman and some stretched out pieces of another snow blanket. We added the kid's rocking chairs and a few books to make a fun little snowy reading center too.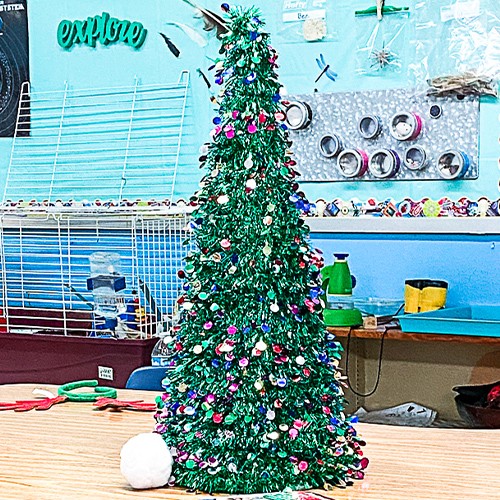 While I was working on the housekeeping area, my son added snowflakes to the windows, bathroom mirrors, and critter cages. He also used some of the winter wall decoration snowflakes to hang from the ceiling!
We also added a little Christmas cheer to the classroom smart board with honeycomb Christmas light garland, a small Christmas tree, a cute little snowman piñata, and some of the remaining snow blanket.
Finally, we put a Santa hat, Elf hat, or reindeer ears on each chair. The tables were decorated with festive Christmas trees. And, each student has a cute little DIY reindeer headband craft to make when they come back to school.