Are you going apple picking this fall? Set up a fun apple slice dipping table for the whole family. We are showing you how to stop apples from browning, and how to make an apple garland that you can also use as fall home décor.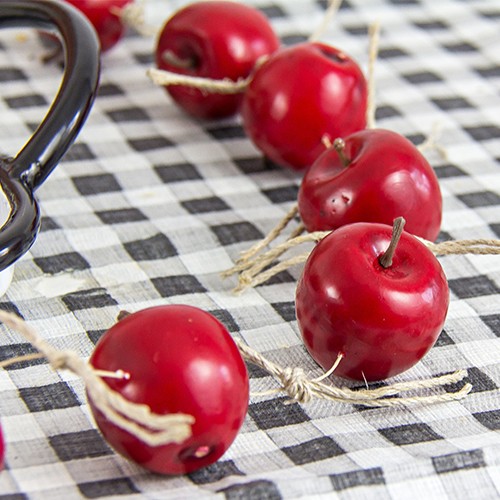 Apple Garland
Supplies:
Mini Foam Apples
Needle
Hemp cord – thin for needle, and thicker for tying
Instructions:
1. Using a long needle, thread a thin piece of hemp cord through the eye of the needle. Push the needle through the center of each mini foam apple.
2. Spread the apples on the cord approximately 1.5 inches apart.
3. Cut strips of a thicker hemp cord to about 5 inches in length. Holding two pieces together, tie them in a knot between each of the apples. This will prevent the apples from sliding on the cord.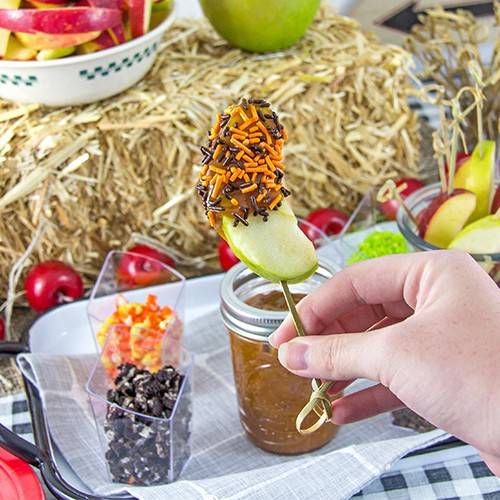 Caramel Apple Slices
Supplies:
Apples
Ginger Ale
Tall Bamboo Knot Party Picks
Caramel
Assorted dipping items – Hazelnuts, candy corn, crushed Oreos, chocolate curls, coconut flakes, marshmallows, sprinkles,
Jars
Mini Clear Plastic Slanted Tumblers
Instructions:
1. Using an apple slicer, cut your apples. Take a sharp knife and slice each section in half again.
2. Put your apple slices into a bowl and pour ginger ale over the top until the apples are covered. Set aside for about 10-minutes. This will stop your apple slices from turning brown.
3. Strain the ginger ale off the apples, and then dry with paper towels.
4. Put your apple slices on the tall bamboo knot party picks, and then put them into the refrigerator for about 30-minutes. If the apple slices are wet, or there's too much moisture, the caramel won't stick.
5. Serve with warm caramel sauce in glass jars. Add toppings such as crushed hazelnuts, coconut flakes, sprinkles, chopped candy corn, and mini marshmallows to small cups.