When you wish upon a cake…
A jumbo cupcake is chic, eye-catching and even has room for the birthday candles! The "baking cup" of this colossal confection is made from candy melt, a moldable colorful chocolate. Yum! Make a wish and check out the how-to below.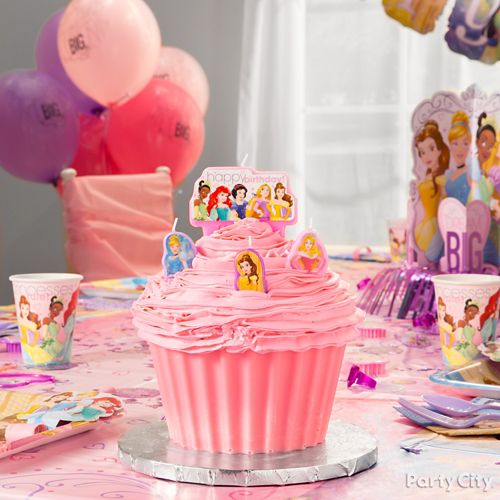 How-To
Supplies:
Giant Cupcake Pan
Cake Release spray or flour, shortening, and vegetable oil
Icing
Pastry bag and 1M Star Tip
Candy melts
Pastry brush or silicone spatula
1) Bake cupcake halves
Spray your pans with Cake Release, or make your own by mixing equal parts flour, shortening and vegetable oil and brush your pan thoroughly. Pour your favorite flavor of cake batter into each pan and bake according to package or recipe instructions.
2) Remove from pans
Carefully remove your cakes from the pans and let them cool. Wash any remaining cake release and crumbs from your pans and dry well.
3) Melt candy for liner
Melt candy melts and pour half into the bottom of your bottom-half cupcake pan. Using a pastry brush or silicone spatula, coat the sides with the candy melts. Make sure to cover all the nooks and crannies and get rid of any air bubbles. Chill for twenty minutes, then pour the second half in and coat a second layer. Chill again for at least thirty minutes.
4) Pop out liner
Remove the pan from the fridge. Gently tilt the pan and use your fingers to pull out the candy liner. Be very gentle, but remember you can always re-melt the candies and retry if it breaks.
5) Trim cake to fit
Trim the ridges off of your cake so it will fit inside your candy liner. Carefully drop your cake into the liner, and if any hangs over, just trim so the top is flush.
6) Attach top and decorate
Use a dollop of icing to adhere your top and bottom cake halves together. Use a piping bag and a 1M star tip to ice the top of your cupcake, and then place your candles on top! Princess perfection!