We're dreaming of a sweet Christmas with treats ideas for a Candy Melts party! Treats to melt your heart. 'Tis the season to have yourself a merry little dip-n-drizzle party. Impress with a fountain that keeps Candy Melted, ooey-gooey and ready to be dipped into. Get adorable snowman treats, amazing drizzled tree cupcake toppers and lots more inspiration!
Idea 1: Stir up some fun with candy cane spoons!
Transform your hot drink into a festive brew with a peppermint "swizzle stick"! Whether you dip them in cappuccinos or cocoa, melted candy and sprinkles on a minty spoon make a uniquely yummy treat.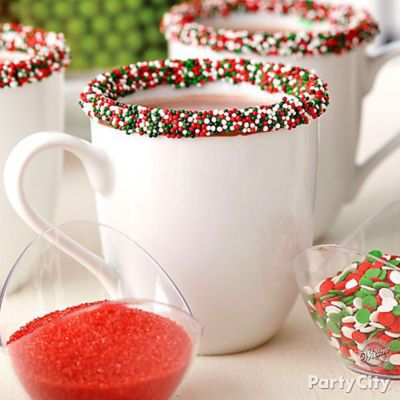 Idea 2: May your mugs be merry & bright!
We love the idea of a hot chocolate bar! Set up a station with beverages like cocoa, spiked eggnog and coffee. Sweeten up white mugs by drizzling on melted candy and decorating with scrumptious nonpareils. The perfect finish to your dip and drizzle Christmas party!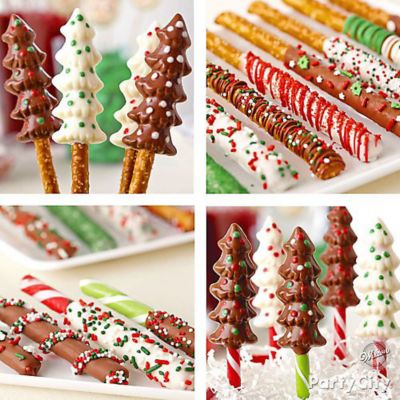 Idea 3: Yummy salty and sweet treats!
For a super-fun and festive dip and drizzle party, you'll need a chocolate fountain or melting pot, decorating bags, squeeze bottles, dipping containers and dipping tools. Let everyone try dipping sweet candy sticks and salty pretzel sticks directly into melted candy, or try out a Christmas tree pretzel mold (fun!). Just tell everyone to add their fave sprinkles before the candy hardens. The fantastically festive options are endless!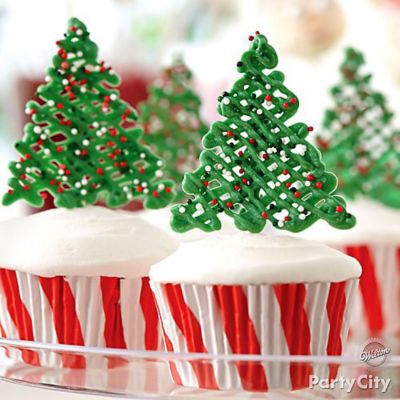 Idea 4: Drizzle a festive fir cupcake topper!
These are fun to make and so pretty! Just use a decorating bag or squeeze bottle to drizzle green Candy Melts® Candy onto parchment paper in the shape of a pine tree with a trunk. Before the candy hardens, add some sprinkles to look like Christmas tree lights. Once cool, gently push the tree trunks into white frosted cupcakes (looks like a tree in a snowdrift!). They look amazing with these merry-n-modern striped baking cups!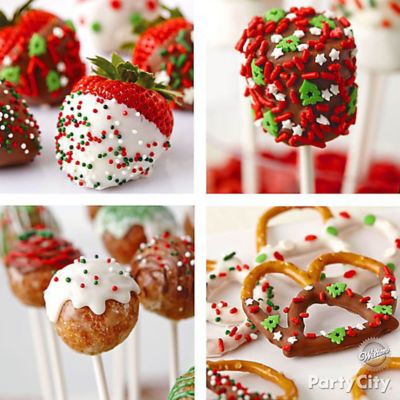 Idea 5: Delish berries, marshmallows, doughnuts 'n pretzels!
So many festive ways to dip and drizzle! Stick doughnut holes and marshmallows on cake pop sticks for easy dipping into the melted goodness. Have pretzels for a tasty salty-sweet combo. And satisfy the fruit lovers with decked out strawberries. Set out dishes of sprinkles to give all the treats and eats a magical holiday touch.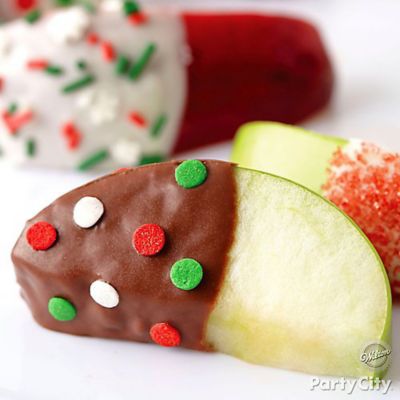 Idea 6: Festive fruits make the holidays healthier!
For a tasty treat that's not too sweet, set out red and green apple slices for your party peeps to dip in melted candy and decorate with their fave sprinkles. Create some ahead of time to inspire them to make their own creations. Provide sprinkles in different colors and styles and let them get their merry on!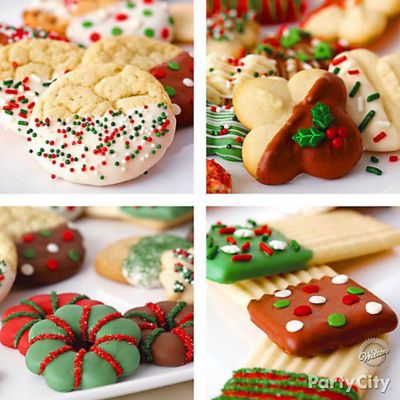 Idea 7: Christmas = cookie time!
Go all out with an array of interesting homemade and store-bought cookies. You can dip cookies in a melting pot or chocolate fountain, and drizzle them with colorful melted candy and decorative sprinkles. Before the chocolate hardens, add a dusting of sprinkles or delicately draw patterns with icing and fun sparkle gel.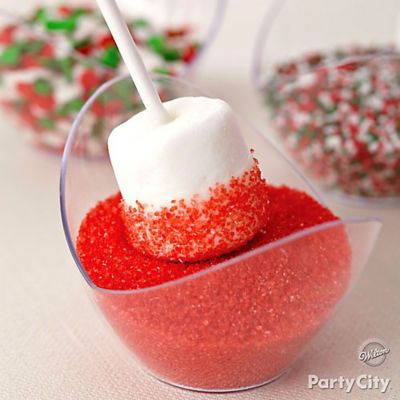 Idea 8: Set up a sprinkles station!
Display an array of mini bowls filled with red, green and white sprinkles of all shapes and sizes. Set up your sprinkle station next to a grand fountain or smaller melting pot. Your party-goers can mingle as they dip into the luscious melted candy and decorate with super-fun sprinkles. They'll love noshing on their decorated desserts!