Get all the Gru-approved ideas and party supplies you need for the li'l Minions!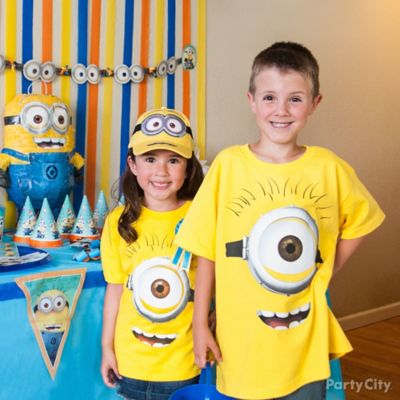 Idea 1: Minion Mini Me's
Give your one-in-a-Minion birthday star a Despicable Me outfit for his big day! A costume or T-shirt featuring a silly smiling Minion with cool accessories like hats and goggles are perfect for getting him pumped for a day of birthday fun! If a little sis or bro wants to join in, give them a Minion shirt of their own to wear.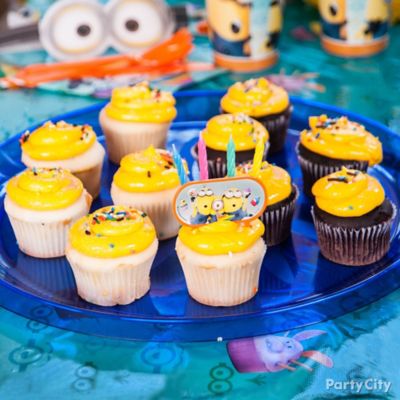 Idea 2: Delish Despicable Me dessert!
The Minions' favorite foods are bananas and "bapples" (Minion-speak for apples), but your mad geniuses will eat up these Despicable Me cupcakes! Frost a batch of cupcakes with Minion-yellow icing, a dusting of sprinkles and Despicable Me candles. The yellow icing really pops when you serve these yummy cupcakes on a bright blue platter.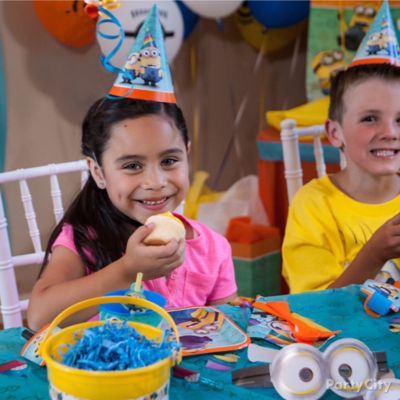 Idea 3: Give your team party "uniforms"!
Hand out Gru-approved lab uniforms as soon as the birthday friends arrive! They'll fit right in with the other Minions when they're wearing cute party hats and goggles.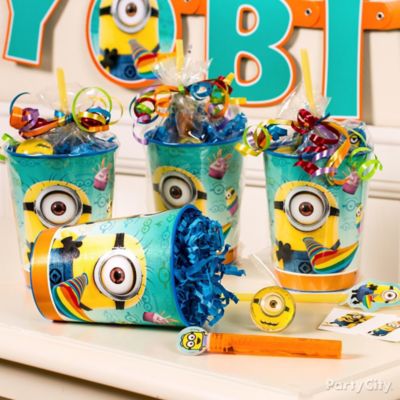 Idea 4: Wow them with despicably cute favor buckets!
After a successful day of experimenting, it's time to send the kiddos home to their secret lairs. Hand out adorbs favor buckets filled with stickers, tattoos, bubbles and bouncy balls. Add a DIY touch to yellow favor buckets with a stripe of Despicable Me wrapping paper around the middle.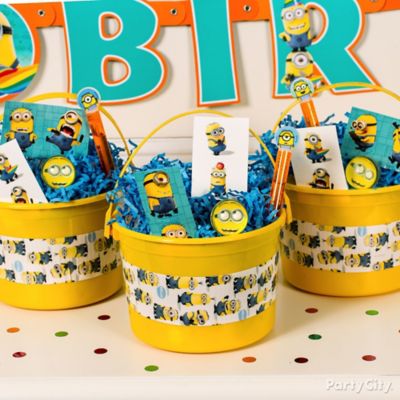 Idea 5: More favors fun with reusable cups
For even more Minion mischief, make adorable favors from reusable plastic Despicable Me party cups! Fill them with tufts of paper shred then nestle in cute favors like bubbles, balls, stickers and tattoos. Wrap them up in clear bags and tie off with some ribbon, then present to your Minion-loving lab buddies before they leave!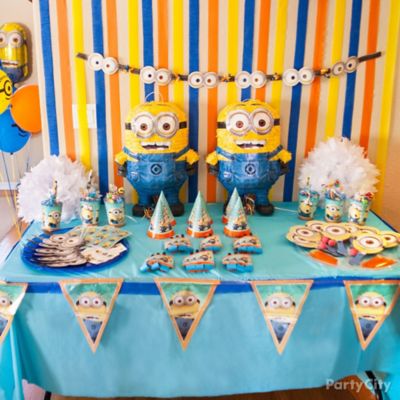 Idea 6: Dress up the "lab" table
Greet your party Minions with a table of goggles and goodies to wear! Decorate it with darling Despicable Me decorations like pinatas, streamers and a goggle garland made by tying paper goggle masks together with curling ribbon. Trim the front of the table with Minion pennants from a Despicable Me decorating kit and blue duck tape. It's also the perfect place to hand out favors when the day's experiments are over!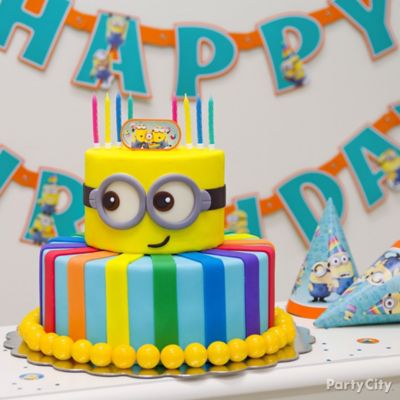 Idea 7: A Minion cake steals their attention!
Treat hard-working Minions to a rainbow Minion cake! Fondant goggles, rainbow stripes and Despicable Me Candles make this villainously delectable confection Gru-approved.

For detailed instructions, check out our how-to.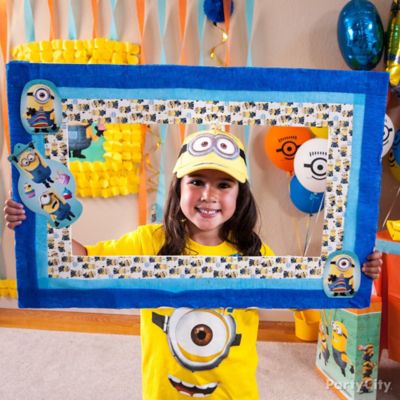 Idea 8: DIY a Despicable Me photo frame!
Even Dr. Nefario would be impressed by this DIY Despicable Me party prop! All you need is a foam poster board, Despicable Me gift wrap, blue streamers and cutouts from the Despicable Me swirl decorations, and a decorating kit. Just cut out a frame from the board and decorate with wrapping paper, streamers and cutouts for Instagram-worthy fun. Smile and say "Banana!"
Idea 9: Hand-deliver invites with a pre-party favor
If you're hand-delivering your invitations, attach a Despicable Me favor to the envelope! Your party peeps will love having a bottle of anti-gravity serum (a.k.a. Minion bubbles!) to play with.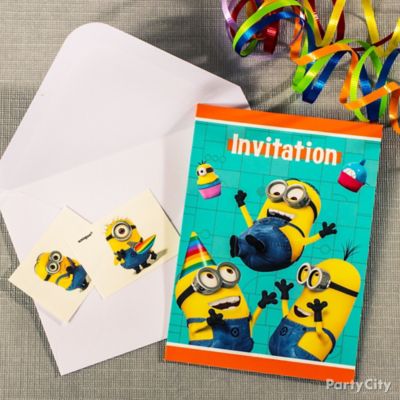 Idea 10: Minions assemble!
Before the party can begin you must gather your team of party assistants! Let the Minions help out in the form of invitations that tell people where the secret lair is located. Stuff a couple tattoos in the envelope for a despicably fun surprise – tell your guests they're secret passes to get into the party hideout!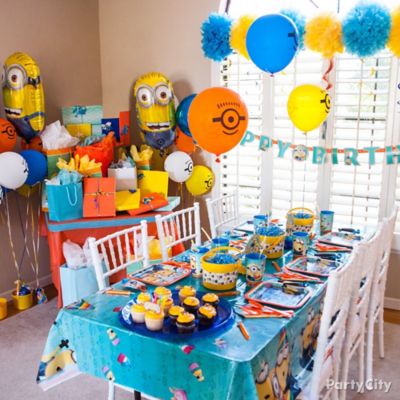 Idea 11: Minion Mania!
Host a party experiment full of marvelous Minions! Our hypothesis: Plenty of Despicable Me decorations and party supplies will make for a super fun birthday. Minionize the party room with Despicable Me balloons, banners and tableware bursting with Gru's little yellow henchmen.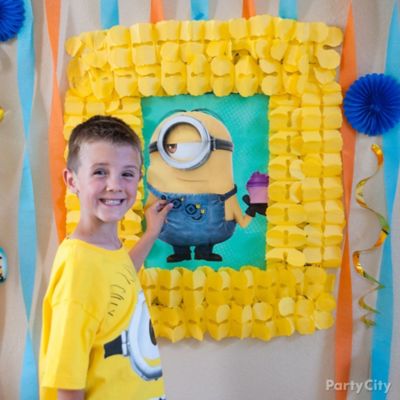 Idea 12: Stick the pocket on Stuart!
Recruit the party peeps to stick the pocket on the Minion! This twist on Pin the Tail on the Donkey will get them bursting with giggles. Decorate the party game with yellow garlands, streamers and blue fans for a "Minion" times more fun!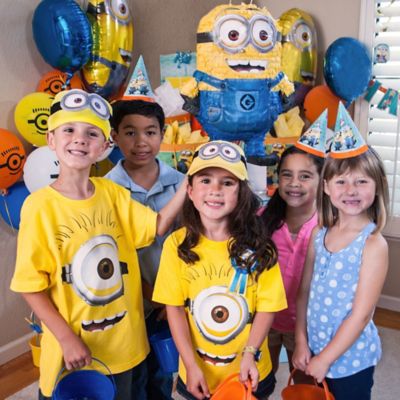 Idea 13: A Minion pinata packs a lot of fun!
Here's a fun party experiment: Find which string releases the goodies from a Minion pinata! No bat is necessary for this pull-string pinata. Just have everyone take turns until the lucky person pulls the right string. Hand out favor buckets so the lab buddies can scoop up all the candy and toys.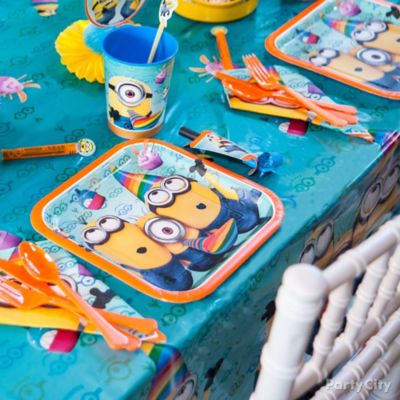 Idea 14: Dish out the fun on Minion tableware!
Let the Minions lend a hand at cake time! Decorate the table with Despicable Me plates, napkins, cups and a table cover with the Minions' silly faces. Fun favors like bubbles and blowouts will keep your own little birthday Minions happy while you cut the cake.