Minion-approved birthday cake!
Stuart, Kevin and Bob are here to do your birthday bidding - even if you're just plotting to have a great time! This cake is easy to decorate: just cut the simple fondant shapes to create the mischief-making faces around the bottom, then add the candle to complete the look.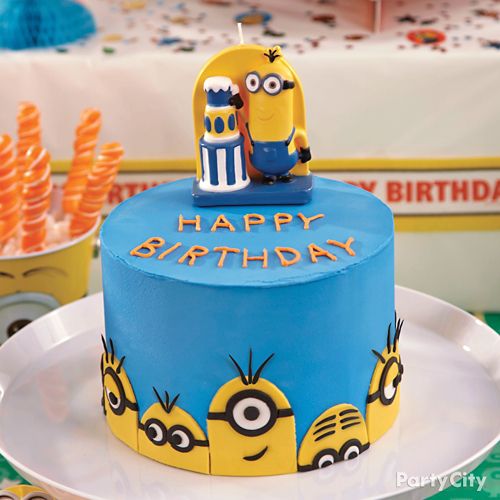 How-To
Ingredients:
Favorite cake recipe or mix (4 1/2 cups batter used)
White Ready-To-Use Decorator Icing — 4.5 lb. Tub (2 1/2 cups used)
Sky Blue Icing Color*
Orange Icing Color
White Decorator Fondant (4 oz. used)
12 Icing Colors Set (Royal Blue*, Golden Yellow*, Lemon Yellow*, Black used)
*Combine Royal Blue with Sky Blue for blue shown.
*Combine Lemon Yellow with Golden Yellow for yellow shown.
Supplies:
6 in. x 2 in. Round Pan (Two are needed for a layer cake)
Cooling grid
Cake plate
13 in. Angled Spatula
12 in. Disposable Decorating Bags
Tip #3
9 in. Fondant Roller (purple, pink guide rings used)
Parchment paper
Knife
Plastic ruler
Tip Set (Tip #12 used)
Decorator Brush Set
Minions Birthday Candle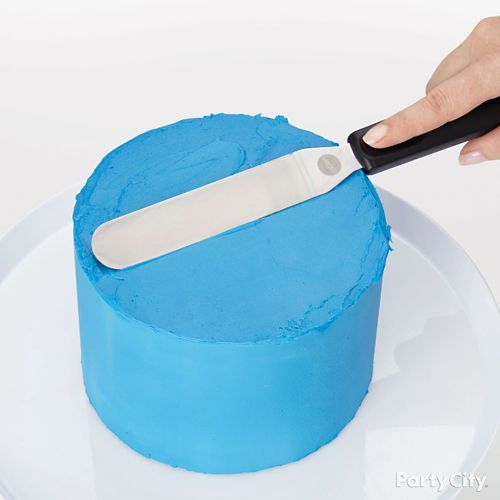 1) Make layer cake
Bake and cool two 6 in. cake layers. Tint 2 cups icing blue and 1/2 cup orange. Level and fill cake layers with blue icing on cake plate for a 4 in. high cake. Ice cake smooth with blue icing.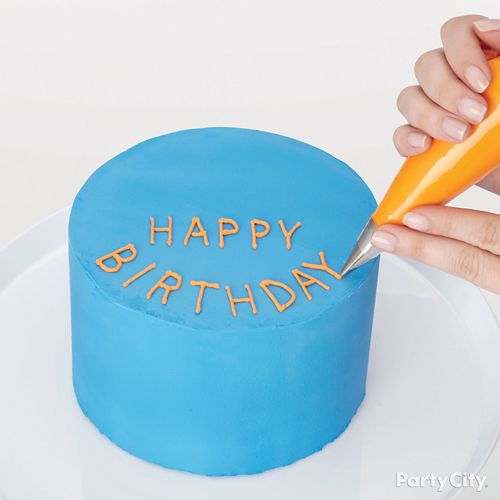 2) Pipe message
Use tip #3, a cut disposable decorating bag and orange icing to print message on cake top.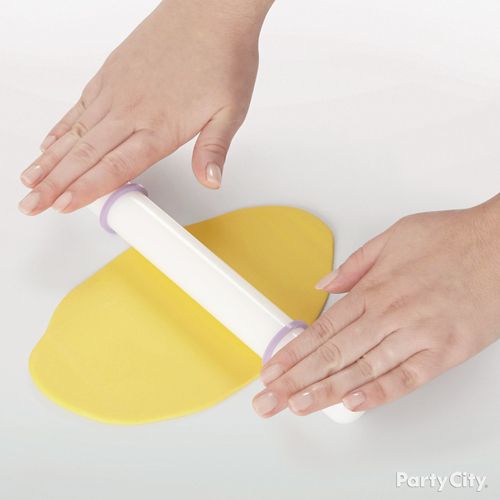 3) Prepare fondant squares
Tint 2 oz. fondant yellow and 1/2 oz. black. Reserve 1 1/2 oz. white. Use 9 in. fondant roller with purple guide rings to roll out yellow fondant 1/8 in. thick. Use 9 in. fondant roller with pink guide rings to roll out black and white fondant, separately, 1/16 in. thick.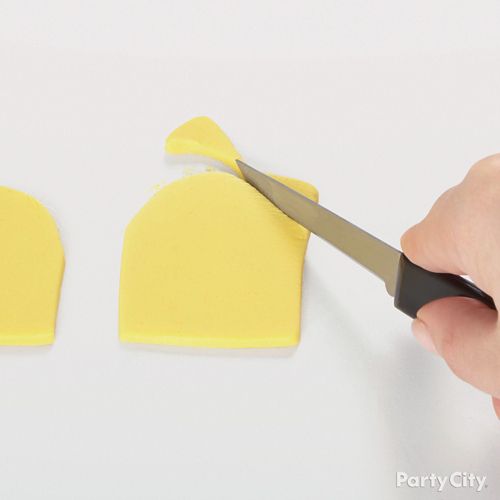 4) Cut Minion heads
Cut three rectangles in each size, 1 1/2 in. long x 1 3/4 in. wide, 2 1/4 in. long x 1 3/4 in. wide, 1 1/4 in. long x 1 3/4 in. wide and 1 7/8 in. long x 1 3/4 in. wide. Cut a curved top in each.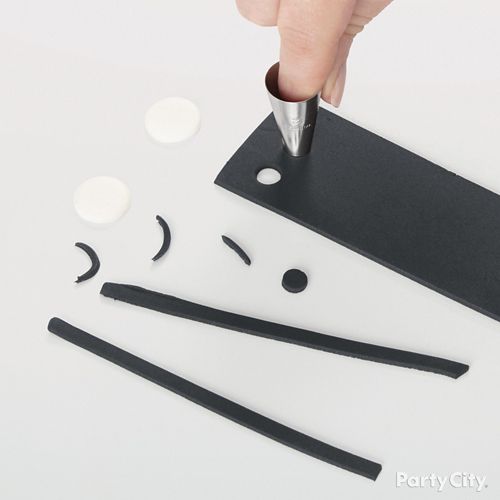 5) Cut fondant details
Use wide end of tip #12 and white fondant to cut large eyes and narrow end to cut small eyes; flatten small eyes slightly. Attach eyes to heads with damp brush. Use narrow end of tip 12 and black fondant to cut 12 pupils; cut six pupils in half. Attach whole pupils to large eyes. Roll each half pupil into a ball; flatten slightly. Attach half pupils to small eyes.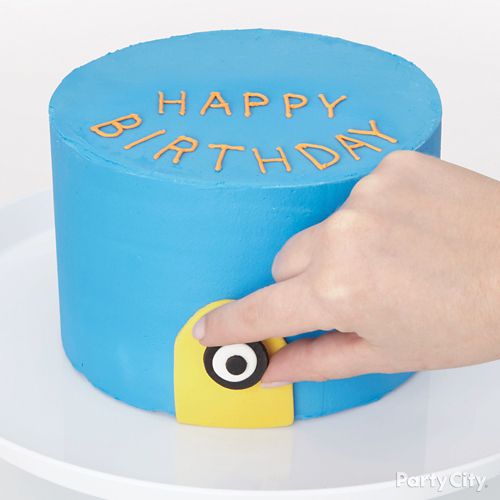 6) Attach heads
Use dots of icing to attach heads in alternating sizes around bottom of cake; trim to fit and reposition as needed.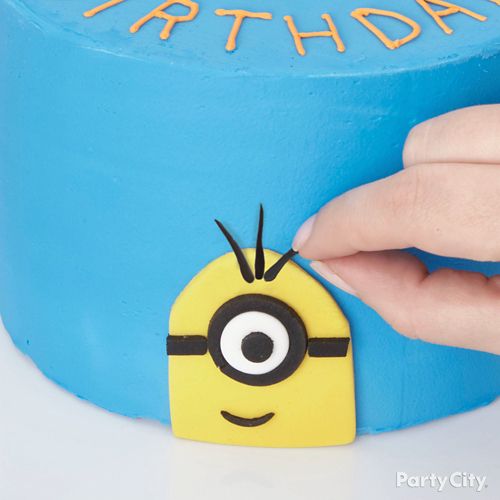 7) Add the finishing touches
For goggles and earpieces, cut strips of black fondant, 1/8 in. wide and at least 2 in. long. Attach and trim as needed. For hair and mouth, roll black fondant into 1/16 in. diameter logs. Cut into 3/4 in. long pieces. Re-roll, tapering at one end. Attach hair and mouths with damp brush. Position candle.