A Minion cake steals their attention!
Treat hard-working Minions to a rainbow Minion cake! Fondant goggles, rainbow stripes and Despicable Me Candles make this villainously delectable confection Gru-approved. For step-by-step decorating instructions, check out our Despicable Me Cake How-To below and prepare for Minion mayhem!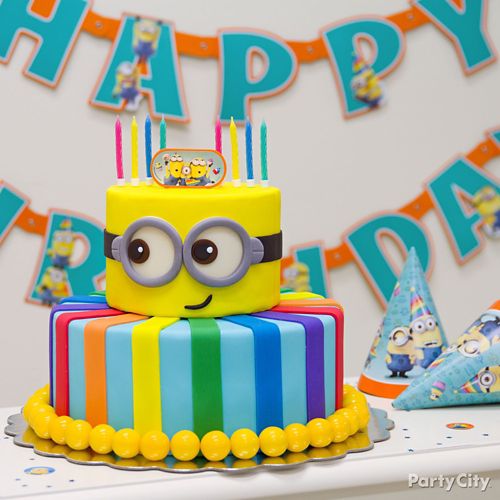 How-To
Ingredients:
2 Boxes cake mix ingredients
2 Boxes instant pudding
White Buttercream Icing
2 - 1.5lb White rolled fondant
Black rolled fondant
Tube of icing gel
Icing colors - red, orange, yellow, green, sky blue, royal blue, violet, brown and black
36 Yellow Gumballs
Supplies:
2 - 6 in. Cake Pans
2 - 10 in. Cake Pans
Disposable decorating bags
Couplers
Pizza cutter or paring knife
14in Silver cardboard cake platter
Despicable Me Birthday Candles
1) Prepare cake rounds
To prepare cake rounds to be covered with fondant, split and level. Add a coat of thin buttercream icing to crumb coat. Just before you are ready to cover, add a thin layer of gel to the bottom of the round to secure the fondant.
2) Bottom tier
For bottom tier, knead out about 1lb of white fondant with 5 drops of Sky Blue icing color. Roll out fondant to about 20 in. round. Lay over top of cake and smooth top and sides. Remove excess fondant with knife.
3) Position cupcakes
Divide second tub of white fondant into 9 balls. Knead out one of the fondant balls with 2 drops of red icing color. Repeat with remaining fondant balls and icing colors, leaving one in white.
4) Roll out fondant balls
Roll out red, orange, yellow, green, blue and violet fondant balls and cut each into three strips that are 1 in. wide and 8 in. long. Arrange strips onto bottom tier in a pinwheel design.
5) Knead out fondant
For top tier, knead out about 1/2 lb of white fondant with 2 drops of Lemon Yellow icing color. Roll out fondant to about 12 in. round. Lay over top of cake and smooth top and sides. Remove excess fondant from bottom with paring knife.
6) Make eyes
Roll out black, gray, white and brown fondant balls. To make the band of the goggles, take the black fondant and cut 2 strips 8 in. long and 3/4 in. wide. Cut two small circles for the pupils and a small strip for the mouth. To make the irises, cut two slightly larger circles from the brown fondant. Cut out two large circles from the white fondant for the goggles. Cut two circles of the same size from the grey fondant, then cut out a smaller circle inside of each and remove. Cut out two small white pieces to make the "twinkle" in the eyes.
7) Position cupcakes
Brush a bit of water on the back of each piece and add to the top tier, starting with the black strips, and then layering on the rest of the pieces to create the goggles. Add the mouth.
8) Layer cakes
Layer cakes on the cake board.
9) Place dots
With buttercream in a disposable bag with tip #3, place small dots around the 10 in. base and add the Yellow Gumballs.
10) Place Birthday Candles
Place Despicable Me Birthday Candles on top!