Take flight and discover our super cool ideas for throwing a DC Super Hero Girls birthday party! We have kids' party games, costumes, and decoration ideas to help you gear up and get action-ready for a party for your little hero.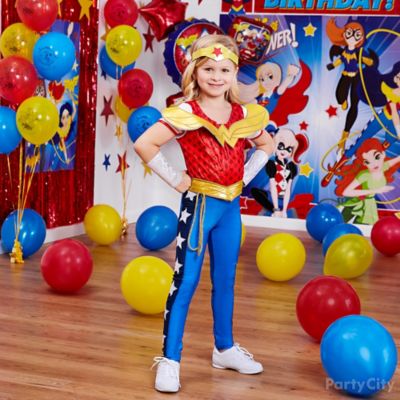 Idea 1: This Wonder Woman costume is sure to pack a punch!
It's the birthday girl's big day, so help her suit up as the leader of the team in this cute Wonder Woman costume, or choose whichever hero is her favorite! She'll feel ready to take on evil doers with Wonder Woman's lasso of truth, Batgirl's mask, or Supergirl's cape!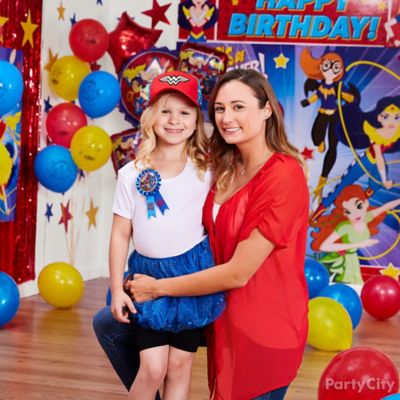 Idea 2: Make any outfit mighty!
Make your birthday girl feel extra special with fun DC Super Hero Girls accessories. She can easily power up any outfit with a special award ribbon and tutu! If Wonder Woman is her favorite, dress her up in a Wonder Woman hat and blue sparkly skirt.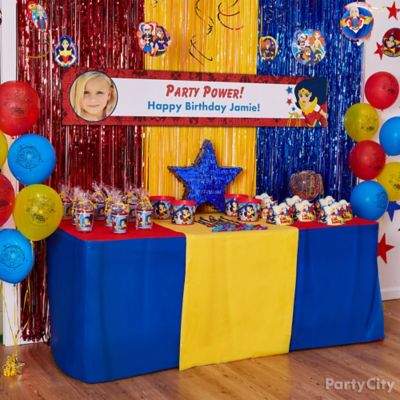 Idea 3: Power up the party with a custom banner
Your birthday hero's eyes will light up when she sees her picture next to Wonder Woman on a special custom banner! We set up this epic favor table using fringe doorway curtains as a shiny backdrop. A few balloon bouquets and a star pinata finish the look!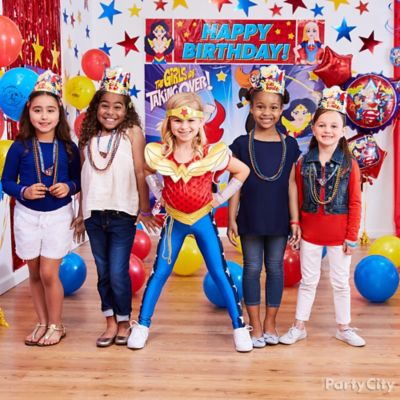 Idea 4: Take on dastardly villains in hero gear
Bad guys beware! The birthday girl and her crime-fighting team will love dressing up in hero gear like shiny necklaces and party hats featuring Wonder Woman, Supergirl and Batgirl. DC Super Hero Girls is all about girl power and working together to solve big problems, so help them suit up and watch their imaginations take flight!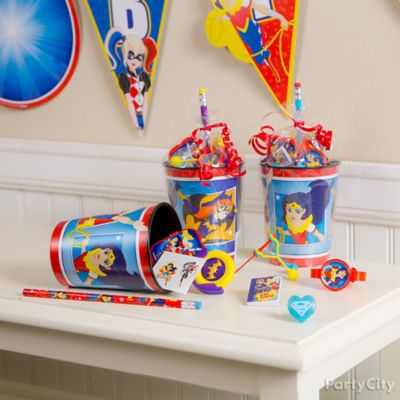 Idea 5: Pack a punch with favor cups!
Make adorable favors by packing up goodies inside a cute and reusable DC Super Hero Girls cup. You can use shiny plastic favor bags and brightly colored ribbon to make them extra special.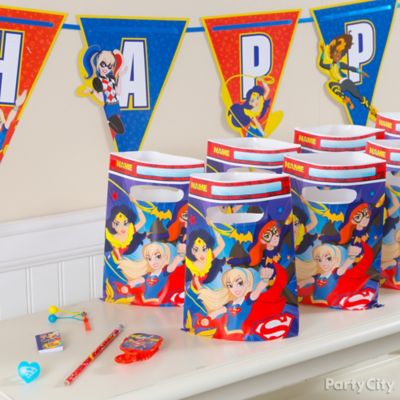 Idea 6: Finish favors with super speed
Make your favors in a flash! All you need are DC Super Hero Girls treat bags, a favor pack, and some optional extra goodies. Slip the favors in the bag and KAPOW! Instant super-mom.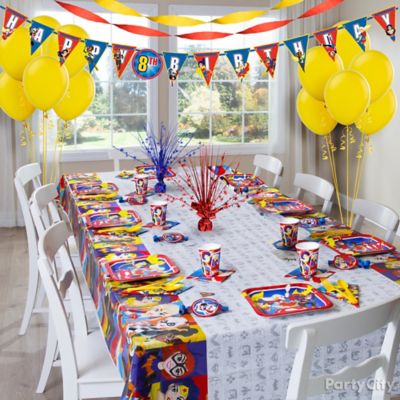 Idea 7: Turn your party room into Super Hero High!
Show everyone you're a super decorator with an awesome party room! Deck it out with bold primary colors, balloons and fun spray centerpieces. The tableware and banner are emblazoned with Wonder Woman, Bumblebee, Harley Quinn and the crew! Your whole squad will fly right over for birthday cake.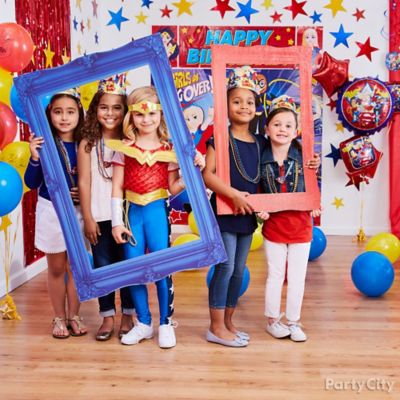 Idea 8: "Frame" fun photos of the brave heroes!
Setting up a photo booth means the girls can have fun showing off their action poses, and you'll get some awesome pictures you can share with their parents. For an extra dose of cute, use oversized frame props in your party colors to see what the heroes will look like once their daring exploits put them in the hall of fame!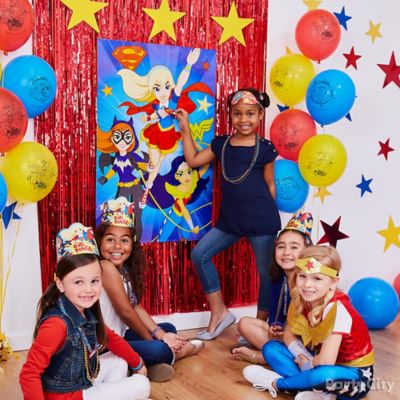 Idea 9: An action-packed twist on pin-the-tail
The girls will love this DC Super Hero Girls party game. Each hero takes a turn trying to stick the missing symbols to the poster. Hang up a fringed door curtain and glittery yellow stars to make this game double as a bright and bold room decoration.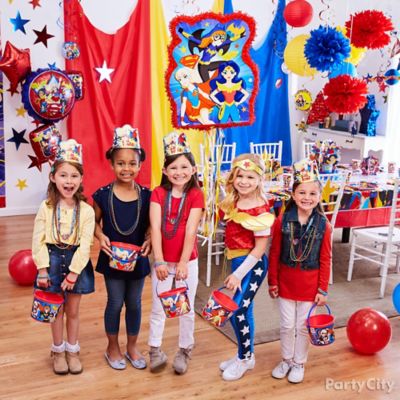 Idea 10: Let the heroes-in-training try their moves on a pinata
The girls can take turns practicing their super strength on this awesome pinata, which features Wonder Woman, Batgirl and Super Girl. Get ready, because when one of the heroes pulls the right string, all the candy and favors will rush out! A successful mission is all about expecting the unexpected.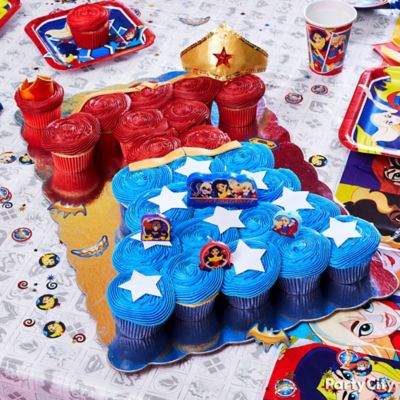 Idea 11: Learn how to create a pull-apart cupcake cake!
Bake 25 cupcakes. Let cool, then frost 10 in red and 15 in blue using a 1M tip. Place the cupcakes together in the shape of Wonder Woman's gown. Power it up with white fondant stars, gold fondant dress details, and Diana's tiara. Don't forget the DC Super Hero Girls birthday candles!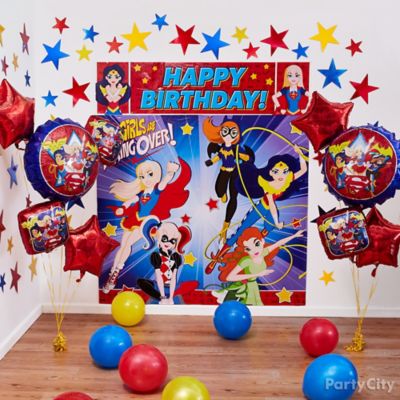 Idea 12: Inspire the heroes to take action
With this DC Super Hero Girls scene setter on your wall, you'll turn the room into a page from a comic book! Put together a few easy balloon bouquets, and then hang shiny red, blue and yellow stars to add excitement to your space. We also filled balloons with air instead of helium and scattered them around the floor for an extra touch of fun!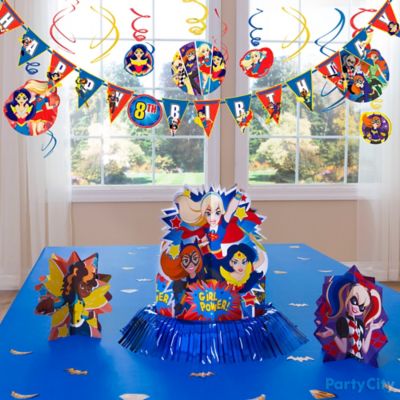 Idea 13: Need a Save the Day Alarm for your party?
Transform the party table with girl power! Start by popping open the eye-catching DC Super Hero Girls centerpieces and sprinkling the table scatter. Finish strong by hanging a birthday pennant banner and shiny swirl decorations!