Eat, drink, be married! Say "I do" to these post-wedding brunch ideas. After the hustle and bustle of the big day, a morning-after brunch is the perfect way to enjoy more of family and friends. A close friend or relative can host an easy, breezy post-wedding brunch with simple decor and a fun breakfast bar with cereal and mimosas. Hosting at someone's home keeps costs down and allows everyone to enjoy each other's company.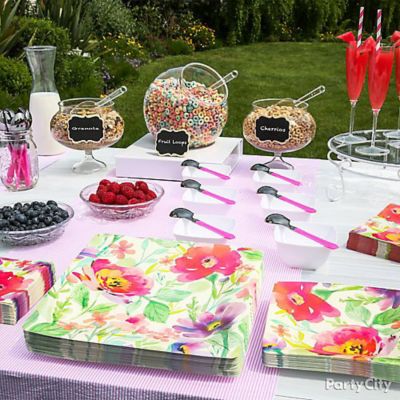 Idea 1: Serve up a scrumptious cereal station!
Everyone can serve up their own perfect portions with candy scoops in pedestal bowls of cereal and granola, fresh fruit and a carafe of milk at the ready. An offering of mimosas, juice and coffee gives everyone options, and cheerful floral plates help celebrate the joyful occasion. Chalkboard signs are the perfect way to label each container.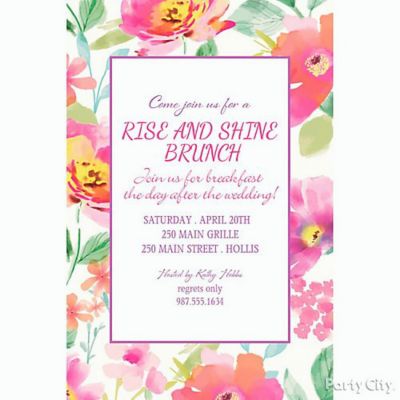 Idea 2: Floral invites are casual and cute!
A casual get-together where the bride and groom can say proper goodbyes to out-of-town guests and close friends and family is the perfect send-off before their honeymoon. Choose an invitation that matches the casual feel of the brunch, like these light and airy watercolor invites.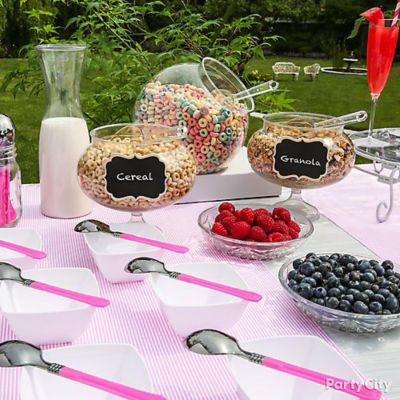 Idea 3: Style the table with eye-catching containers
Offer bowls and spoons so your guests can mix and match a bowlful of breakfast! Include nostalgic sugary cereals along with healthier options, plus bowls of fresh fruit to mix in. Choose clear containers in different shapes and pair with scoops for easy serving. Put out trendy small bowls with colorful pink spoons, and choose stylish carafes to serve milk. A lovely way to end the wedding event!