Toast warm days with watermelon mimosas
Add a twist with fresh watermelon instead of orange juice, and garnish with a wedge of watermelon and a sprig of mint. Keep it casual but classy with premium plastic champagne flutes and striped straws. Label your creation with a handwritten trendy chalkboard clip.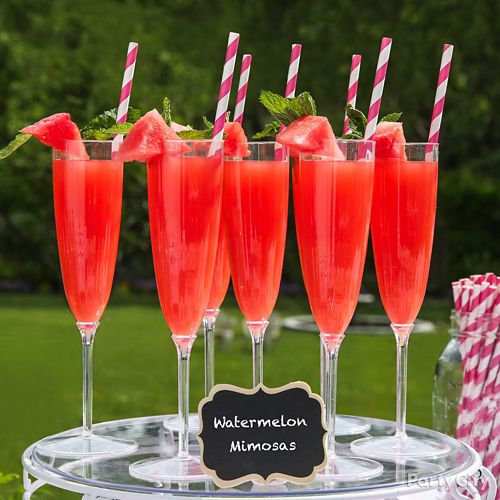 How-To
Ingredients:
1/4 medium seedless watermelon, chilled
1 lime
1 bottle of champagne, chilled
Supplies:
Blender
Fine mesh strainer
1) Scoop watermelon
Scoop out the flesh of the watermelon and put into a blender, leaving behind the bitter white rind.
2) Add juice
Squeeze the juice from 1 lime in with your watermelon.
3) Blend
Blend mixture until completely smooth. Pour the juice through a fine-mesh strainer.
4) Make mimosas
Fill your flute halfway with champagne, then fill the rest of the way with the watermelon-lime juice. Garnish with watermelon wedge and sprig of mint.