Get creative with traditional cereal bars
Make breakfast bars from your favorite cereals with a cute chalkboard sign to point the way. Melt butter and marshmallows, then mix in your choice of cereal. Be sure to choose several types so your guests can pick their favorite!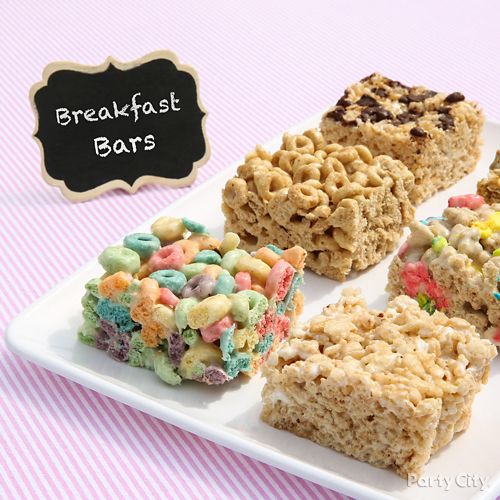 How-To
Ingredients:
3 tablespoons butter
1 10-ounce bag of marshmallows
6 cups cereal
Supplies:
Nonstick spray
Spatula
Saucepan
9x13 casserole dish
1) Choose cereal
Add variety to your buffet by making batches of several kinds of cereal bars.
2) Grease Supplies
Use your nonstick spray to grease your spatula and casserole dish.
3) Melt soft ingredients
In a saucepan on low heat, melt butter. Add marshmallows and stir until smooth.
4) Add cereal
Remove mixture from heat. Quickly stir in cereal of your choice. When the mixture is well incorporated, pour into your casserole dish and smooth down. Cool at least 30 minutes before cutting into bars.