All my family and friends know how much I love this time of year so they always know to expect extra creative and over the top decor from me. One of my favorite Halloween party traditions is to create a really cool photo backdrop where everyone can take group photos and Instagram worthy selfies. Last year I did a crime scene backdrop using a white sheet, this year I am keeping the same theme but replacing the sheet for balloons instead! We may not be able to have big parties this year, but I think it'd be a really cool idea to create a selfie station in the yard for trick-or-treaters to take pictures at before they head to the next house!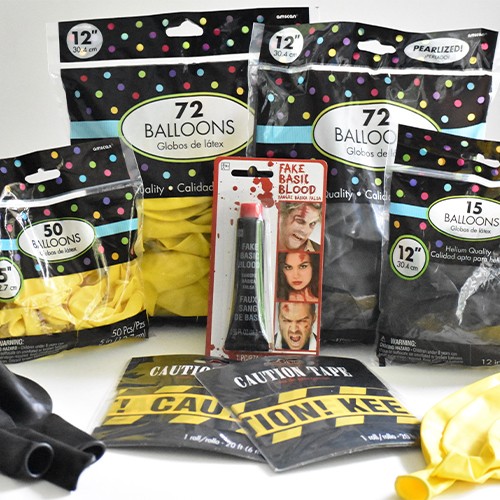 Supplies:
Yellow Balloons 72ct, 12in (2)
Black Balloons 72ct, 12in (2)
Yellow Mini Balloons 50ct, 5in
Black Mini Balloons 50ct, 5in
Yellow Balloon 18in, 1ct
Black Balloon 18in, 1ct
Caution Keep Out Tape (2)
Fake Blood
Backdrop Stand
Fishing Wire
Lo-Temp Glue Gun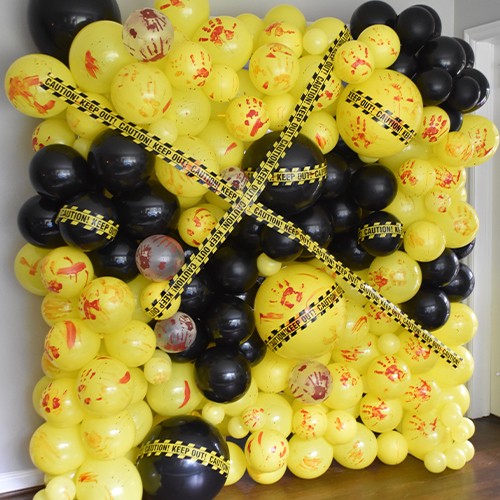 Instructions:
Before getting started, decide how tall and wide you want your balloon wall to be. My wall turned out to be 6ft x 6ft, but you can go as big as your backdrop stand will allow! If your balloon wall will be anywhere from 4–6ft in length and width, I suggest following the balloon count in the provided supplies list.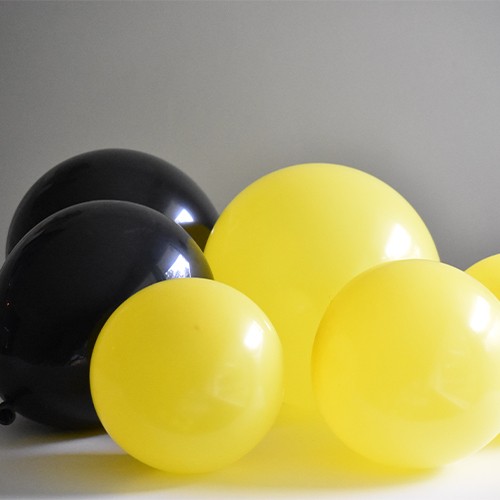 Step 1. Start by blowing up all the 12 inch balloons at small, medium and large sizes.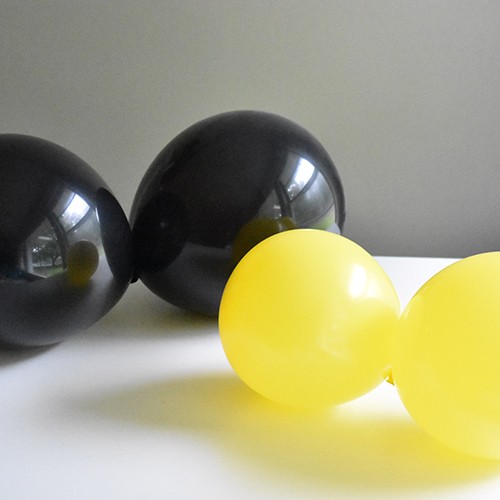 Step 2. Begin clustering all the balloons in two's by size and color.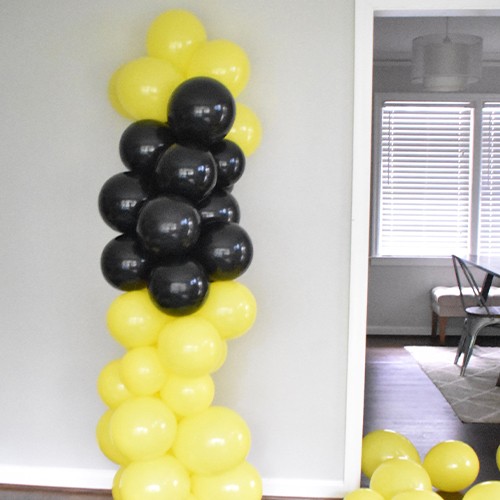 Step 3. Use fishing wire to create four balloon garlands that match the height of your backdrop stand. I am a big fan of color blocking so I try to keep colors together as much as possible instead of spreading them randomly throughout. It creates a much cleaner and organized look in the end!
Step 4. Snuggly cover each of the backdrop poles with a garland, then hang the remaining two from the top of the backdrop stand.
If you don't have a backdrop stand, no worries! You can use multiple Balloon Column Kits as stands and still get similar, if not exact results!

Step 5. Use fishing wire to wrap around all the balloon garlands bringing them together as close as possible. The goal is to eliminate as much empty space as possible so that you begin to create the look of a wall. If there are still big gaps left over when you finish, don't sweat it, that's what the next step is for!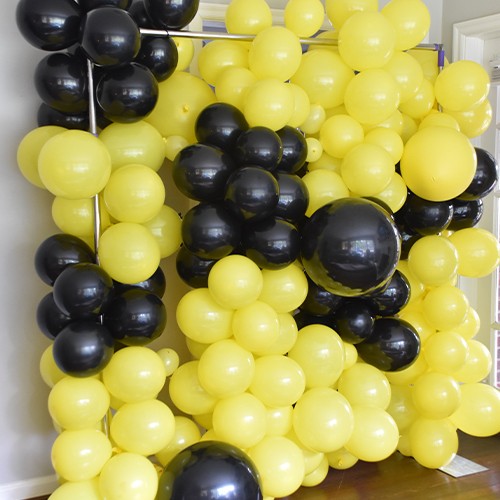 Step 6. Use a low temp glue gun to attach and fill in the remainder of the wall with all of the remaining balloons. The 12in balloons should be used for medium sized gaps and the 18in balloons should be used to fill larger ones. The 5in balloons should be saved for last so you can cover any leftover super tiny empty spots.
Step 7. Once your balloon wall is done and is nice and full, add random strips of caution tape throughout and splatters of fake blood. I covered my hands in the fake blood and went all in!
If you really want to take it up a notch, you can pop in a few blood splattered balloons at the end. Happy haunting everyone!