Whether you're more into classic characters or all about trendy shows, slay your costume this year with these creative ideas for groups. Halloween is almost here. Instead of scrambling at the last minute, have a blast this year with easy and fun ideas that will impress and amuse. Perfect for work costumes, groups of best friends and families, get inspired by our take on Minions, Bob's Burgers, zombies and lots more. You can also shop all group costumes for more ideas! Be sure to show off your outlandish outfits and take tons of terrifying selfies - then tag 'em all with #PartyCity.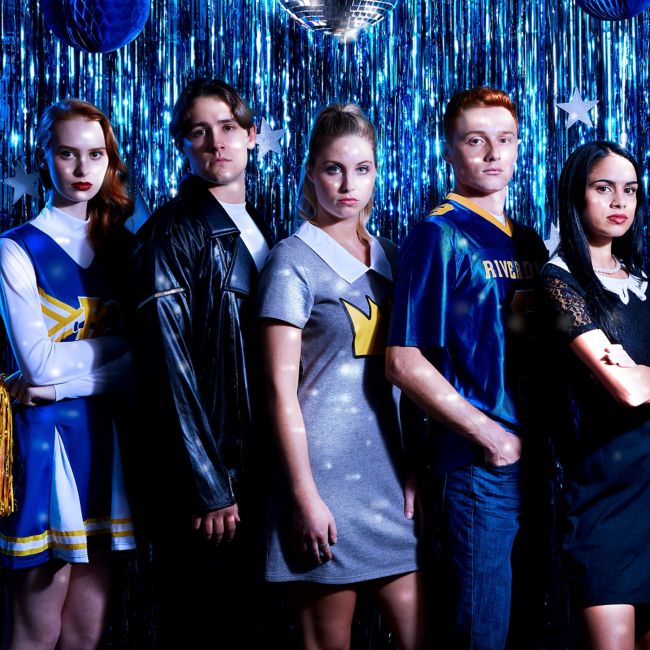 Go as Archie and the Gang
Are you a Betty or a Veronica? The CW's Riverdale has so many memorable characters that this theme easily lends itself to group costumes. Bring together a group of River Vixens by dressing as Betty, Cheryl and Veronica. Have more in your group? Add Archie, Jughead or Josie.
Become part of your favorite show: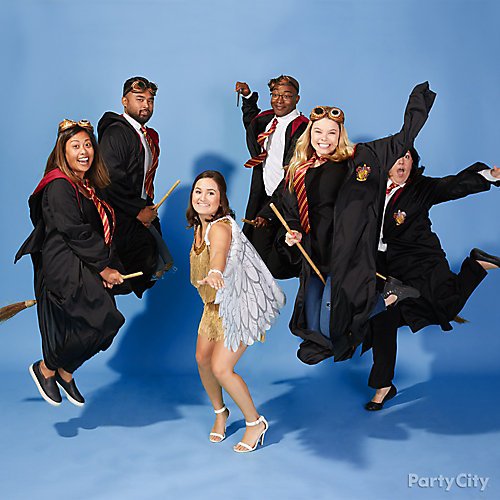 Become a Quidditch Team!
Fill the Halloween party with magic when you and your friends pull off a Harry Potter group costume. Wizards and witches can put on their Gryffindor robes and hop on a broom for a round of Quidditch. To earn more points for your house, accessorize with ties and goggles. And for the ultimate win this Halloween, catch the Golden Snitch! One person in your squad can play the Golden Snitch with a shiny gold dress and white wings.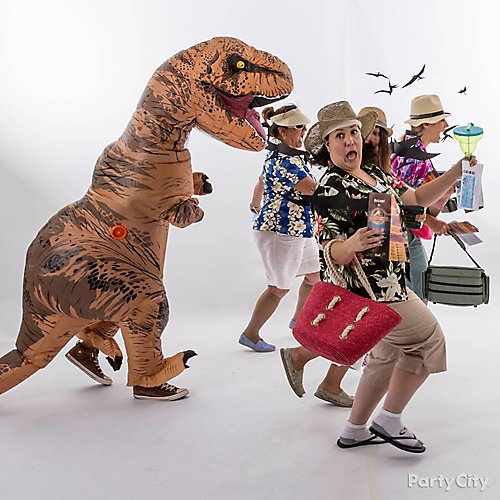 T-REX ATTACK! Jurassic World Group Costume
Get ready to make a scene at the Halloween costume contest with this funny group costume idea. Have one person lead the chase in an inflatable T-Rex costume, and dress up the rest of your group as tourists in Hawaiian shirts and straw hats. Add extra accessories like bags and cameras, or get crafty and DIY park maps from Jurassic World!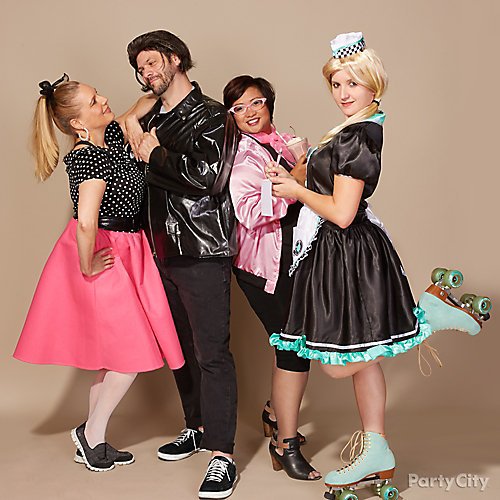 '50s Group Costume
No squares or party poopers here! Don't be a wet rag, grab your gal and head to the dance floor. Bold pink and black colors that define 50s fashion make perfect Halloween costumes. Men can dress like classic bad boys wearing leather jackets and greaser wigs — just try not to fight any jocks at the sock hop. The ladies can dress up like diner waitresses or show off their spunky attitudes with bright pink skirts and cute polka dot tops. When the jukebox plays some rock 'n roll, greasers and Pink Ladies should be ready to jump and jive!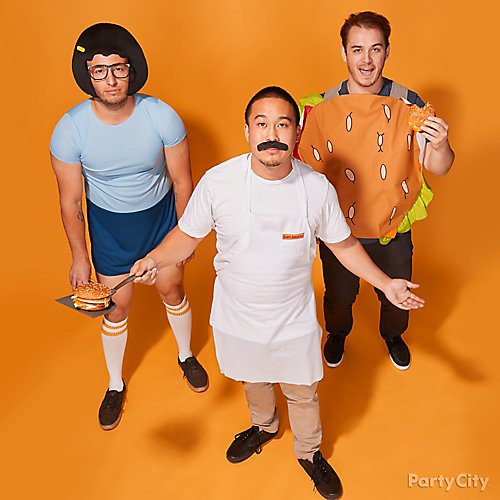 Grill up a good time in a Bob's Burgers group costume!
Let everybody know who has the best burgers in town! Coordinating a group Bob's Burgers costume will be as wacky as the Belcher family themselves. With an adhesive moustache and white apron you'll be ready to run a burger restaurant that will blow Jimmy Pesto's Pizzeria out of the water. The eccentric friend of the group can put on the burger suit and bring Gene's unique charm to the costume party. Butt wait, you can't get the party started without Tina's rocking dance moves! Have a friend throw on the Tina wig and dress and watch them shake the night away! To add an extra creative touch, carry around spatulas and prop burgers.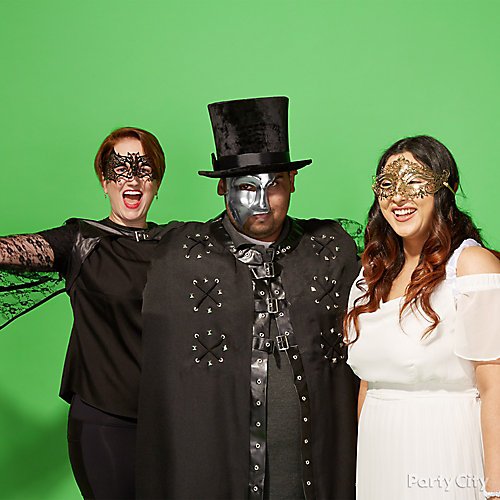 Masquerade Group Costume
Add an air of mystery to any outfit with masks and capes. Accessorize a pretty dress with a lace bat wing shrug and matching mask. If you prefer wearing white, a gold filigree mask will create intrigue. Channel your sinister side in a large black cloak, a silver phantom mask, and a top hat to blend into the shadows. If you want to add some spooky vibes to your masquerade costume, pop in a pair of vampire fangs and drip a little fake blood.
Dress to impress in a mysterious way: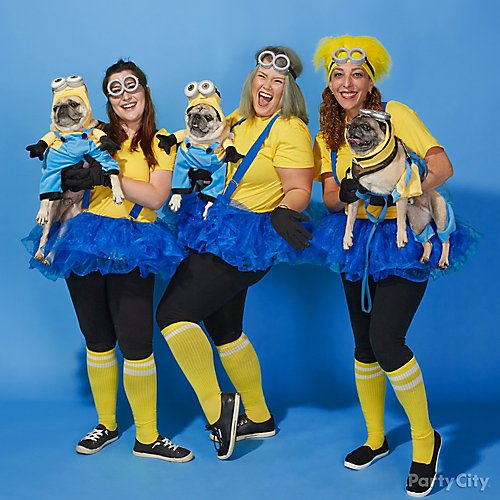 A Minions costume idea you'll go ba-ba-ba-ba-ba-na-nas for!
Kanpai! Gather your friends this Halloween to dress up as Gru's trusty little yellow sidekicks! Create your Minion ensemble with a yellow shirt, blue suspenders, a blue tutu or blue shorts, black gloves, yellow socks, and a pair of goggles. With the help of adorably pint-sized dog costumes, everybody can dress up as Bob, Dave and the rest of the bunch. The more Minions the merrier! Complete your Despicable Me group costume by carrying around some bananas!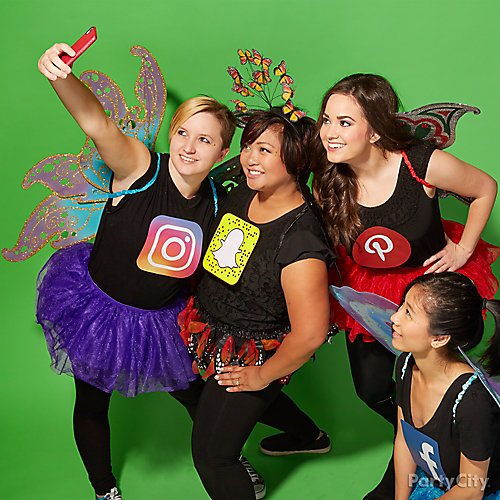 Social (Media) Butterflies Group Costume
OMG. These costumes are #adorable! Be on everybody's timeline this Halloween dressed up as a Social Butterfly! With a variety of colorful butterfly wings and matching tutus to choose from, you and your friends will be the life of the party. Pick the color that best suits you to accessorize the rest of your butterfly costume. Next, pick your favorite social media outlet and print out the logo. Tape the logo to your chest and get ready to snap a selfie! Coordinate this cute costume idea with a group of friends and watch the notifications fly in this Halloween!
You'll need wings and tutus: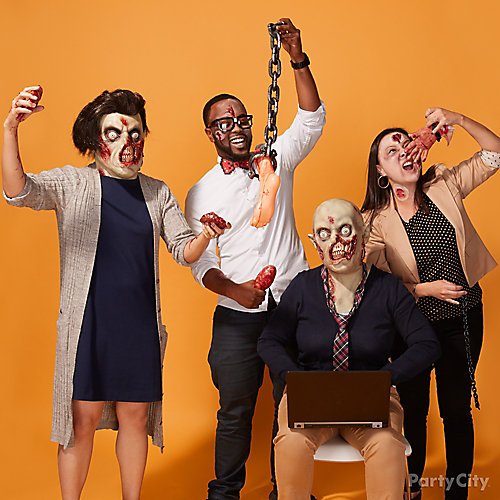 Gory Zombies Group Costume Idea
The office seems a bit dead today...You and your co-workers can put together a gory group costume idea with various zombie costume accessories. Accessorize your everyday office attire with some adhesive wounds and gashes. If you want a deadly makeover, throw on one of the zombie masks and no one will recognize you! Use the zombie make up kit to add some details to your costume that will send shivers down your boss' spine. For added eerie effect, carry around some fake bloody ligaments to show that some people didn't make it through the work day!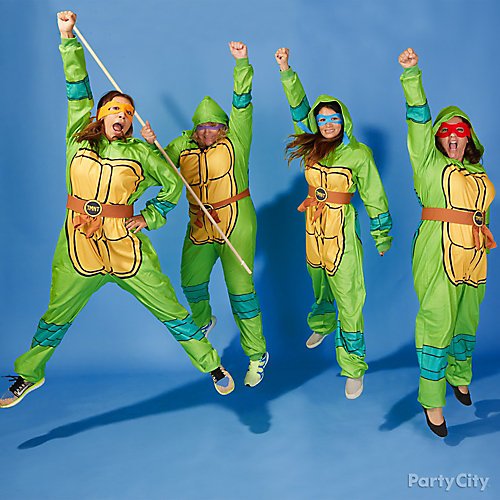 This TMNT group costume idea is turtle-y awesome!
Cowabunga dude! You and your friends can take down Oroku Saki this Halloween dressed as the Teenage Mutant Ninja Turtles! Suit up in a green hooded jumpsuit with a printed shell and a TMNT logo belt. Whether it's Michelangelo, Donatello, Leonardo, or Raphael, you can grab a face mask with the color corresponding to your favorite turtle. These action-packed costumes won't be complete without their signature weapons. Carry around a katana, bo staff, nunchucks, or sais and your turtle crew will be ready to take on any bad guys! Lastly, no Ninja Turtles costume is complete without pizza. Carry around a large inflatable pizza and no one will be topping your awesome group costume!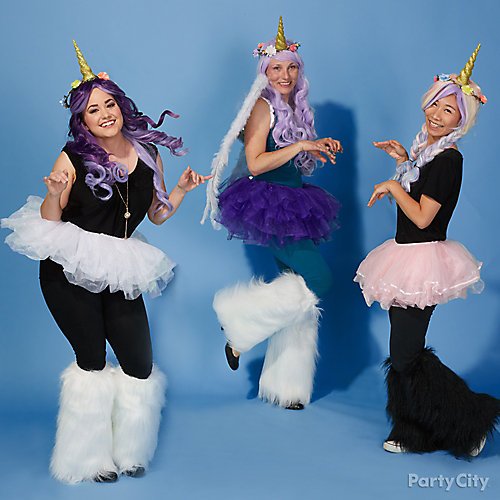 Magical Unicorns Group Costume
The legends are real! Enchant and amaze the party as you trot along! Dressing up as a herd of magical unicorns is easy — just wear colorful tutus, vibrant wigs and floral headbands. Top it all off with a golden unicorn horn and your group will look straight out of a fairy tale.
Bring unicorn magic to the party: