Sunny's how-to for perfectly colored cupcake toppings
The name of the game is to have a green field for the center of your Infladium™, or forget the green all together to rep your colors. So here are some sweet ways to top off your field in style.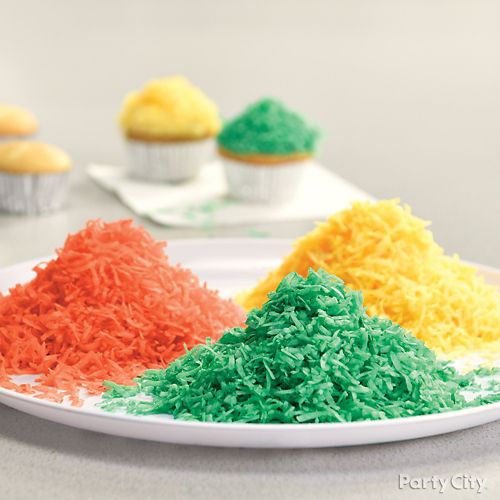 How-To
Ingredients:
For the frosting:

4 drops red
4 drops yellow
16 drops blue
4 cups white vanilla frosting
For the coconut:
4 cups sweetened shredded coconut
1 tablespoon water
2 drops red
2 drops yellow
8 drops green
1) For shredded coconut
Add a tablespoon of water and desired food coloring to a plastic bag. Add the coconut and shake. Spread out onto a sheet to air dry, if needed. Chopping pre-shredded coconut even further helps the color disperse evenly.
2) For frosting
Drop food coloring directly into the frosting. Stir and use. Coordinate! Always use the same color frosting as the coconut or try colored sprinkles/jimmys. Different food coloring brands give different equations for colors and many brands have the exact pre-mixed colors you desire. Either way, pay close attention to how many drops of each color when creating color blends.