Start the year on the bright foot and host a New Year's Eve affair that will keep them talking all year long! Wow partygoers with jewel-tone favors that double as decor—like stacks of noisemakers, novelty hats, glasses and tiaras. Whether your celebration is big or small, these will help you throw the ultimate party that's uniquely yours.
Tip 1: Get your party photo-ready!
Photo booths are a must at any party, especially at your New Year's Eve bash. While there are no hard rules when it comes to creating a photo backdrop, opt for colorful settings paired with quirky accessories. And don't be afraid to go big with your backgrounds, such as the case with this lookalike scene of New York City's Times Square.
Tip 2: Simple banner, big impact
We know you're scrambling to throw a last-minute party. If you just want something you can set and forget, then opt for a large banner and a couple of fringe garlands. These simple touches make a big impact.
Tip 3: Bling out a bar cart
"Go big or go home" is exactly what should happen on the last night of the year. You could "go big" by going out, or you could "go home" and celebrate with your closest friends or family. A cocktail party is perfect for in-home gatherings. Give the bar cart some low-key flair with a handful of colorful decorations. A banner, a couple of party hats, necklaces and noisemakers add just enough to celebrate the new year and not regret a decorating hangover the next day.
Tip 4: Buy in bulk
Pro tip: hosting a colorful party for 20, 40, or 100 of your closest friends? Buy in bulk to avoid breaking the bank.
Tip 5: Mix pops of color with metallic accents
The New Year is about fresh beginnings, so let your decor follow suit. Break free from NYE's typical color scheme of silver and gold by pairing jewel tones with metallic accents.
Tip 6: Outfit guests with festive eye wear
Colorful glasses make the outlook on the new year well, quite colorful. Get your guests outfitted with gear that makes them look festively forward to welcoming the new year. Offer the eye wear favors to guests when they arrive at your party so they'll be decked out all night long.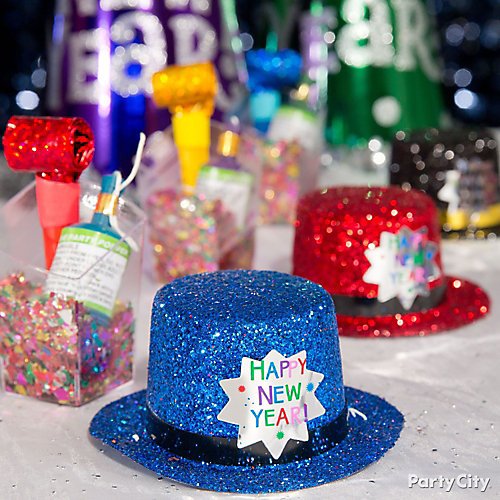 Tip 7: Mini hats + confetti cups = fun "kiss me at midnight" favors
Arrange confetti, noisemakers and party poppers in mini cubes for a party-in-a-cup! Continue the mini theme with tiny top hats glammed out in glitter. Keep them close by on a tray so everyone can grab one when the countdown begins!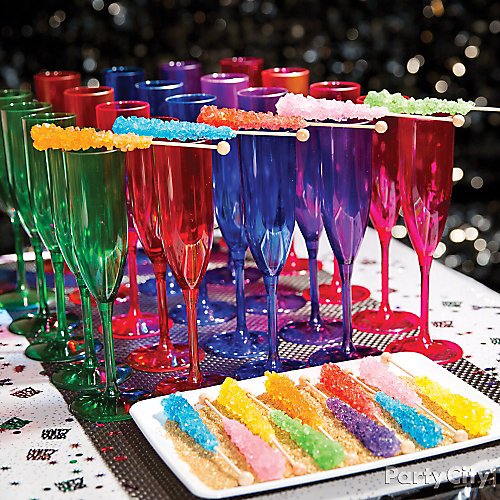 Tip 8: Cheers to the New Year with sparkling style
Make the midnight toast as colorful as the confetti! Line up a rainbow of champagne flutes with colorful rock candy as a sweet swizzle stick. Here's to a bright new year!