Add a splash of color to your celebration with these bright ideas. School's out and it's time to celebrate! Whether they were the teacher's pet or class clown, a bright and colorful graduation party will let your grads know the tassel was worth all the hassle.
Browse our party ideas below for vibrant graduation party ideas, then shop all graduation party supplies.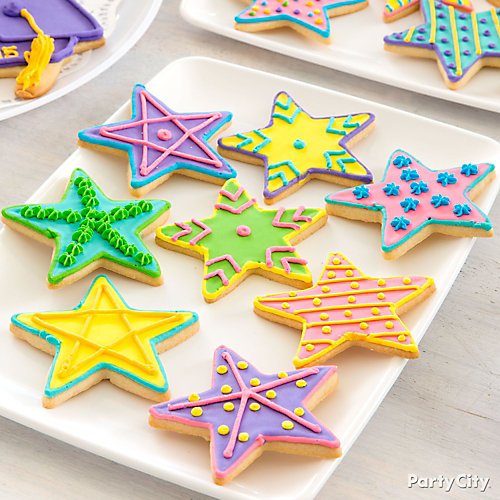 Idea 1: Star cookies for a bright future
Every grad in the class is a star and these cookies shine as brightly as they do. Show them how proud you are with a seriously scrumptious display of star cookies, creatively decorated to symbolize their bright future. Don't forget to snap some Pinteresting pictures before they're all gone!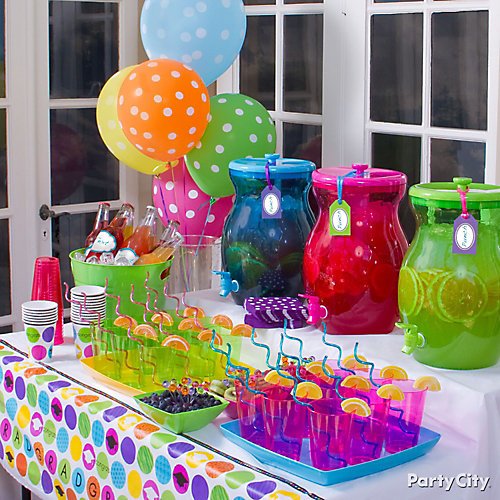 Idea 2: Set up a fruity drink table
Our graduation party ideas wouldn't be complete without this fruity drink display. You're sure to have many thirsty guests at your party, so it's crucial to have many drink choices, as well as plenty of ice on hand. Add sliced fruit to your drink dispensers and have bowls of fresh fruit with party picks so guests can add them to their beverages. Place out cups with Curly Krazy Straws in them and put a candy fruit slice on the edge of each glass.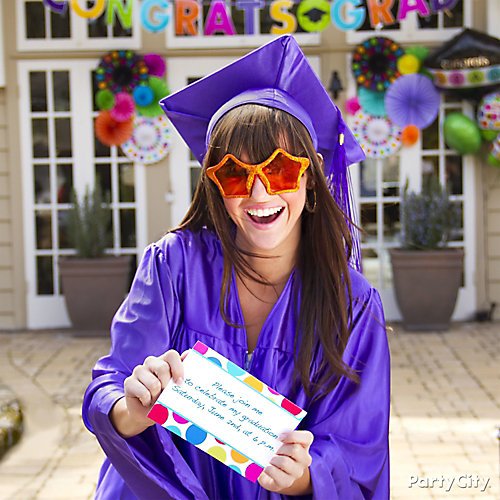 Idea 3: Create your own colorful custom invitations
Your star student will want all of her friends at her graduation party, and what better way to get everyone together than by sending out invitations in advance? Use custom invitations to personalize a message. You can even add directions to your party inside your invites so that no one gets lost on the big day. Shop all custom invitations.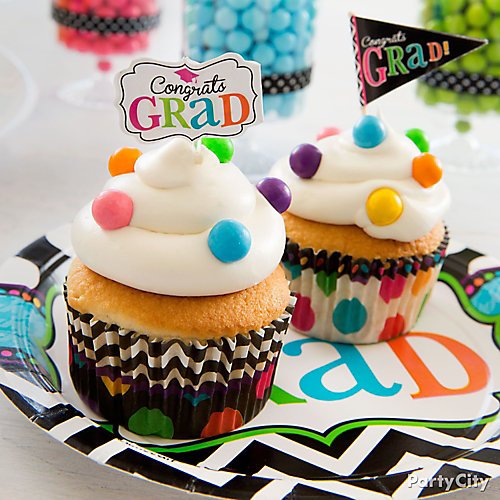 Idea 4: Dot your grad cupcakes with candy
How do you make cupcakes even more delicious? Add icing and Sixlets®! Use white icing and a decorator bag with a large round tip to pipe on the icing swirl, and then grab a bag of rainbow Sixlets. Use one yellow, green, purple, pink, orange and blue Sixlet per cupcake to give little splashes of color on the icing. Top them off with a "Congrats Grad" pick that matches the baking cup. Talk about post-finals indulgence! Shop all baking supplies.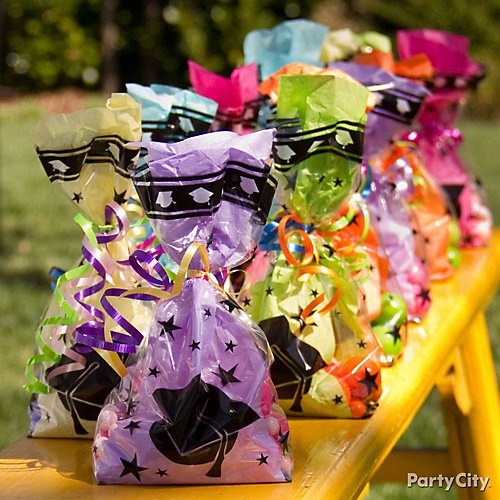 Idea 5: Give out candy favors for a sweet ending
Don't leave your fellow guests empty-handed when they leave your graduation party. You can give them colorful candy favors to thank them for coming. Use clear bags, colored candy or gumballs, bright tissue paper and curling ribbon to put together favors in a flash. Line your favors on a bench around the exit so guests can just grab their favors and go when they're ready to leave your party.
Idea 6: Set a graduation table fit for adults
Graduation is an unforgettable time where new grads feel like they're truly growing up. Show them you consider this an important achievement in their lives by setting up a more adult-themed table for them. Silver Look Cutlery and Plastic Wine Glasses mixed with your choice of plates and napkins helps to add a more grown-up feel. Place an elegant arrangement of flowers as your centerpiece, and don't forget to set out favors at each place-setting for guests to take home after the party. See all graduation tableware themes.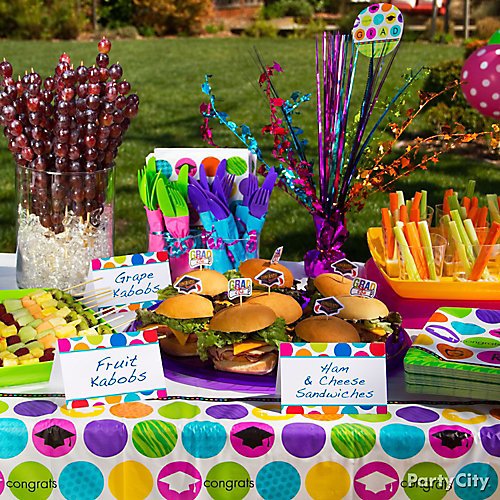 Idea 7: Use coordinating mini-signs on your buffet
Custom thank you notes are the perfect size to label your food items. We'll print your custom wording for you and have them ready in 5 days, or you can write your message yourself. Prop your labels up by each platter, and add a bright table cover and centerpiece to pull the whole look together.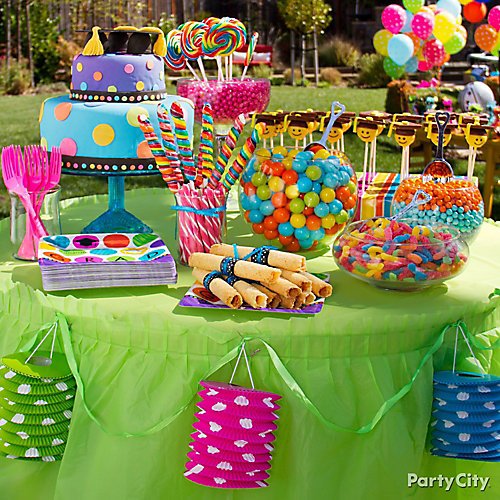 Idea 8: Sweeten up your celebration with a treats buffet
A graduation party just isn't complete without a celebratory cake to congratulate the new graduates. Set up an enticing collection of sweets and goodies that color-complement your cake. Add a table cover and table skirt to your table and wrap a colorful paper lantern garland around the edges of your table skirt for an abundance of color.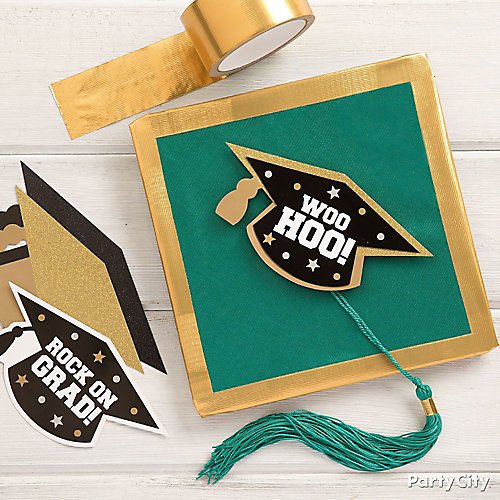 Idea 9: A grad cap decoration worth cheering for!
Let your cap and tassel do the bragging for you. Layer cutouts with fun grad sayings on top of glittery graduation cap cutouts for a too-cool-for-school mortarboard topper. Give it a 3D effect with a little bit of black duck tape underneath. Extra credit: Trim the cap in gold duck tape for a pop of shimmery color. If you're looking to get an A+ in grad cap decorating, you'll want to see our 14 DIY Graduation Cap Decorating Ideas.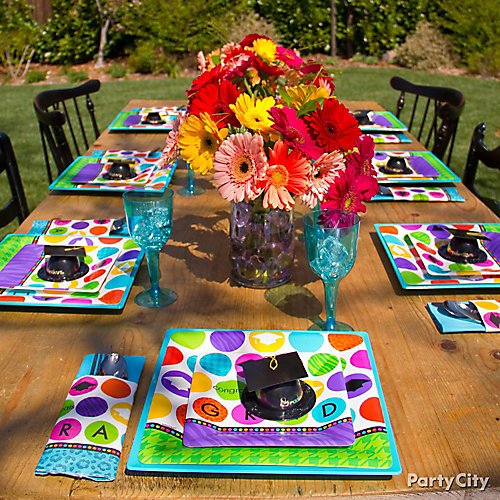 Idea 10: Or set up a buffet It's a no-brainer!
Creating an awesome buffet table for your guests is as easy as 1-2-3! Choose a fun tableware pattern like these polka-dot and neon plates, napkins and cups to coordinate with banners and table décor. Add bright party cups and cutlery to go with your awesome table set-up, then let your guests have at it! Who knew it was so easy to be an overachiever?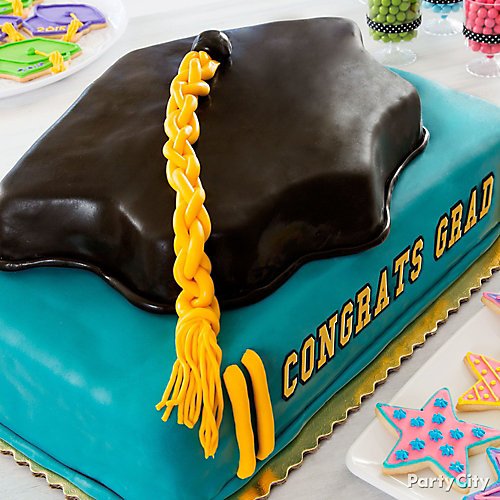 Idea 11: A graduation cake for a bookworm
Reward your grads with a book they can really sink their teeth into! With a grad cap cake pan and fondant tints in your school colors, you can create a personalized masterpiece. A cake like this will really wow everyone at the class reception or a family party. The grads can chow down while they reminisce about hitting the books!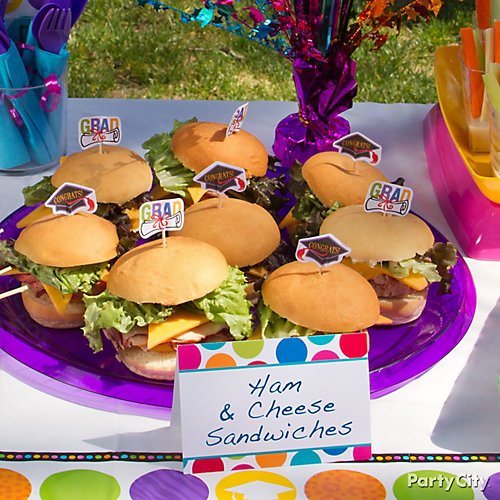 Idea 12: Embellish your graduation food with party picks
Make your food stand out even more on your buffet table by serving it on colorful platters or dishes and adding party picks to items like sandwiches or bite-size appetizers. You can choose graduation-themed picks, flashy-colored picks, or even classic wooden food picks, too.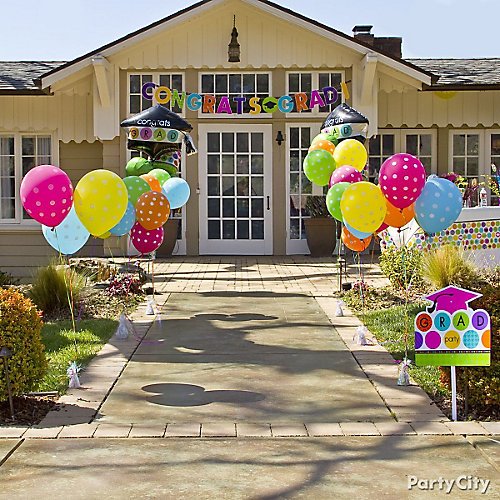 Idea 13: Decorate your entrance with matching graduation balloons
You can make a great first impression for guests when you set up bouquets of bright polka-dotted balloons that coordinate with the Colorful Commencement pattern. Make sure to add Colorful Commencement Graduation Balloon Bouquets with grad cap balloon weights and a banner that calls for celebration. A yard sign adds even more to your outdoor scene and your walkway is sure to let everyone know it's time to start the party.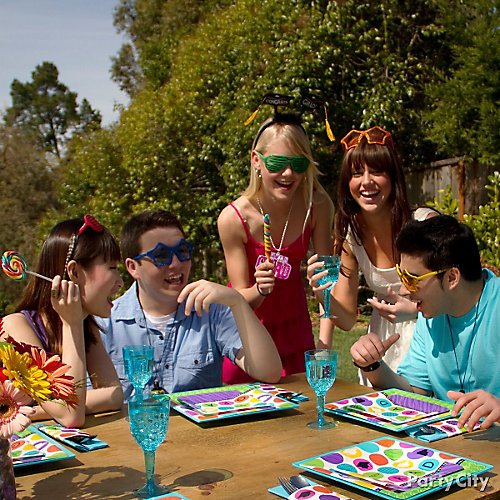 Idea 14: Let the fun begin with grad accessories
Let your grad and their guests enjoy the party right from the beginning by giving out great graduation accessories they'll love to wear. Accessories like colorful shades, bead necklaces, smiling bubble necklaces and head bopper headbands let them feel like the life of the party. And you don't have to be a party over-achiever to pull off these fun graduation party ideas.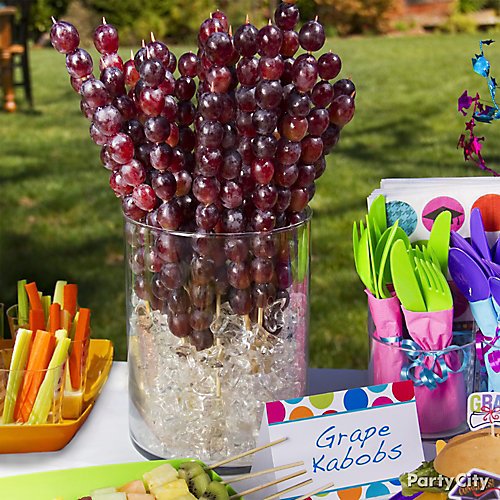 Idea 15: Make your grad buffet bright with colorful foods and cutlery
Stay true to your theme with one of our favorite graduation party ideas. Using bright foods on your buffet along with colorful cutlery really makes your table display pop. Serve fruits on bamboo skewers and mixed veggies in clear tumblers. A small utensil caddy works great for combining different solid-color cutlery with napkins for a dramatic effect. You can individually wrap utensils and napkins using curling ribbon for an extra splash of color.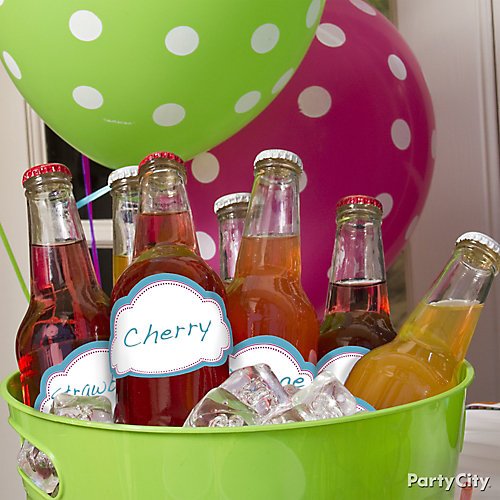 Idea 16: Label your drinks for guests
Adding creative labels to your drinks makes a big impact on your setup. Not only does it look great, but it lets guests know which beverage they're choosing. You can choose generic names or flavors, or come up with your own catchy drink names. For a little something extra, you can write inspirational quotes for graduation on your labels, too.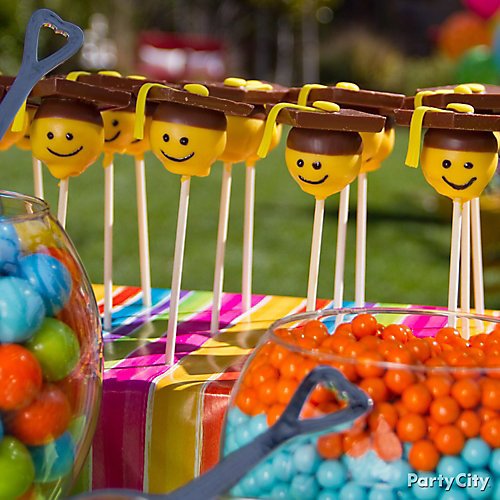 Idea 17: Create commencement cake pops
When thinking about options for your treats buffet, don't forget to add trendy cake pops. Create smiling grad pops for your display by dipping your cake pops in yellow Candy Melt. Let dry, then dip in chocolate Candy Melt for the grad cap. Add a square of candy bar to the top add a strip of yellow fondant (and a teensy button!) to create the adorable, edible tassel! Use a black icing tube to draw simple smiling faces.