Dreams do come true! Invite everyone over to party like a princess at your little girl's royal-ball birthday! Get inspired by our Cinderella party ideas for invitations, decorations, games and yummy cake.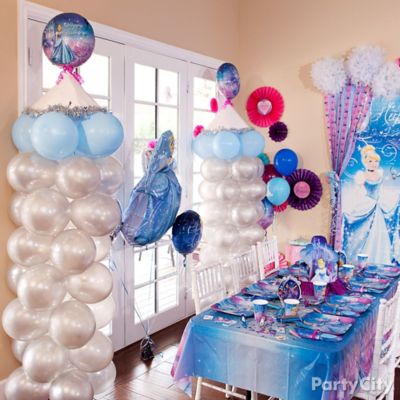 Idea 1: Enchant your princesses with balloon towers!
Delight the girls with balloon towers imported from a magical kingdom! You don't need to be a fairy godmother to create this darling balloon decor. Check out our Princess Castle Balloon Columns How-To for the step-by-step instructions. Just use colors that match your Cinderella color scheme, like pearlized white, light blue and silver! Place a couple columns by the front door for a royal entrance, or around the dining table with some Cinderella balloon bouquets for a stately look.
Idea 2: Create the perfect birthday outfit for your li'l princess!
Every princess needs options! Let your little girl pick out her perfect birthday outfit from Cinderella accessories like a tutu dress, footless tights and award ribbon. Top off her darling ensemble with a royal tiara and princess wand!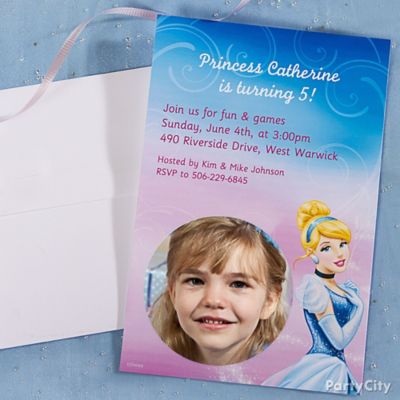 Idea 3: Customize invitations with a message and photo!
Send a cordial invitation to your royal guests with a customized photo and message from the birthday princess! Print your personalized messages on custom Cinderella invitations either online or in store. We'll print your message and have them ready to ship to your house within five days.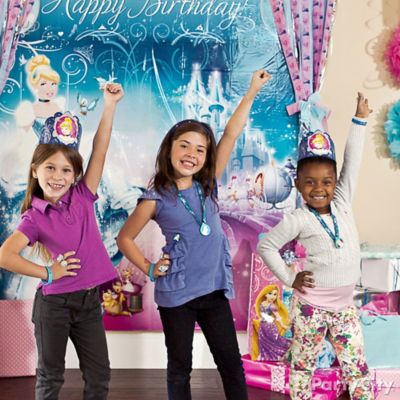 Idea 4: Give everyone the royal treatment with accessories!
Everyone can be a princess for a day when you hand out fun favors! Lavish the girls with Cinderella accessories like tiaras, necklaces, rings and wristbands to make them feel like royalty.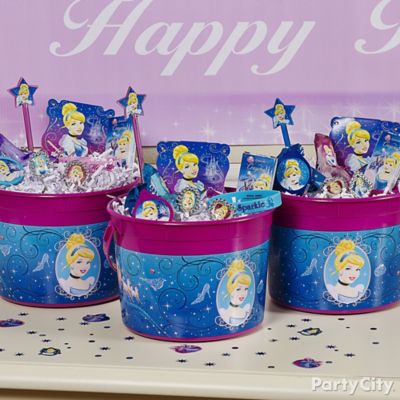 Idea 5: Create favor buckets brimming with goodies!
These favors are fit for a princess! Send the girls home with Cinderella favor containers brimming with themed goodies. Fill the bucket with paper shred, then pile adorable favors like notepads, crayons, wands, necklaces and rings on top!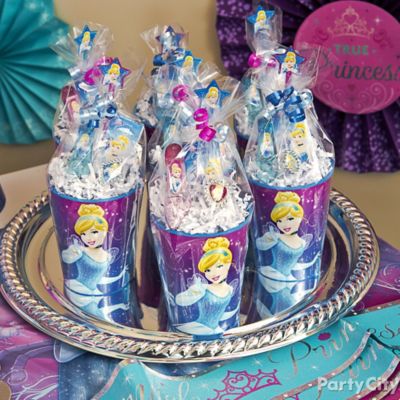 Idea 6: Transform reusable cups into fabulous favors!
Wow your royal guests with these easy and affordable favors! Fill reusable Cinderella favor cups with goodies like glass-slipper pencil sharpeners, rings, crayons and a princess wand atop a bed of paper shred. Wrap it all up in a clear favor bag with a couple curls of ribbon for an eye-candy favor cup they'll love!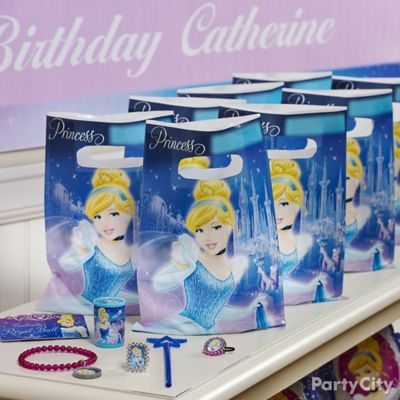 Idea 7: Have more time for fun with a favor pack!
Make darling favor bags in a flash with a Cinderella favor pack. With enough favors for up to 8 princesses, all you need are matching favor bags for a happily-ever-after!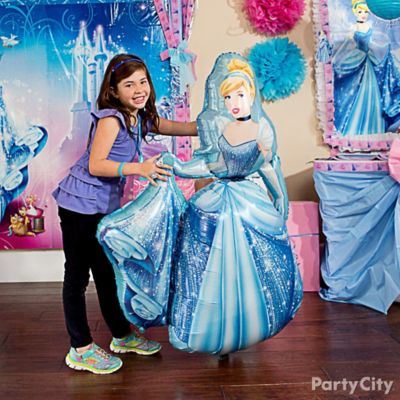 Idea 8: Have Cinderella join the girls in the ballroom!
Get the girls smiling and gliding across the dance floor with a giant gliding Cinderella balloon leading the way! It's the perfect way to guarantee adorable party photos and lots of fun!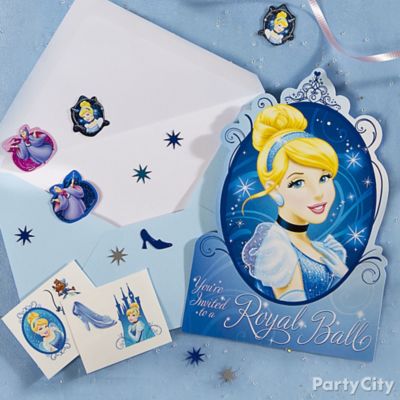 Idea 9: Add surprises to your invitations!
Give your guests the royal treatment before they step inside the castle doors! Sprinkle Cinderella confetti and a couple tattoos inside each invitation. Add a note saying the tattoos are their VIP (Very Important Princess) passes into the party!
Idea 10: Make it royal-ball ready!
Prepare the party room for princesses with magical Cinderella party decorations! Get inspired by a beautiful Cinderella tablescape and royal place-settings.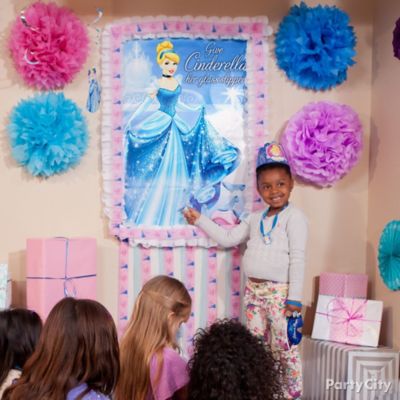 Idea 11: Help Cinderella find her slipper!
The birthday girl and her royal court will love helping Cinderella find her glass slipper in this magical spin on Pin the Tail on the Donkey! No pins necessary to play this Cinderella party game – each glass slipper is a sticker with a place for the participating princess's name. Make the party game part of the decor by adding a white garland as a border.
Idea 12: Pack a pinata full of goodies!
Let the girls take turns pulling the strings of a Cinderella pinata to see which "magic" string lets out all the rewards! Pack the pinata full of yummy candy and Cinderella-themed favors for extra fun.
Idea 13: Set the table with royal place-settings!
When the clock strikes lunchtime, surprise the girls with pretty place-settings and Cinderella tableware! An easy way to add a magical touch is by using favors as table decor, like laying blowouts on plates and wrapping cutlery up in a napkin and Cinderella wristband.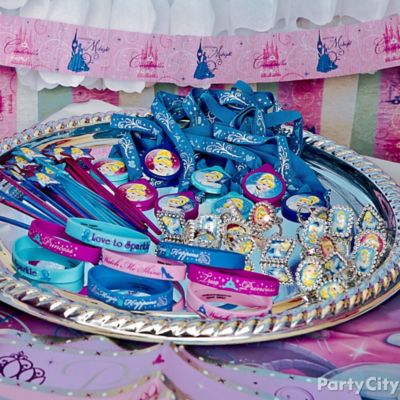 Idea 14: Everyone can be a princess with sparkling jewels
Princess jewels look extra sparkly on a silver platter. Make sure there are enough shimmering rings, necklaces and bracelets for each guest. They'll all look as pretty as princesses, so get your camera ready!
Idea 15: Create a beautiful party backdrop!
Atmosphere is everything! Whip up a whimsical scene for playtime and photos with a Cinderella scene setter, streamers, plastic table cover, fluffy decorations and silver foil. Hang a pastel blue table cover on either side of a small table and dangle Cinderella streamers and silver foil strands from a doorway curtain. Use pink and purple streamers and curling ribbons for curtain tie-backs. For the finishing touch, hang fluffy white decorations along the top – bibbidi bobbidi boo-tiful!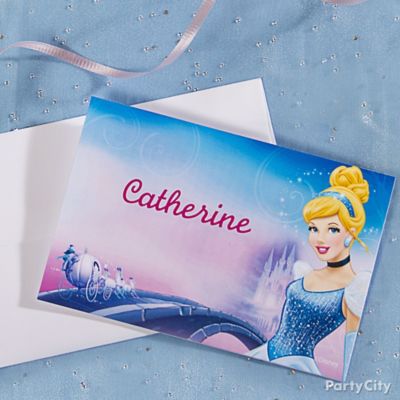 Idea 16: Thank princesses with a customized Cinderella card!
Add a personalized touch to your thank you's with a custom Cinderella thank you note that matches your invitations! We'll print your special message or the birthday girl's name on the front of the cards and have them ready to ship to you within five days.