A sparkling birthday cake inspired by Cinderella!
You don't need the powers of a fairy godmother to create a magical cake! Your little princesses will adore this bibbidi-bobbidi-boo-tiful cake that brings the story of Cinderella to life – from the pearl-like sprinkles and gradient icing effect to the clock face on the top and fondant "drapes." So blow the candles out and make a wish — your little girl's dream is about to come true!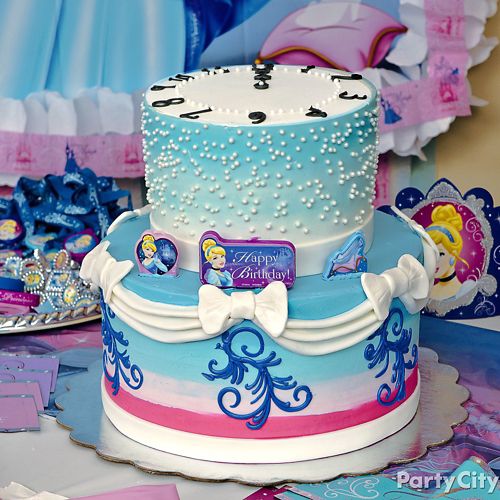 How-To
Ingredients:
2 two-layer cake rounds, 6 in. and 10 in. in diameter
Buttercream icing
2 boxes pre-rolled white fondant
Sky blue icing color
Pink icing color
Rose icing color
Blue icing tube
Almond extract
Pearl sprinkles
Supplies:
Cinderella birthday candles
Kitchen knife
Fondant roller
Fondant smoother
Pizza cutter or paring knife
Toothpicks
Food-safe paintbrushes
Decorating tip
14 in. cake platter
1) Ice cakes
To prepare your stacked cakes to be covered with fondant, ice them with a layer of buttercream icing.
2) Dye fondant
Divide one box of white fondant into two balls — one for each cake. Knead the larger ball until soft. Using a toothpick, dot sky blue icing color onto the fondant, and knead until color is evenly distributed.
3) Cover bottom tier
Roll out the blue fondant. Place over the larger cake and smooth using a fondant smoother. Trim off the excess with a pizza cutter or paring knife.
4) Now, it's time to paint!
In a small bowl, thin out some sky blue icing color with almond extract. Using a food-safe paintbrush, paint sky blue color around the cake about 1 in. from the top.
5) Paint pink layers
While your "paint" dries, repeat Step 4 with pink and rose icing colors. Paint rings around the base of the larger cake to create a gorgeous ombr'e effect.
6) Pipe swirls
When the last color has dried, use the blue icing tube to pipe elegant swirl designs around the cake.
7) Cover top tier
Now, for the smaller cake: Knead the smaller ball of white fondant until soft. Roll out the fondant and cut a long rectangular piece to wrap around the cake.
8) Paint top tier and assemble
Using the technique in Step 4, paint on thinned sky blue icing color to create an ombr'e effect. When your "paint" has dried, wrap the fondant around the smaller cake. Place the smaller cake on top of the larger cake.
9) Attach white strips
From the second box of white fondant, prepare 1 in.-wide strips of fondant long enough to wrap around the base of each cake. Adhere each fondant strip with dabs of water.
10) Create fondant "drapes"
Fondant can look just like fabric! To get the look, cut out 5 in.-by-3 in. sheets of white fondant. Create three "folds" and "drape" your fondant along the edge of the cake.
11) Add bows
Fashion 3 in.-wide bows using a paring knife. Dab water on the back of each bow and stick one where each fondant "drape" meets.
12) Attach pearls
You're nearly done! Give this cake some sparkle by "gluing" pearl sprinkles all over the side of the top cake with royal icing.
13) Make the clock
It's time to create the clock face! After you've created a circle of pearl sprinkles, use a black icing tube to draw the numbers and clock hands.
14) Top with candles
Pretty Cinderella birthday candles are the final flourish on this birthday cake fit for a princess!